'Back in Time' is a monthly feature where we look back at the classic video gaming magazines twenty years ago this month. This month proved that the Amstrad CPC was still a major player… in the French market, Turbo the Tortoise arrived on the Sonic-less 8-bit computers, Pilot Wings landed on the Super Nintendo while Crazy Cars skidded onto the Amiga for a third time...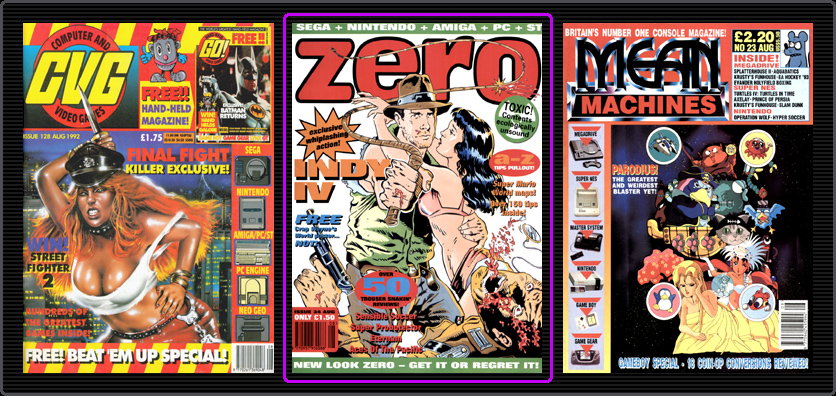 If you had bought

Zero

the previous month, you would have instantly noticed the new look. Gone was the clean and stylish design and layout and in was the colourful, brash, in your face look. What was once voted 'Magazine of the Year' seemed to be heading down the magazine gutter. The 16-bit multi format magazine was considered as a humourus informative read for the slightly older gamer, but the re-design seemed to be aimed at the younger gamer. What prompted this change of direction was not obviously noticeable, as the magazine had not changed publisher and most of the original staff remained on board. But re-designs may have been the least of the magazine's worries as to what was ahead. However, that's another story for another time.

Brash design or not,

Indiana Jones and the Fate of Atlantis

impressed Duncan MacDonald who gave the PC adventure game a final rating of 95. "Lucasfilm have improved on themselves yet again," stated asked Duncan, "What more can I say, other than the script is perfect and the whole things has been directed like a real movie. In fact it is a proper interactive movie."

In what must class as David McCandless' most minimalist review yet, despite stretching over two pages,

Super Probotector

on the SNES managed an overall rating of 92. "It's the first game I've played that actually tells the Super NES to sit down, shut up and be an arcade machine," wrote David. "Everything about this game speaks coin-op quality. The graphics… The sound… The scrolling… The gameplay…. Pure heaven!"

Just in case our latest

Indy Jones

' latest adventure wasn't enough for PC gamers, the 94 rated

Eternam

arrived. Amaya Lopez picked up review duties for the Infogrames adventure and gave a brief summary of the game… "It's a French game, it's a bit of a joker, it looks really attractive and it tells a fab story."



Striker

and

Goal

and With the hype surrounding the (then) recent European Championships of 1992,

Zero

decided to look back at the best football games on offer. Top of the League was

Sensible Soccer

with

Kick Off 2

in second and third respectively. Hovering at the bottom of the league were

Footballer of the Year 2

.

Other games of note this month were

Sports Talk Baseball

(Mega Drive, 90),

Chuck Rock

(Mega Drive, 87),

Robin Hood: Prince of Thieves

(NES, 85),

Terminator

(Master System, 80),

Civilization

(Amiga, 89),

Joe and Mac

(SNES, 86),

Monkey Island 2: Le Chuck's Revenge

(Amiga, 92),

The Addams Family

(Game Boy, 84),

Tiny Toon Adventures Babs' Big Break

(Game Boy, 86),

Olympic Gold

(Game Gear, 87),

Steel Talons

(Lynx, 90),

Battletoads

(Game Boy, 86),

Shadow of the Beast

(Lynx, 89) and

Prince of Persia

(Game Boy, 93; Game Gear, 91).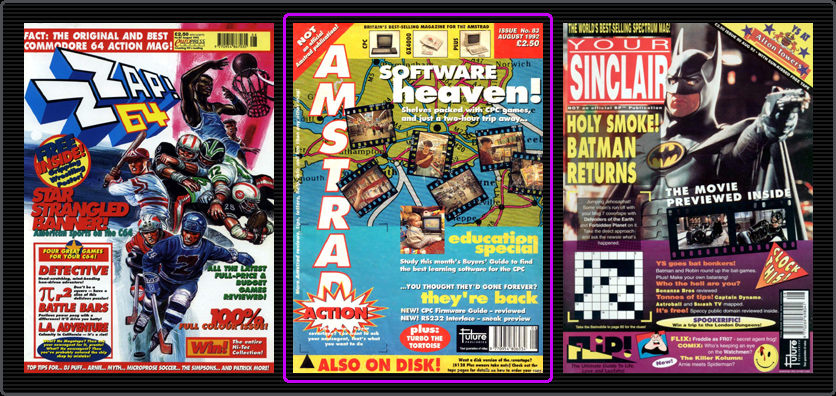 Having mentioned several times over the years that the French CPC scene is great,

Amstrad Action

editor, Rod Lawton, and staff writer, Adam Peters, decided to pop over the English Channel to prove it. The Amstrad CPC was one of the best selling machines in France with CPC disk games on sale in supermarket stores across the country.

Back on British soil, new games releases seemed to be drying up for the aging CPC, although Hi-Tec provided an '

AA

Rave' with

Turbo the Tortoise

. Could this be Amstrad's equivalent to Sega's

Sonic the Hedgehog

? "

Turbo

is one of the best platform games we've seen in ages," wrote Adam Peters on the 88% rated game. "There's no complex controls, no convoluted plot, no over-taxing mission and no mapping necessary. It's a straightforward sideways scroller. Fearsomely addictive and suitably varied."

The CPC charts lacked any real interest with the full price charts being topped by the likes of

WWF Wrestlemania

,

Dizzy's Excellent Adventures

and

Cartoon Collection

. The only other new games reviewed this issue included

Grell and Falla

(51%) and

Captain Dynamo

(68%),

With the decrease of new games coverage in the magazine, the staff began a new feature called 'Hit For Six', where they would look back at the best six games in a category. This month featured Football (or Soccer to some) management games. Way out at the top of the league was

Football Manager 2

with 81%, followed by

Soccer Boss

with 66% and

1st Division Manager

with 54%. There were others – lots, in fact – but the ratings were so poor that it would be unfair to name and shame them all.

Another common section for aging games magazines was for the budget and re-released games and

Amstrad Action

was no exception. Here in 'action replay',

AA

dished out '

AA

Mastergame' accolades to

Castle Master

(91%),

Italy 1990

(90%) and an '

AA

Rave' to

Crack Down

(83%),

Midnight Resistance

(86%).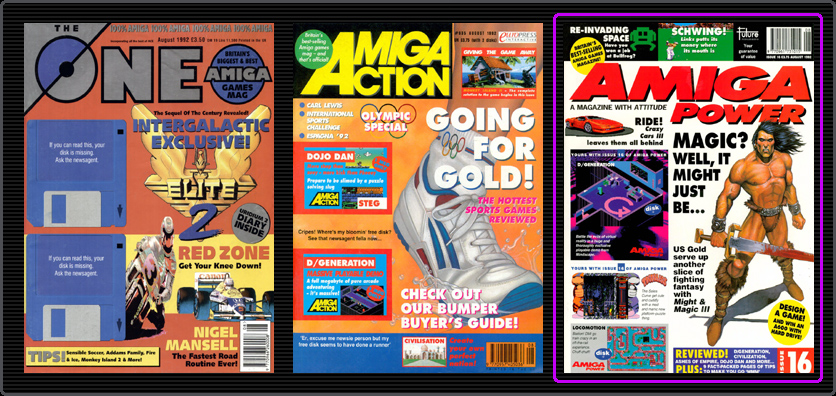 There were changes aplenty with the arrival of

Amiga Power

issue 16. First up, Matt Bielby, the magazine's editor since its glorious launch had since moved on to "a top-secret new project" – what ever it is, no doubt it will be 'Super'. So Mark Ramshaw gallantly stepped up to the big ed chair to steer the AP ship ever onward. Other changes included Jacquie Spanton in to replace Amanda Cook as Art Editor (Miss Cook also heading off to a secret project of her own – obviously something 'Mega' tastic), Tim Norris came on board as production editor and Stuart Campbell moved up the ranks to become the Reviews Editor.

In the '

Amiga Power

Recommends' page, the crew indulged in some

Sensible Soccer

hyperbole. "It's beginning to look like a heinous under-rating," the writer mentioned at the 93% the game received the previous month. "

Kick Off 2

!

KICK OFF 2

! If we get a single letter this month from some sad, deluded, complete and utter dweeb still trying to cling pathetically to the belief that there's a football game that's even fit to lace the boots of this one…" continued the recommendations. "It's so utterly brilliant in every single way, we think the police should be sent out to randomly burst into people's houses in the middle of the night and arrest anyone who hasn't bought a copy," stated the write up in the final recommendation to

Sensible Soccer

, that month.

A new Gallup Amiga chart and a new number one with… dum, dum, dum…

Sensible Soccer

. "It's the world's best computer soccer game" after all. Non-

Sensible Soccer

related chart newbies included

Monkey Island 2

in at number two,

Striker

in at four and

Jaguar XJ220

in at five.



Crazy Cars III

, the wild and wacky car racing game from Titus, grabbed an 88% rating from Mark Ramshaw. "If you liked the

Cannonball Run

, if you ever admitted to enjoying an episode of

Knight Rider

, or if you love movies based in San Francisco then

Crazy Cars III

is going to do things to you that you thought only Winona Ryder was capable sot (for girl readers, please substitute Dolph Lundgren or some other swoonsome hunk),

88% also went to

D/Generation

, Mindscape's arcade adventure horror mystery. "Apart from little grumbles though, we're looking at a pretty special game," commented Jonathan Davies. "I don't see

D/Generation

rocketing to the top of the charts, being voted Game of the Decade or anything like that, but its certainly a game that'll keep you up for night after night…"

Taking on the Dungeons & Dragons formula again,

Might and Magic III

received an 87% rating. "So all in all, what have we got?" asked Rich Pelley. "The biggest, the deepest, and the best looking D&D clone to date," replied Rich. "Whether you agree and whether you like RPGs in the first place will determine how high

Might and Magic III

will be on your shopping list."

Other games of note this issue included

Ashes of Empire

(80%),

Civilization

(80%),

Megafortress

(82%),

Vikings

(81%) and

Graham Taylor's Soccer Challenge

(82%).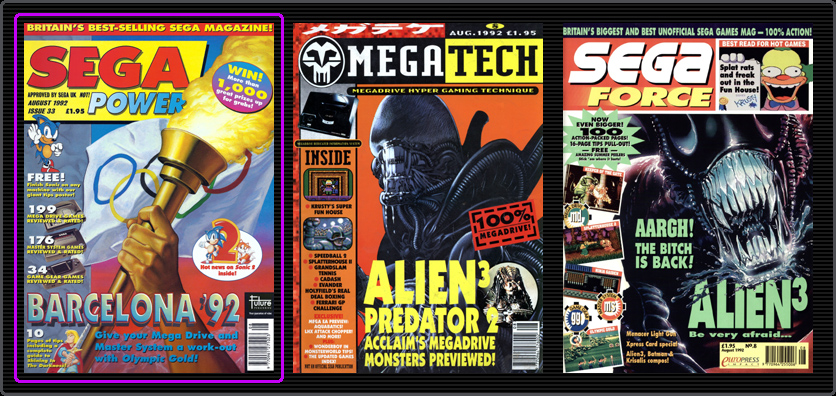 It seemed to be a bit of a summer lull for the Sega scene, as

Sega Power

displayed with its meagre games coverage in issue 33. Topping the Game Gear chart was

Super Kick Off

, with the Mega Drive list dominated by

Desert Strike

and the Master System list topped by

Asterix

.

Despite the game lull and amount of shoot-'em-ups already around,

Zero Wing

still managed to rack up a score of 88%. "How many horizontally-scrolling shoot-'em-ups are there out on the Mega Drive now?" asked Desiree Cousteau. "Can anyone possibly do anything new? Well, maybe not, but in

Zero Wing

the same old features are done so well it just doesn't matter."

Next up for the Game Gear was the highest rated game of the issue with the strategy war game,

Crystal Warriors

, which managed an impressive 93%. "A tactical bash with a tense bite,

Crystal Warriors

does the biz," stated Trenton Webb. "It puts the addiction hooks in early and then drags you right into the heart of the action."

Despite the rather lukewarm review,

Taz Mania

on the Mega Drive still managed to get an 89% out of Andy Lowe. "The comic graphics and the entertaining animation help gloss over any deficiencies in the gameplay," commented Andy, "but they don't succeed in prolonging this game's limited lifespan. Sega have done a highly professional job on polishing up

Taz Mania

, and there's enough here to keep you interested until you finish it."

Within the readers' 'Scribblings' pages, there was a section called 'Outta Yer Tree' that printed some of the more bizarre letters that month... "in

Sega Power

31, I saw three codes for

Ninja Gaiden

on the Game Gear. The problem is, I don't have a Game Gear, so how do I enter the codes?" wrote one confused reader. "Oh dear, oh dear, oh dear…" replied Andy.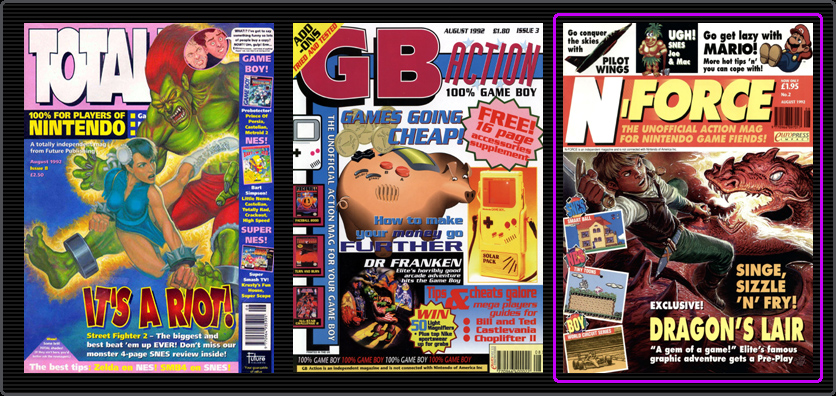 Into their second issue and

N-Force

were showing no signs of slowing down with an action packed issue full of games coverage. Riding high on top of the NES charts was

Rescue Rangers

, followed by

Super Mario Bros 3

and

Terminator 2

. Top of the Game Boy list was

Terminator 2

, with

WWF Superstars

and

Super Mario Land

trailing behind.

Following last issue's preview turned review of the SNES arcade conversion of

Street Fighter II

, it was now time for the real review from Ace (aka Chris Rice) and an actual rating of 96%. "With stunning graphics previously thought to be impossible on home entertainment consoles and amazing digitized speech and FX this cart lives up to its reputation as the most advanced game ever created."



Smart Ball

on the SNES was another high rated game, receiving 91% and an '

N-Force

Knockout' accolade. "

Smart Ball

may be a little easy," commented Shades (aka Nick Roberts), "but if you're looking for a platform adventure that offers a new angle to make a change from the endless

Mario

clones then take a shifty at this."



Pilot Wings

was one of the SNES launch titles in North America and with an '

N-Force

Knockout' rating of 96% it's easy to see why. "

Pilot Wings

is a game no SNES owner should be without," stated Shades. "Our pics give you some idea of its quality, but wait 'til you see it in action! For the joy of flying without the pain of broken legs and stench of aviation fuel get

Pilot Wings

."

And to prove that this was a ratings blitz issue, here is the pick of the rest:

Batman: Return of the Joker

(Game Boy, 82%),

The Addams Family

(SNES, 90%),

Tiny Toon Adventures

(NES, 89%),

World Circuit Series

(Game Boy, 83%),

Extra Innings

(SNES, 89%),

Monsters in my Pocket

(NES, 81%),

The Ultimate Stuntman

(NES, 83%),

Pac-Man

(Game Boy, 80%),

Quattro Adventure

(NES, 80%),

Joe and Mac: Caveman Ninja

(SNES, 89%),

Micro Machines

(NES, 86%) and

Top Gear

(SNES, 91%).


All the intellectual property rights related to the works presented on this site belong to their respective owners.
This site is strictly created for the purpose of preservation and education.
Follow us on Twitter to get the latest updates as they go live: