'Back in Time' is a monthly feature where we look back at the classic video gaming magazines twenty years ago this month. This month it's February 1992 when LeChuck was out for revenge in Monkey Island 2, the Amiga got some Football action John Madden style, there was Commodore 64 torture trouble in Creatures 2 and the Mega-CD was on its way…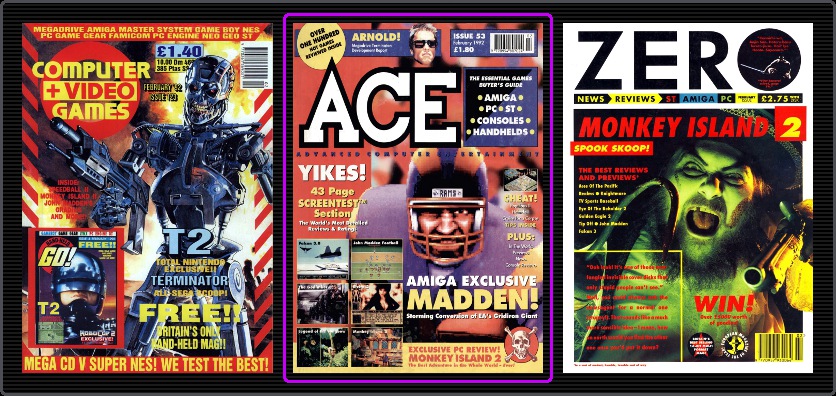 With issue 53,

Ace

continued their impressive in-depth coverage of the game reviews with up to six pages. First up was US Gold's impressive epic,

The Godfather

. Jim Douglas awarded the Amiga game a rating of 880, stating that "Creative Materials have produced an enjoyable, no-nonsense shoot-'em-up. Graphically, it's breathtaking, and the action itself is fast and fun. But he feeling of being a bit short-changed on the Godfatheryness of the product just won't go away."



Monkey Island 2: LeChuck's Revenge

, the sequel to one of LucasArts' most memorable adventure games, arrived on the Amiga with a rating of 950. "

Monkey Island 2: LeChuck's Revenge

is that rare thing – an instant classic," stated David Upchurch. "Nigh-on faultlessly executed, beautifully written and enchantingly funny, it's a landmark game that really has to be seen – and heard – to be believed. If you think you don't like adventure games (like I did) then

Monkey Island 2

is sure to change your mind."



Falcon 3.0

landed onto the Amiga with a missile charged rating of 970. "One of the few games that you really will continually return to," commented Jim Douglas. "Packed more than a very packed thing with detail and facts and, most importantly, fun.

Falcon 3.0

is destined to go down in the annals of computer games history as one of the very, very best."

Elsewhere,

Conquest of the Longbow: The Legend of Robin Hood

on the Atari ST managed to get 890. The Amiga version of

John Madden Football

was given 925, while the follow up,

John Madden Football '92

, managed 920 on the Mega Drive. Also on the Mega Drive was

RoboCod

, which came away with 938.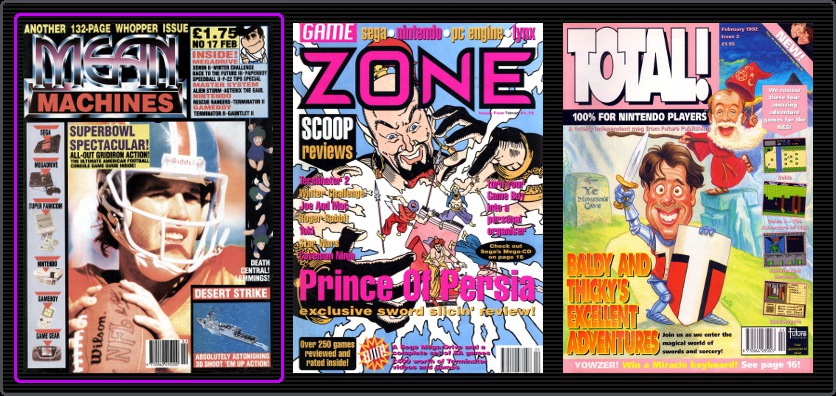 Issue 17 of

Mean Machines

kicked off with one of the first reviews of

Desert Strike

. The Mega Drive chopper shooter racked up a rating of 94% and rescued a 'Mega Game' accolade in the process. "Another absolutely cracking title from Electronic Arts," said Julian Rignall. "It's basically a very sophisticated shoot-'em-up with loads to do. The gameplay is brilliant and I love the way you can tackle things in any order… One of the finest Megadrive blasters yet seen, and you'd be bonkers to miss it."

One of the highest rated games yet seen in the magazine was give to

Super Mario World

. The Super Famicom platformer received a near perfect rating of 98%. "Back in October [I] said that

Super Mario III

was the finest videogame I'd ever played," recalled Julian. "Ask me now and I'd tell you a different story! Yes, there's a new 'greatest game' in town…"

After appearing on many videogame consoles,

Terminator 2

arrived on the Game Boy with a bang and a 90% rating. "One of the best Gameboy releases in some time," stated Rad Automatic. "The gameplay is of a high standard and […] packs quite a challenge. There's no faulting the graphics either with loads of great sprites, backgrounds and animation, and the whole thing is accompanied by some topper effects and tunes."

Just missing out on 'Mega Game' status were

Rescue Rangers

(NES, 88%),

Speedball 2

(Mega Drive, 88%),

Gauntlet II

(Game Boy, 88%) and

The Games: Winter Challenge

(Mega Drive, 85%).

Riding high in the Mega Drive charts was Donald Duck in

Quackshot

, with

Mercs

and

Golden Axe 2

entering in at number 2 and 3 respectively.

Sonic the Hedgehog

remained firm on top of the Master System charts, followed by

Donald Duck: The Lucky Dime Caper

and

Xenon II

.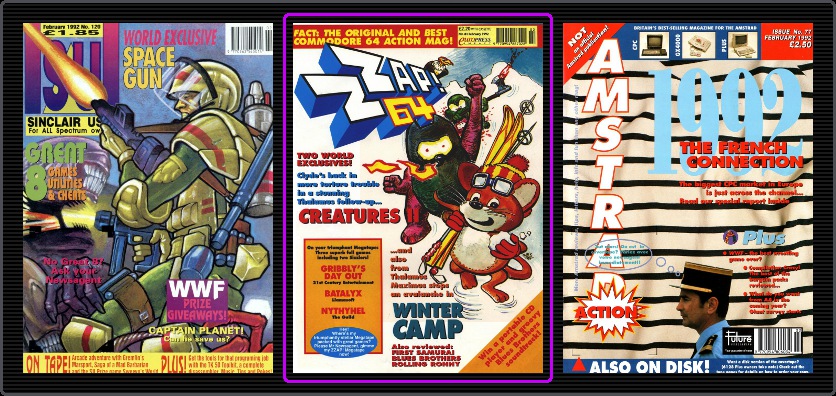 With Stuart Wynne leaving to take the editorship of sister mag,

Sega Force

, Phil King stepped into the editor's boots for issue 81 of

Zzap!64

. Going into 1992, the Commodore 64 gaming scene must have been pretty slow, if not dead, right? Wrong! First up for review was

Winter Camp

, the sequel to sports game

Summer Camp

. New

Zzap!

boy, Mark 'Corky' Caswell, awarded the game a 93%, praising the game's visuals as being "surprisingly colourful (for the usually blocky C64) and the attention to detail is very impressive.

Winter Camp

gets a big thumbs up from me."

As good as

Winter Camp

may have been, it was nothing compared to the 'Gold Medal' rating of 97% given to

Creatures II: Torture Trouble

. Again, Corky dived into the review and mentioned that "apart from the original

Creatures

, I don't think I've seen a game that's so instantly playable. I had to almost literally tear myself away to write this review… Steve and John [the programmers] have come up with another winner, and in my books it's better than the original."

The 'Roll Up It's The Marvelous Inter-Magazine Challenge' featured staff from

Zzap!64

,

Crash

and

Sega Force

took on each other in a games challenge. Phil King (

Zzap!

), Paul Mellerick (

Sega Force

) and Nick Roberts (

Crash

) challenged each other to three games (one game each on the Commodore 64, Spectrum and Mega Drive). First up was

Pit-Fighter

on the Mega Drive. Paul ('National Computer Games Challenge, Birmingham Heat Champion') was on home turf here, so you'd think Paul would walk away with this first challenge. It was mighty close, but with a score of 56,300, he fell just short of Nick's winning score of 58,560.

Ivan 'Iron Man' Stewart's Off-Road Racer

on the Commodore 64 was next. After the first race, Paul gained the initiative by coming first, followed by good placing in the next race, before winning the final race. Despite Nick's choice of Spectrum game being

Panic Dizzy

, it was Phil who ran away with the top score, with a massive 103,490 (almost double Nick and Paul's efforts). That meant the overall Inter-Magazine Challenge winner was Phil.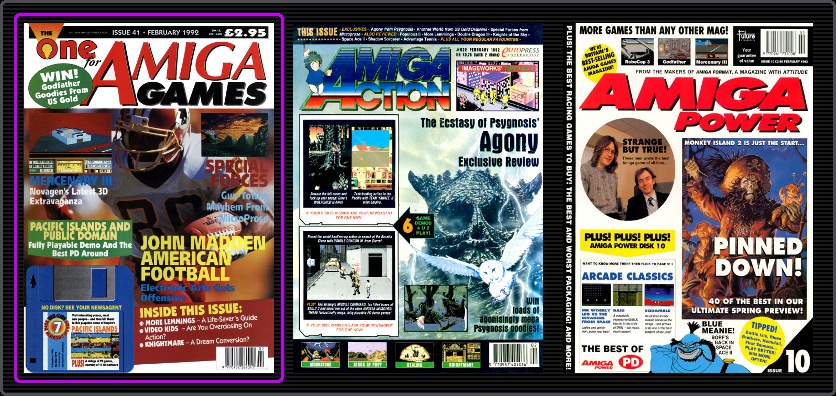 Kicking things off in issue 41 of

The One For Amiga Games

was the Amiga conversion of the Mega Drive classic,

John Madden Football

. Scoring a 91%, Paul Pressley described the game as "one of the best American Football games around... Electronic Arts has made an excellent job of this conversion, sprucing up the console's rather bland front end and adding some decent presentation screens."

The 3D landscape of

Mercenary III

impressed enough to warrant a 91% rating from Paul Woakes. "

Mercenary III

is one of the best 'environment' games to appear for a long time," stated Paul. "

Mercenary III

generates one of the most believable environments ever experienced in a computer game… Perhaps the nearest thing to virtual reality in the home."

Paul Pressley noted that the MicroProse classic military strategy game,

Airborne Ranger

, seemed to be re-born under the title of

Special Forces

, which he promptly gave 88%. "A nice idea that's been very well implemented," commented Paul, "but for gun-toting arcade players, there just isn't enough variety to satisfy."

Elsewhere, the platform/puzzle game,

Harlequin

, was given 90%. While wrestling off the competition to gain top spot in the charts was

WWF Wrestlemania

, grappling the likes of

Populous 2

and

RoboCop 3

into second and third place respectively.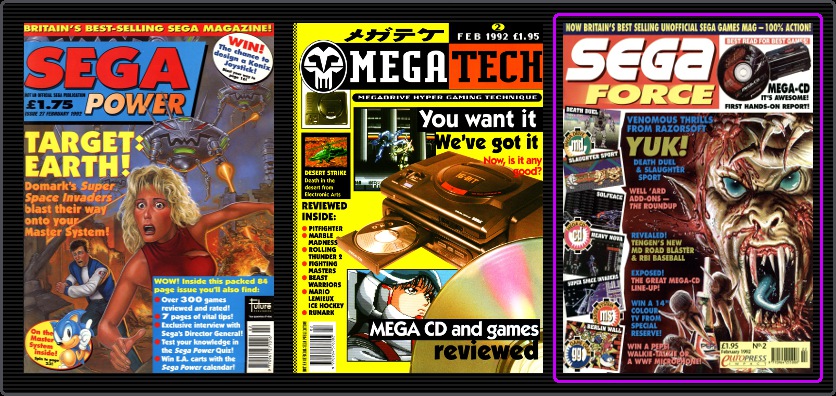 The second issue of

Sega Force

featured an in-depth preview of the Mega-CD – Sega's CD based add-on for the Mega Drive - which had been released in Japan. While the compact disc format was nothing new at the time, it was certainly new to the gaming masses and with Sega behind it, how could it go wrong? So what kind of games could the UK gamers look forward to playing when the add-on was released in the UK? How about

Lunar: The Silver Star

,

Wing Commander

,

Earnest Evans

,

Nostalgia 1907

and

Sim Earth

.



The Lucky Dime Caper Starring Donald Duck

was reviewed on both the Master System and Game Gear with the GG version coming away with the better rating of 92% over 78%. Claire Morley voiced her opinion on the different versions, stating: "those superb, crisp GG graphics too often look gaudy and blocky on a TV – this game seems designed for the GG's LCD screen... MS Donald is reasonable fun, but after playing

Donald

on the GG, the MS version seems too tough and frustrating – I certainly know which one I'd rather play."

The digitzed extravaganza of the arcade fighter,

Pit Fighter

, made it onto the Mega Drive with a 'Mega Blaster' hit of 90%. "The gameplay itself is very good," commented Paul Mellerick, "providing lots of furious action and it is very satisfying flooring an opponent and kicking them while they are still down! Overall the game is great fun to play, not too easy and will give a good amount of enjoyment."



Other high ratings went to Super Space Invaders

(Master System, 87%),

Solitaire Poker

(Game Gear, 91%),

Alien Storm

(Master System, 80%),

Rampart

(Master System, 80%),

Golden Axe II

(Mega Drive, 84%),

Bonanza Bros

(Master System, 80%) and

Klax

(Master System, 81%).

All the intellectual property rights related to the works presented on this site belong to their respective owners.
This site is strictly created for the purpose of preservation and education.
Follow us on Twitter to get the latest updates as they go live: