'Back in Time' is a monthly feature where we look back at the classic video gaming magazines twenty years ago this month. This month it's January 1992 when there was no fewer than three new magazine launches this month, Another World was simply out of this world on the Amiga, two unlikely aliens called Toejam & Earl crash landed on the Mega Drive, Donald Duck also quacked his way onto the Mega Drive and Super Space Invaders invaded the 8-bit computers...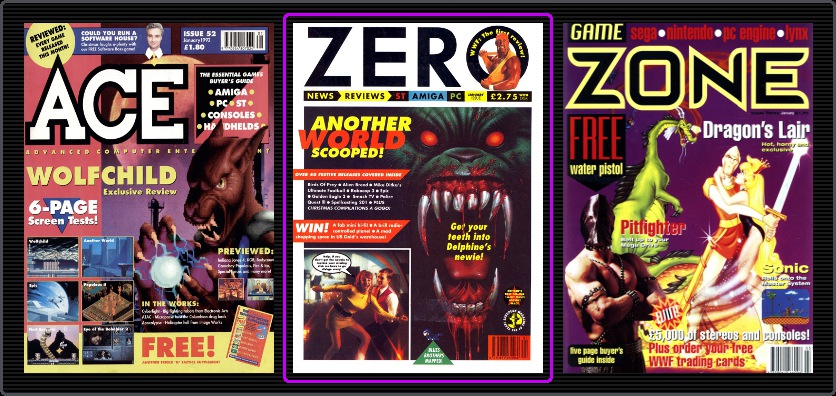 The 27th issue of

Zero

claimed to have scooped an exclusive review of

Another World

on the Amiga. Taking centre stage – front cover and main review – the visually stunning adventure game from Delphine Software snatched a 90% along with a 'Zero Hero' accolade. In an amusing multiple explanation review for newbies, gamers in the know and experts, Duncan McDonald enthused about the game's qualities throughout. "There's an element of exploration but a lot of the game is learnt in little chunks which you're forced to repeat over and over again, till you get them exactly right. Still, I'm being snotty, whingeing about a game which is really rather special. I'm a git and I ought to keep my mouth shut.

Another World

is brill."



Heimdall

arrived on the Amiga, much to Duncan's delight and subsequently gave the RPG game a 92% rating. "

Heimdall

shows that RPGs don't have to be boring," commented Dunc, "it takes the genre and puts it on a shelf where it's accessible to everybody. Right, have you got a 'Games I must buy' list handy? Yes? Well, put this one on it then."

Other games of note included

Spellcaster 201

(PC, 90%),

Smash TV

(Amiga, 88%),

Birds of Prey

(Amiga, 90%),

Epic

(Atari ST, 89%),

Alien Breed

(Amiga, 91%),

Mike Dikta's Ultimate Football

(PC, 90%),

Tony La Russa's Ultimate Baseball

(PC, 89%) and

RoboCop 3

(Amiga, 91%).

Riding high in the PC charts was

Lemmings

, followed by

Shadow Sorceror

and

Winter Challenge

. Top Atari ST game was

Mega Lo Mania

, with

Smash TV

and

Cruise For A Corpse

in at second and third place respectively. The Amiga chart was topped by

Lotus Challenge II

, with

Mega Lo Mania

and

Alien Breed

not too far behind.

In 'By the Fireside with Archer McLean', the

Zero

team proceeded to give a pop star style questions interview in the style of teenage girls magazine,

Just Seventeen

, to, erm, Archer McLean. Favourite household chore, apart from keeping the girlfriend occupied, included maintaining his

Robotron

arcade machine in working order. After finding that this pop star questioning wasn't quite working out, Archer was relieved to get talking about

Jimmy White's Whirlwind Snooker

.

With 1991 at an end, the

Zero

team looked back at their favourite games of the year. David Wilson, Paul Lakin and Amaya Lopez all chose

Populous 2

as their top pick, while Duncan McDonald went for

Chuck Yeager's Air Combat

and Rich Pelley went for

First Samurai

.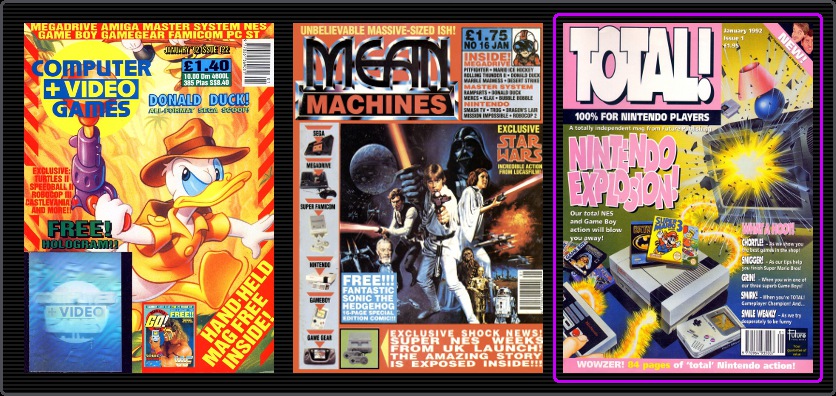 It was inevitable that there would eventually be a UK magazine dedicated to Nintendo gaming and

Total!

was first to provide gamers in depth coverage of the NES and Game Boy. Produced by the duo of Steve 'Misery Guts' Jarrett and Andy 'Thicky' Dyer – who apparently do all the editorial work themselves – the magazine was certainly different.

Total!

was, how could we put it, a little on the childish side, what with cartoon caricatures of the reviewers throughout and over the top ratings. It certainly was a far cry from Steve Jarret's most successful magazine launches ever – that being with the well-respected

Edge

in just over a year's time.

Hot news was the Super NES was coming to the UK. According to Bandai, who distributed Nintendo gaming machines in the UK, the Super NES would arrive in British stores in late April or early May. Unfortunately, especially for Nintendo fans eager to get their hands on the 16-bit Nintendo machine, it didn't quite pan out like that though.

Setting the standard for highest rated game with 98% was

Super Mario Bros. 3

on the NES. Steve's caricature jumped for joy on the final page of the review as the near perfect ratings came in. "

Super Mario Bros. 3

is utterly, utterly superb," enthused Steve. "The graphics and sound are brilliant and the size of the quest is mind-boggling (Andy remains boggled to this day). If

SMB3

got jammed in my NES and I could never play another game, I really wouldn't care."

A more realistic rating of 92% went to

Solar Jetman

on the NES. "Without going into boring details

Solar Jetman

(

Hunt For The Golden Warship

) is stuffed to the gills with things to do," stated Steve. "There are heaps of objects to collect, oodles of baddies to blast and quite a few surprises along the way. The mission is so vast you could be at it for weeks, but then it's so incredibly playable you won't mind doing just that!"



Solstice

, a neat looking arcade adventure from Software Creations, racked up an equally impressive 90%. "Words alone can't express how wonderful the graphics are so you'll just have to look at the screenshots," explained Andy, "Graphics alone do not make a good game, but fortunately this one has masses of gameplay too. Stunning in every respect but one: there's no password or save option. So if you're gonna complete it you have to do it in one go. But then, if any game is going to make you want to complete it, it's this one."

Other quality NES games getting coverage in the reviews pages were

Battle of Olympus

(92%),

Snake Rattle N Roll

(90%),

Boulder Dash

(90%) and

Gauntlet II

(88%), while Game Boy games gathering top ratings included

F-1 Race

(88%),

Turtles: Fall of the Foot Clan

(91%),

R-Type

(86%),

Super Mario Land

(94%),

Super RC Pro-Am

(87%),

Revenge of the Gator

(85%),

Golf

(92%),

Tennis

(95%),

Castlevania Adventure

(89%),

King of the Zoo

(87%) and

The Chess Master

(90%).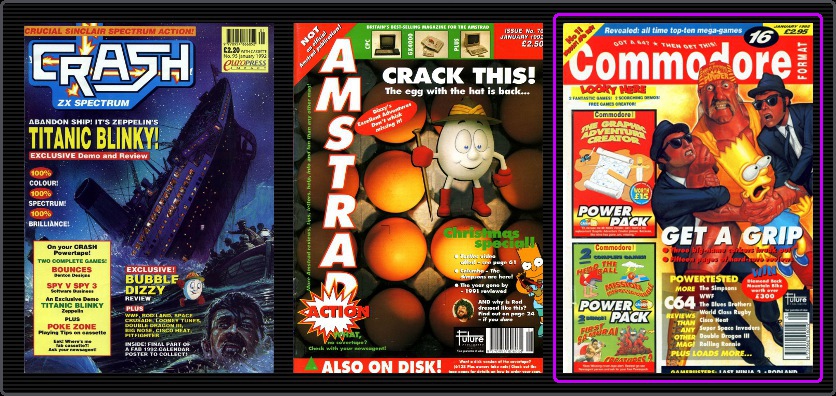 Commodore Format

's Power Pack covertape number 16 featured a full version of Graphic Adventure Creator – now gamers could create their very own C64 adventure games. Also on the covertape were complete games of

Head the Ball

and

Mission Impossabubble

, as well as playable demos of

First Samurai

and

Creatures II

. Topping the Commodore 64 charts was

Terminator 2

with

Rugby: The World Cup

and

Speedball 2

in second and third place respectively.

Hulk Hogan, The Ultimate Warrior and the British Bulldog slam dunked onto the Commodore 64 with a 'Corker' and 91%. "I'm having a bit of a hard time finding fault with

WWF

," admitted Mark Ramshaw. "It's really well put together.

WWF

is just a torrid, mindless celebration of muscles, macho rubbish and pantomine violence. Maybe that's why I like it so much."



Super Space Invaders

finally invaded the C64. The classic gameplay still remained, but updated for the 1990s. "I liked a lot of things about

Super Space Invaders

and there's not much about that I didn't like," stated Linda Barker. "But what if you don't want the guilt of buying a game when there are presents to buy for everyone else? How about dropping the words, 'I want

Super Space Invaders

' into everything you say from now till Christmas."

Other C64 games within 'Corker' distance were

The Blues Brothers

(90%) and

The Simpsons

(90%). The

CF

's All Time Top Ten Essential Games feature looked at the, erm, all time top ten essential games on the C64. Included in the list were classics such as

Chip's Challenge

,

Rainbow Islands

,

Smash TV

,

Uridium

,

Creatures

and

Paradroid

.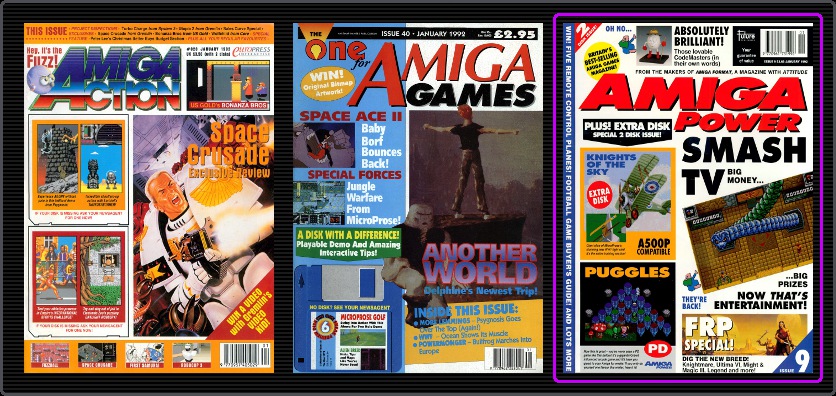 Great news within issue 9 of

Amiga Power

: New videogames television show,

Games Master

, was set to launch on 7th January 1992. The magazine style TV show would feature reviews, news, celebrity challenges, familiar gaming journos, golden joysticks and much more.

As usual, the

Amiga Power

team were being pretty reserved when it came to handing out praise. One game did seem to take the team by surprise and that was the FRP/Strategy/Action game,

Celtic Legends

, from Ubi Soft. Giving the game a respectable 89%, Karl Foster stated that the game "looks good, has plenty of action and there are numerous ways to win each fracas, be it a simple punch up on the tactical screen or a long-range action plan over a w hole island. Rather surprisingly, it proves to be absolutely fab."

Another strategy game,

Realms

, grabbed the next highest rating of the month with 84%. "I like

Realms

a lot," commented Karl, "and (to be honest) I wasn't too sure if I would at first. The game's underlying design philosophy is well sorted, the battle scenes (at least) will appeal to most open minded games players, while the forthcoming extra data disks make it a good long-term bet for any budding imperialist." Just missing the mark of high ratings were

Birds of Prey

(81%),

Bonanza Bros

(81),

Fuzzball

(80%),

Oh No! More Lemmings

(82%) and

Smash TV

(81%).

In Magic and Mystery Tour, Mark Ramshaw looked into the growing popular gaming genre of role-playing, including the likes of

Ultima VI

,

Might & Magic III

,

Legend

and

Black Crypt

. With the end of 1991, it was

Amiga Power

's turn to look back at the year's highlights. Matt Bielby mentioned

The Secret of Monkey Island

as a highlight, Colin Campbell commented on

Knights of the Sky

and

Jimmy White's Whirlwind Snooker

. In Darlings, Code Masters' main men, Richard and David Darling, gave their views on the state of the current gaming scene.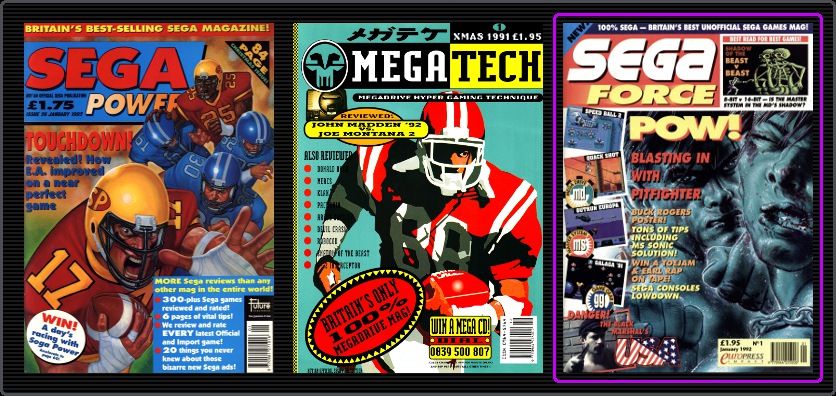 With the Newsfield team back in business - albeit under the name Europress Impact - they could now launch their promised Sega magazine,

Sega Force

. Former

Zzap!64

stalwarts, Stuart Wynne and Phil King, headed the new editorial team, which included Warren Lapworth, Adrian Pitt and Ian Osborne. With those names within the team, it's easy to see why

Sega Force

had been affectionately known as the

Zzap!64

mag for Sega gamers.

The first game to get the

Force

review treatment, and a 'Sega Force Mega Blaster' accolade was

Quackshot

with an overall rating of 93%. "There isn't anything really new as far as the platform/shoot-'em-up parts go," explained Marshal M. Rosenthal, "but being able to jump between locations, and having to work at getting to that treasure by thinking makes a difference in the gameplay to the better. This, combined with the excellent animation and graphics make it a killer game for platform fans."



Speedball 2

, the classic futuristic sports game from The Bitmap Brothers, made its belated appearance on the Mega Drive, scoring a 'Sega Force Mega Blaster' accolade with 90%. "

Speedball 2

was a massive hit on the Amiga and this superb conversion should see Mega Drivers hip-deep in blood too," commented Stuart. While Phil noted that with a "tactical aspect" the "game isn't quite as mindless as if first seems."

Those wacky alien dudes,

Toejam & Earl

, crash landed on the Mega Drive with their very own game. A superb co-op two player option takes this action adventure to all new heights. "

Toejam & Earl

is a very weird game," commented Mark Caswell. "The graphics are bright and vibrant, with the ice cool duo strutting their funky stuff in some of the most rib-tickling escapades since DR and Quinch hit Earth."

Other games that met with the

Sega Force

seal of approval included

Sonic the Hedgehog

(Master System, 95%),

Shadow of the Beast

(Master System, 90%),

John Madden Football '92

(Mega Drive, 94%),

Super Kick Off

(Master System, 90%),

F22 Interceptor

(Mega Drive, 90%),

Sega Chess

(Master System, 93%) and

Shining in the Darkness

(Mega Drive, 90%).

All the intellectual property rights related to the works presented on this site belong to their respective owners.
This site is strictly created for the purpose of preservation and education.
Follow us on Twitter to get the latest updates as they go live: