'Back in Time' is a monthly feature where we look back at the classic video gaming magazines twenty years ago this month. This month it's July 1991 when Sonic the Hedgehog burst onto the scene, Exile made its astounding entrance onto the Commodore 64, the arcade hit, Pang, impressed on the Amstrad cartridge and Hunter found accolades galore on the Amiga...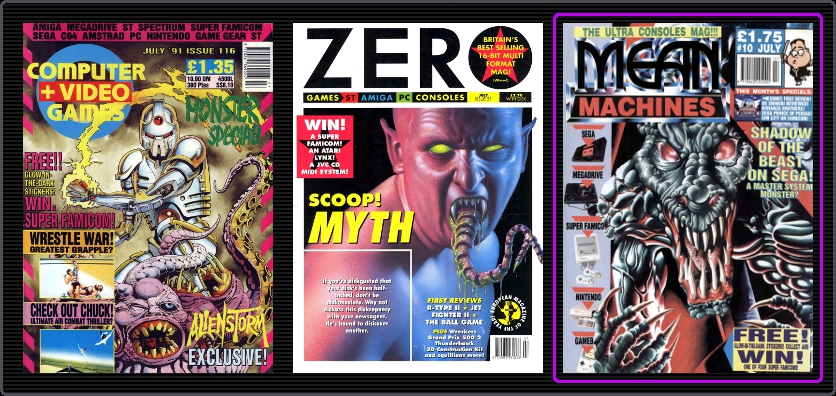 Sonic the Hedgehog

, "the best platform game on the Megadrive," arrived for its first UK review in issue 10 of

Mean Machines

. With a resounding thumbs up from all and an overall rating of 92%, Sega finally had a worthy mascot to match Nintendo's Mario. "I can't think of a Megadrive game with more spectacular graphics... and everything is just so fast and smooth it's just astonishing!" enthused Paul Glancey. The design of the levels and the obstacles is ingenious, and I love the fact that you can really explore the levels for different routes and secret rooms, rather than simply having to get from left to right." "I cannot stress too much the graphical excellence of this game," added Richard Leadbetter, " it is definitely the best looking Megadrive game yet seen, even more attractive than the Super Famicom's

Mario 4

… Playability-wise, Sonic's great, although I found that the gameplay does get a little frustrating after a while, especially as there's a few almost impossible situations the hapless hedgehog can find himself in."

Rare's fighter jet action blaster,

Captain Skyhawk

, zoomed onto the NES with an equally impressive rating of 91%. "One of the smoothest and fastest blasting games I've seen on the Nintendo," commented Julian Rignall. "A brilliant-looking, reaction-testing blaster with loads of high-speed action." Richard Leadbetter also commented, stating that "Rare aren't usually ones to disappoint when it comes to Nintendo games and

Captain Skyhawk

is yet another example of a brilliant game. The inertia on the F-14 is excellent, and the game is very challenging with loads of levels to conquer."

Sega's classic ninja character from the arcades,

Shinobi

, made his way onto the Game Gear with The GG Shinobi, gaining an overall rating of 90%. "To be honest, there's been nothing yet on the Game Gear that has really grabbed my interest," admitted Julian. "Until now.

GG Shinobi

has at last given me an excuse to blow the dust off my machine and buy some batteries for it." Richard agreed, commenting that "it's brill, skill, and not a thinly-veiled Master System rip-off! Hurrah!"

Next up is one of those weird censoring issues that plagued Europe during the 1980s and 1990s. The original

Ninja Gaiden

was released in Europe as

Shadow Warrior

, and not to be confused with Tecmo's arcade brawler

Shadow Warriors

. "The sprites are detailed and well-animated," wrote Paul Glancey, "and the Tecmo Theater interludes help supply a lot of atmosphere… probably the best arcade-style Ninja games on the NES." Matt Regan chipped in to say that he "was instantly impressed by this game, and was pleased to find the rest of the game, in terms of graphics, sound and gameplay, is up to the same high standard."

Mega Drive shoot-'em-up,

Zero Wing

, was up next for the 'Mega Game' treatment, coming away with 91%. "Toaplan have produced some really classy stuff on the Megadrive, and though I don't think

Zero Wing

plays as well as

Hellfire

, it's definitely their most polished game to date." "Considering the (very) tired genre, Toaplan have come up trumps with a game that has a very original graphic style, along with some pretty original weaponry too."

The classic

Sim City

made it to the Super Famicom with a great overall rating of 94%. "An incredibly rewarding game to play," stated Julian, "and you can watch you teeming metropolis flourish and grow…

Sim City

has more lasting appeal that [sic] any other Super Famicom [game] yet seen!" Richard commented that 'Imagineer have released the best version yet without a shadow of a doubt."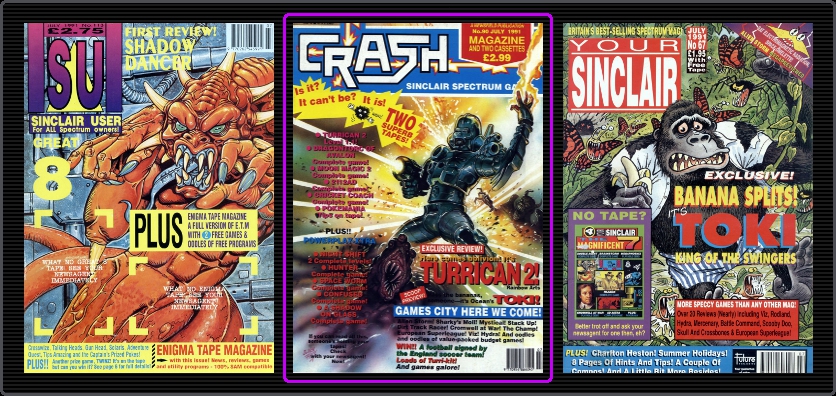 While the Speccy cover tape wars raged on, the covermount numbers may have increased, but the page numbers were dwindling. The 52 paged

Crash

issue 90 featured two cover tapes on the front this time around, with eight full games and two playable demos. Deep breath... There were playable demos of

Turrican 2

and

Night Shift

, along with complete games of

Dragontorc

,

Moon Magic 2

,

2112AD

,

Cricket Coah

,

Hunter

,

Space Worm

,

Confused

and

A Shadow On Glass

.

Front cover story,

Turrican 2

, was the main review with a two page spread and 'A Crash Smash' rating of 95%. "One of the best games I've played on the Spectrum," wrote Nick Roberts. "Excellently drawn and coloured graphics are a real treat and the vastness of the game will keep you busy for ages." Mark Caswell also praised the game as being "every bit as good as its predecessor, with its brilliant intro tune, fast-paced action and rainbow-hued graphics." Games that fell just short of 'A Crash Smash' this issue included

European Super League

with 80%.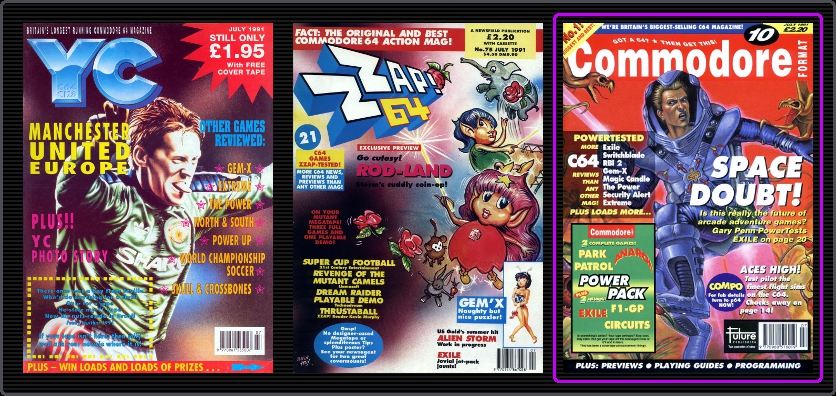 Commodore Format

issue 10 and with it came Power Pack number 10, the regular covertape. Included in the tape giveaway this issue were full games of

Park Patrol

and

Anarchy

with playable demos of

Exile

and

F1-GP Circuits

. In 'Aces High', Gordon Houghton tested the best flight simulations on the C64. Flying in with full marks were

Gunship

(Mircoprose) and

Project Stealth Fighter

(also Microprose). Topping the C64 charts was

Creatures

, with the

Dizzy Collection

and

Teenage Mutant Hero Turtles

close behind.

Already exposed to the arcade adventure,

Exile

, on the front cover and with the playable demo on the covertape, readers then got the 97% 'Corker' review from Gary Penn. "Although

Exile

isn't perfect," summarised Gary, "it's the most gripping game I've played in years and it's intrinsically the most exciting concept I have ever seen ever."

'The Commodore Format A to Z of Classic Games' concluded with the T-Z section, as Gordon took a lookback at golden classics such as

Thrust

,

Turrican

,

Uridium

,

Wizball

and

Zak MacKracken and the Alien Mindbenders

. 'The CF Compendium of Mean…' series also continued with a look at Hi-Tech hardware that have been seen in shoot-'em-ups, including Defence Force in

Blood Money

, saucers in

Encounter

and limpet guns in

Thrust

.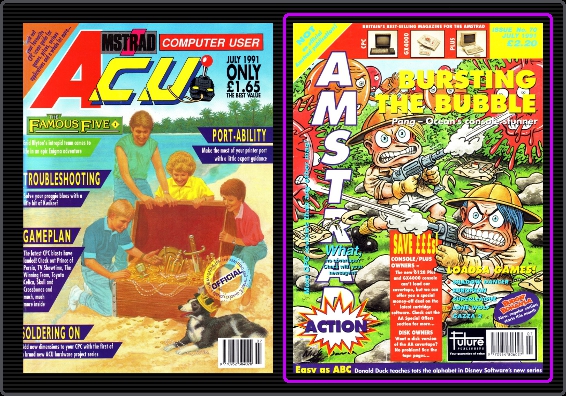 With issue 70,

Amstrad Action

also had an impressive covermount with playable demos of

Switchblade

and

Megaphoenix

and full games of

Future Knight

and

Balldozer

. Interesting news this issue was the future releases of Amstrad and Spectrum games, with games having the two formats on a dual-format cassette tape. Starting with

Mercs

, US Gold are distributing the game with the Amstrad version on one side and the Spectrum version on the other side. This not only cut down on distribution costs, but also appealed to dealers, who were already moving towards 16-bit computers and consoles.

The sequel (of sorts) to the 1987 arcade hit from Sega,

Shadow Dancer

, gained a 'Master Game' rating of 90% from Frank O'Connor. 'The first thing you'll notice is the graphics," noted Frank. "They are programmed in 16-colour mode and very impressive they are too. The animation, while smooth, isn't particularly realistic. The dog when he attacks looks like… well, let's just say he doesn't look like he's attacking, more as if he's developed a strong affection for your leg… One of the biggest, most playable arcade licenses to date and US Gold deserves a big pat on the back for this one."

Another arcade hit got the conversion treatment, this time with

Pang

arriving in cartridge form for the GX4000 and Plus machines. With an overall rating of 93% from Rod Lawton the game was awarded the 'Console Stunner' accolade. Rod posed the question, "16-bit quality?" in his review and surmised that "on the whole, not quite. But it is nearer 16-bit than 8-bit. Ocean has now produced some excellent cartridge produce. Pang is simple, addictive, maddening, and more fun than could possibly be good for you."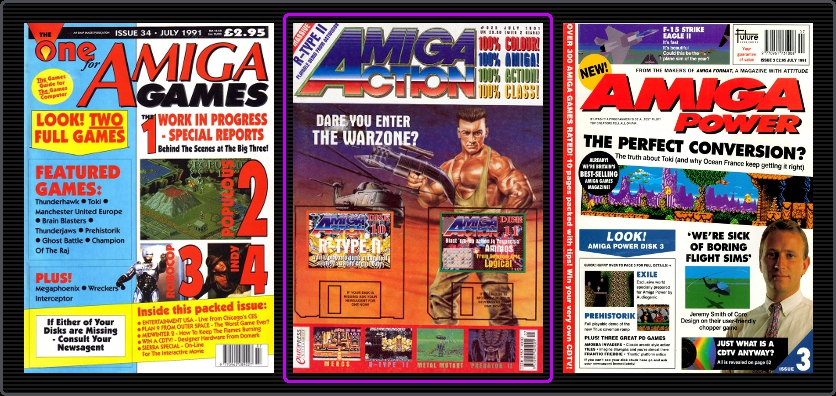 Issue 22 of

Amiga Action

had a plethora of 'Super League Accolade' gaming action. First up was

R-Type II

from Activision, which came away with an overall score of 87%. "Fans of the original will certainly enjoy the challenge of new levels and the improved weapons," stated the reviewer. "The only disappointment is the lack of a simultaneously two-player option. If you're after an entertaining and addictive shoot-'em-up, look no further."

Another shooter,

Stellar 7

, made it into the shoot-'em-up league ratings with 87%. "The intro sequence is outstanding and the digitised speech almost blows your socks off. The gameplay could have been tedious if it wasn't for the addition of the guardians which inject new life into the game. Good graphics, excellent sound and brilliant gameplay."



Metal Mutant

from Palace Software entered the beat-'em-up league table at 13 and achieved a rating of 85%. "The graphics are great and really atmospheric, backed up by superb sound FX. The gameplay is better than the demo version and is set at just the right difficulty…

Metal Mutant

is a game that is both original and playable."



Trial By Fire

garnered an overall rating of 88% to make it into the adventure league table at number eight. "The first thing that overwhelmed me about

Trial By Fire

was the number of disks that sprang out of the box when I opened it. But even though there are eight, the swapping isn't too bad. Even if it had been it just wouldn't have mattered because the game is totally brilliant."

Core Design's vertical scrolling shooter,

Warzone

, was next to get the 'Super League Accolade' treatment, coming away with 88% and entering the shoot-'em-up table at number 10. "

Commando

fans are certainly in for a treat this month with the simultaneous release of both

Mercs

and

Warzone

. If you had to choose between the two, my money would be on

Warzone

. In terms of playability

Warzone

has the edge, just. Before you go comparing it to

Commando

, I can assure you that the game has improved over the classic in every department…"

Arcade Adventure,

Hunter

, rounded off the 'Super League Accolade' games with 89% and entering its respective table at five. "If you thought you had seen some decent interactive fractal landscapes wait till you get a loda of

Hunter

. Hunter is a tip top product that will sell a storm when it hits the streets."