'Back in Time' is a monthly feature where we look back at the classic video gaming magazines twenty years ago this month. This month it's June 1990 when

Operation Wolf

shot onto the Sega Master System with an excellent conversion of the hit coin-op,

Sinclair User

reached its 100th issue, magazines went soccer crazy to coincide with the World Cup in Italy and

Zzap!64 Amiga

published the first edition in an ongoing development diary of a Rowland brothers C64 game called

Creatures

...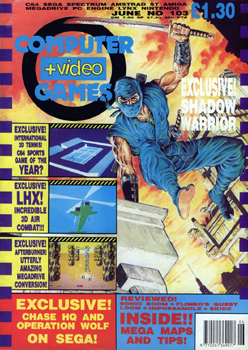 In issue 103 of Computer & Video Games Paul Rand started off the reviews with a massive 97%, which was given to LHX Attack Chopper (PC) from Electronic Arts. "The best helicopter sim EVER." stated Paul Rand, before saying that "if you've got a PC, put LHX Attack Chopper right at the top of your games shopping list." International 3D Tennis from Palace Software scored an ace rating of 94% with the C64 game. Shadow Warriors from Ocean picked up 93% with the Amiga version and 92% for the ZX Spectrum version. Paul Glancey rated Flimbo's Quest from System 3 highly, giving the Amiga and C64 versions 92% and 91% respectively. Microprose's Tower of Babel on the Amiga received 90%. Tennis Cup from Loriciels/US Gold also achived a 'C&VG Hit!' with 85% for the Amiga game. The Amstrad and Spectrum versions of Hammerfist received 88% and 87% respectively.

Julian Rignall oversaw the Arcade Action section, rating Crude Busters and Mercs highly with 95% and 90% respectively. The 'Mean Machines' section was also packed with 'C&VG Hits!' Afterburner from Sega flew in with a huge 95%, Sunsoft's NES version of Batman grappled in a 92% rating and Sega rescued a 90% rating for their Master System arcade conversion of Operation Wolf.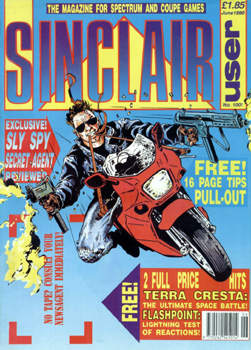 Sinclair User had reached their 100th issue (a remarkable achievement for a single format magazine) and how did they celebrate the occasion? By having a 16 page tips supplement in the magazine. Wow, good job. To make up for that massive disappointment, the magazine featured two full price software hits from Ocean Software on the front cover: Terra Cresta, a shoot-'em-up, and Flashpoint, a puzzle game. For the Coin-ops section, the SU crew visited the Funland of Luna Park amusement arcade. Arcade games of note included Crude Busters, which got an Addict Factor of 94, Slick Shot (78) and Mercs (74).

Cover game Sly Spy, Secret Agent from Ocean Software received a Sinclair User Classic accolade with a 90% rating. Chris Jenkins summed up the game: "nicely detailed graphics, smooth animation, non-stop action, and decent sound effects; it left me shaken but not stirred." Also achieving Classic status was Image Works' Bloodwych. The first perspective adventure game got an 89% rating from Garth Sumpter, who said that the game was "a shining example of the new wave of adventure. Excellent on all fronts." International 3D Tennis and Dynasty Wars both just missed out on the classic status with ratings of 84%. Lords of Chaos was cast an 82% rating, while A.M.C. (aka Astro Marine Corps) from Dinamic managed to achieve a respectable rating of 81%.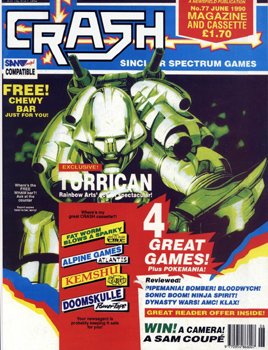 Game thrills on Crash's issue 77 cover tape included Fat Worm Blows A Sparky from Elite, Alpine Games from Atlantis, Kemshu from Cult and Doomskulle from Powertape. After the C64 version of Turrican received the plaudits in last month's gaming magazines, it was now the turn of the Spectrum version to get some praise. And it did just that, getting a 'Crash Smash' award with a 94% rating. Mark Caswell stating, "Probe and Rainbow Arts have produced one of the best Speccy games seen this year." Pipe Mania from Empire was also given a Crash Smash award with 91%. Again, Mark Caswell dished out the praise: "Whether plumbing strategy is your scene or not, Pipe Mania will get your adrenalin Flooz flowing!" A.M.C. just missed out on an award with 82%.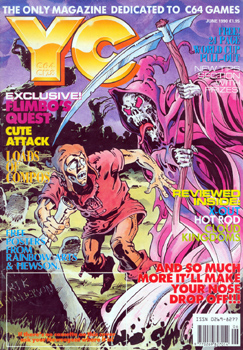 For issue 69, YC spoke to Karl Buiter, programmer of Sentinel Words 1, in a cleverly titled interview, 'A Buiter-ful game'. YC also visited the development camp of Entertainment International, the team that produced the likes of Space Ace and Dragon's Lair home conversions and the forthcoming Gazza's Super Soccer. Sean Kelly took racing games for a spin to find out the podium positions: Turbo Outrun (90%), Grand Prix Circuits (90%) and Stunt Car Racer (92%). A 24 page pullout booklet looked at soccer games on the C64. Brian Clough's Football Fortunes, a management game featuring the legendary former Nottingham Forrest manager, scored an impressive 95%. Football Director managed 93% and International Soccer got 92%. However, Emlyn Hughes International Soccer lifted the trophy with a high scoring rating of 97%.

A superb review section this issue with no fewer than eight 'YC Fun*1''s awarded. World Championship Boxing Manager by Goliath Games scored an early knock out punch to get 90%. Flimbo's Quest from System 3 managed to get 96%. Rik Henderson stated that the "graphics are nothing short of excellent, and being of the cute variety, are bright even when the backgrounds may be very evil indeed. Flimbo himself is set to become a cult hero […] and System 3's first solo release (without the intervention of Activision) not only deserves, but is set to become a classic." Not to be outdone by Flimbo's Quest in the cute platform game stakes, Rainbow Islands went one better, with a mammoth 97%. "If you only ever buy one game for your 64, "make it Rainbow Islands" stated Ashley Cotter-Cairns. Pipe Mania managed to grab an 86%, Hot Rod from Activision was hot enough for an 89%, X-Out from Rainbow Arts got 94%, Cloud Kingdoms from Logotron soared with a 93% rating, while Fiendish Freddy's Big Top O' Fun from Mindscape rounded off the run of 'YC Fun*1''s with an equally fantastic 87%.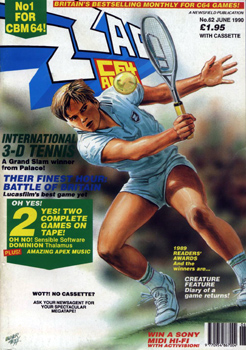 Issue 62 of Zzap!64 Amiga included 'Creature Feature', the first edition in an ongoing diary of the Rowland brothers forthcoming platform game, Creatures. Apart from behind the scenes accounts on the development of the game, the brothers also provided other bad and good news as Steve Rowland explained: "The bad news is our local Wimpy (in Chelmsford) is closing down, but the good news is that it's reopening as a (drum roll) Burger King." Following sister magazine Crash's awards ceremony last month, it was now Zzap!'s turn as they announced the 1989 Zzap!64 Amiga Readers Awards. Best Game of the Year on the C64 went to Turbo Outrun and for the Amiga, Kick Off. The other main C64/Amiga awards were Best Coin-Op Conversion (Turbo Outrun/Operation Thunderbolt), Best Licence (Batman The Movie), Best Adventure (Scapeghost/Indy: The Graphic Adventure), Best Strategy/RPG Game (Laser Squad/Dungeon Master), Best Software House (Ocean), Best Programmer/Programming Team (Probe Software/The Bitmap Brothers), and Best Game of the Decade (Elite/Dungeon Master).

Garnering praise from Robin Hogg, Phil King and the Scorelord in the reviews pages was International 3D Tennis for the C64. The 'Sizzler' awarded game came away with 94% and a perfect summarisation from Phil: "In short, International 3-D Tennis is smashing, ace, and beats the competition to love!" Having given the C64 disk version of Electronic Art's Ferrari Formula One a massive 95% in issue 60, it was now the turn for the cassette version to get assessed. This version finished on the podium with 93%. Lucasfilm/US Gold picked up 91% with Their Finest Hour: The Battle of Britain on the Amiga.

Two 'Silver Medal' awards were given out this month for top rated C64 re-releases: Head Over Heels and Parallax getting 98% and 90% respectively. Other games of note (all on the Amiga) that just missed out on the accolades this month included Chronoquest 2 by Psygnosis with 85%, Tennis Cup with 83%, Space Quest 3 from Sierra On-Line with 82%, Ninja Spirit from Activision with 80% and Pirates! by Microprose got 80%.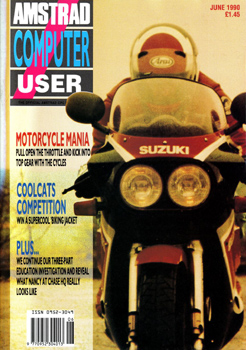 June 1990's edition of Amstrad Computer User featured the regular Combat Zone section where John Cook checked out the latest arcade games. The game of interest here was a prototype four player cabinet setup called Last Survivor. Here, each player had their own separate upright cabinet, from which they were given a first person view of the various mazes. Aim of the game: collect the keys, killing the other players if need be, and leg it out of the maze. Other games looked at included Bloxeed (the sequel to Tetris), Badlands (a Super Sprint variant) and Spellbound (a Skill with Prizes coin-op). The Amstrad CPC top selling game this month was Fantasy World Dizzy by those budget kings, Code Masters. At number two was Paper Boy, followed by Pub Trivia.

The cover game, The Cycles, received the two page review treatment this issue. The motorcycling racing game from Accolade came away with impressive ratings and a jackpot verdict. Bloodwych, a first person adventure from Image Works, was reviewed for a second time. Eh? Yes, apparently, when the game was reviewed the first time, ACU did not think it would take so long for the epic adventure to hit the streets. That's their story, anyway. The game itself was rated highly in all the individual categories and given a pot of gold verdict. Alan Greaves gave the game praise throughout the review: "…exceptionally playable game with excellent graphics. […] plenty of fun and a good does of action […] never has it been so exciting to go adventuring together with a friend."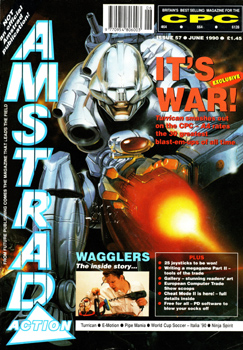 Issue 57 of Amstrad Action looked at some of the most important equipment for the CPC game: joysticks. In the article, Give 'em Stick, AA spoke to Dynamic (makers of the popular Competition Pro range of joysticks), listed the top rated game controllers and the experts choices (Rod Lawton, Adam Waring, Trenton Webb, Matt Bielby and more). Using this new found knowledge, AA staffer, Adam Waring presented the Build Your Own Joystick with hilarious consequences. The European Computer Trade Show had come and gone and Trenton Webb was there to witness the forthcoming games from the likes of Enigma Variations, US Gold, Ocean, Microprose, Gremlin, Virgin, Domark, Accolade, Activision and more.

The puzzle game with a difference, E-Motion, from US Gold, was first up in the Action Test section and came away with a 'Master Game' rating of 92%. Trenton Webb said that if the game marked the "dawning of a New Age of games then it's a welcome change." Another puzzle game, Pipe Mania, was also received well, getting 88% and an 'AA Rave' for its efforts. World Cup fever was kicking off in Italy so it was no surprise to see football games appear on the CPC. One of these games was World Cup Soccer: Italia '90 from Virgin. The game scraped a narrow 'AA Rave' win with 81%. Turrican from Rainbow Arts was next to receive the praise, getting 90% and a 'Master Game' accolade.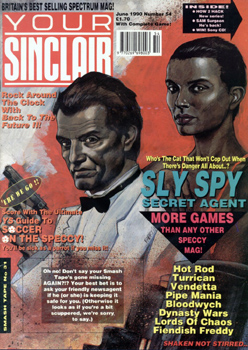 Adorning the issue 54 covertape of Your Sinclair this month was Ballbreaker II, a bat-and-ball type game, and a demo of Pipe Mania. Topping the Spectrum charts this month was Rainbows Islands, followed by Ninja Spirit and E-Motion. To serve as a companion to the World Cup event which played out in Italy, Jonathan Davies led the reader through The YS Complete Guide to Soccer Games. Amongst the high scoring games were Match Day II from Ocean with 90, Football Manager II from Addictive with 80, Microprose Soccer from, erm, Microprose with 89 and Footballer of the Year 2 from Gremlin with 80.

Leading the way in the 'Your Sinclair Megagames' was Lords of Chaos which came away with a spellbinding 94. Rich Peley stated that "if gigantic (but very accessible) adventures are your cup of cha, then buy buy buy!" Not far behind were Pipe Mania and Lords of Chaos, both with 90. Hammerfist just missed out on the Megagames status with 87, while Dynasty Wars and Fiendish Freddy's Big Top 'o Fun both managed an 80.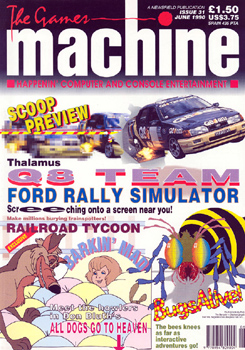 A pretty lean month for high review scoring in issue 31 of The Games Machine with only one accolade dished out. That went to Electronic Art's 688 Attack Sub on the Amiga which got 90%. Antheads: It Came From the Desert 2 by Cinemaware/Mirrosoft just missed out on an accolade with 87%. Also just missing out on awards was Budokan from Electronic Arts, which received 87% for the Amiga version. Other notable games were Ninja Spirit on the Amiga with 85%, Jumping Jack Son from Infogrames with 84% for the Amiga, Tennis Cup on the Amiga with 83%, Tower of Babel on the Amiga with 81%, Gravity by Image Works on the Amiga with 80%, Highway Patrol 2 (Amiga) by Microids/Infogrames with 80% and Rock Star Ate My Hamster on the Amiga by Code Masters with 80%.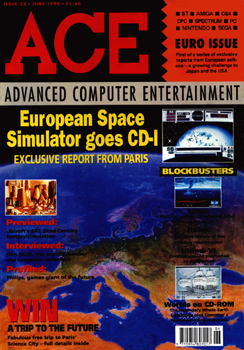 Ultima VI on the PC by Origin kicked off the ratings rush in issue 33 of ACE with an overall score of 950 – the highest ACE rating to date. "After seeing the introductory sequence you'll be taking tranquillisers – the graphics are that good!" remarked Steve Cooke, "after a day you're completely hooked." Matching that rating, punch by punch, was World Championship Boxing Manager on the Amiga by Goliath Games. Tower of Babel on the Amiga got a rating of 935, Player Manager on the Amiga managed 930, Warhead on the Amiga and Atari ST was given 920 and 905 respectively, F-29 Retaliator on the Amiga landed in with 910. Treasure Trap on the Amiga got 910 and Antheads on the Amiga got 902.

Games that just missed out on the ACE accolade were Golden Axe (Master System, 890), Mind-Roll (PC & Amiga, 890), LHX Attack Chopper (PC, 888), New Zealand Story (PC Engine, 870), Xenomorph (Amiga, 870), Hammerfist (Amiga, 860), Lords of Chaos (Spectrum, 850), Loom (PC, 845), Scramble Spirits (Master System, 845), E-Motion (C64, 830), Budokan (Amiga, 825), First Contact (Amiga, 810) and Manchester United (Atari ST, 800).

Following last issue's special features on gaming in the US, it's the turn of Europe this time. Other features include the CD-I, Ubisoft, CD-ROM systems and more. The most prestigious industry ceremony, the Golden Joystick awards, was hosted by EMAP (publisher of fine magazines such as C&VG, CU Amiga, Sinclair User and, of course, ACE). The main awards went to The Untouchables for 8-bit Game of the Year, Kick Off for 16-bit Game of the Year and Indiana Jones and the Last Crusade (The Graphic Adventure) for PC Leisure Product of the Year.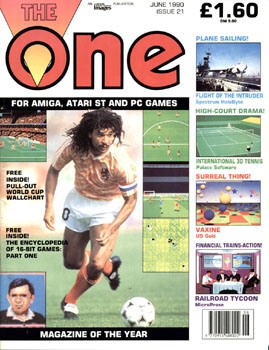 Another famine of high rated games in issue 21 of The One For 16-bit Games. Top rated game was Railroad Tycoon on the PC from MicroProse got an impressive 93% rating. The Amiga sequel Antheads: It Came from the Desert 2 received 91%. The Amiga version of International 3D Tennis shot a respectable 89%. Rotox on the Atari ST from US Gold managed an 83%. Photon Storm on the Amiga by Arc got 81%. And Greg Norman's Ultimate Golf on the Amiga by Gremlin holed an 80%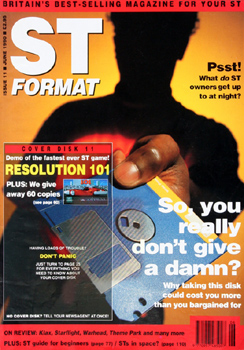 Issue 11 of ST Format had a handful of high rated games with three 'ST Format Gold' awards handed out. Player Manager from Anco scored 93%, Resolution 101 from Millennium received 93% and Warhead from Activision got 90%. Other games of note reviewed this issue included Klax from Domark which got 87%, Fire and Brimstone by Microprose with 84% and Theme Park Mystery from Mirrorsoft with 80%.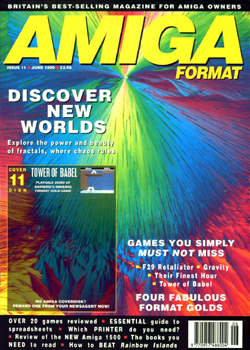 Issue 11 of Amiga Format and the Games Programming series continued with Aliens part 2. Featured on the cover disk this issue was a playable demo of Tower of Babel (the 3D puzzle game from Rainbird), Shootout (a shoot-'em-up) and various technical software. Four games received 'Amiga Format Gold' status in the Screenplay section. Tower of Babel got 95% with Andy Smith describing it as "a superb game" and that "if you liked The Sentinel, this is a must." Gravity from Mirrorsoft received a 91% rating, while F-29 Retaliator got 92% and Their Finest Hour got 90%.

June's edition of CU Amiga had the second of their monthly cover disks. Included game demos were Rotox from US Gold and Subbuteo from Goliath Games. Two 'CU Super Star' awards were handed out (games rated 95% or over). Rotox was rated 97% while Subbuteo got an equally impressive 95%. Receiving 'CU Screen Star' awards were Turrican with 91%, Leisure Suit Larry 3 with 90%, Fire and Brimstone with 89%, Champions of Krynn with 88%, International 3D Tennis with 88% and Klax with 85%. In the arcades section Crude Busters fared the best coming away with 90%, while Mercs got 83%.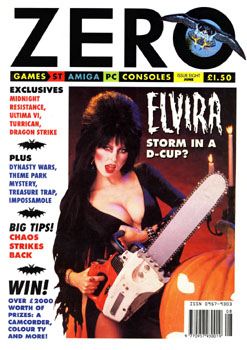 "Is it a birdie? Is it an eagle? No, it's Duncan MacDonald" with a fine selection of golf games in one of the fine features in issue 8 of Zero. There was also a decent selection of games reviewed this issue with six 'Zero Hero' and one 'Console Classic' awards given out. The New Zealand Story on the PC Engine came away with the highest rating of 97% while the Mega Drive version didn't do too badly either with 92%. Elvira: Mistress of the Dark (Amiga, Atari ST and PC) got a horrortastic 93%. Two Amiga golf games, with legendary players names attached to them, went head to head. Greg Norman's Ultimate Golf beat Jack Nicklaus' Greatest 18 Holes by one shot, 91% to 90%. The remaining 'Zero Hero' games (all on the Amiga), Sim City Terrain Editor, Turrican and Wipe Out, all managed a fine 90%.