'Back in Time' is a monthly feature where we look back at the classic video gaming magazines twenty years ago this month. This month it's June 1991 when Roger Wilco went on his fourth Space Quest, Street Figther II hit the arcades, Cruise For A Corpse appeared on many gamers' wanted lists, Prince of Persia amazed gamers everywhere with its superb Amstrad CPC version and the Spectrum covertape wars continued with even more gaming giveaways...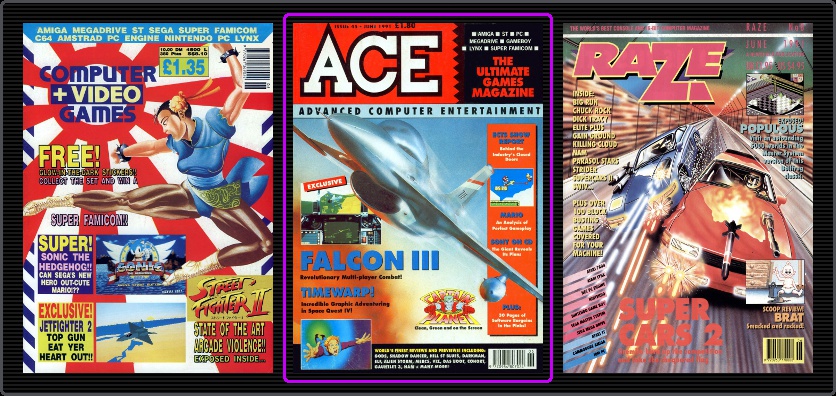 ACE

was always a magazine that had plenty of articles amongst the usual reviews and previews and issue 45 was no exception. In 'Laser Visions', Rik Haynes spoke to the President of the newly formed Sony Electronic Publishing about the media giant entering the videogaming market – an inconceivable notion back then – and producing a CD-ROM add-on for the Super Famicom. Mmm, I wonder how that went?

The 'King Mario' article examined how

Super Mario World

is arguably the most playable game ever written.

ACE

dissected the game and explained where Nintendo are going right and where the others are going wrong by looking at graphics, sound, control, variety, fairness and much more.

The

Space Quest

science fiction adventure series from Sierra had reach number four with

Roger Wilco and the Time Rippers

. Taking centre stage on the front cover and with a full three page spread review,

Space Quest IV

impressed sufficiently to gain an ACE rating of 880. "An excellent sci-fi romp," Jim Douglas wrote. "Quick-paced and quick witted, the action seldom grinds to a halt, and for an intentionally funny game it manages to maintain a decent level of tension too. Even when you're stuck in a dead-end, there are enough jokes to keep you amused."

The Amiga and Atari ST versions of

Gods

were both playtested with final ACE ratings of 908 and 901 respectively. "The Amiga version's ST roots are slightly visible: the scrolling is a tad 'chunky', but the Amiga's superior hardware has been used to smooth out the ride," explained Richard Evans. "The graphics and full-screen scrolling are amazing, and just show what the all too-frequently belittled ST can do in the hands of a good programmer... Only after you've been playing for a while will you discover that Gods packs considerable depth beneath its hack-'em-up façade…"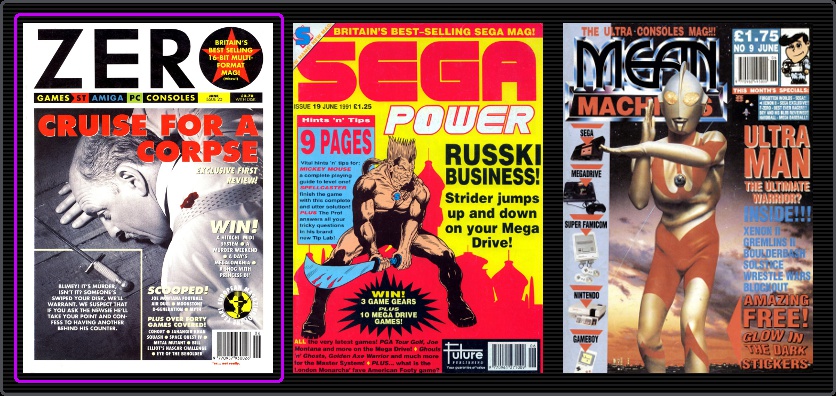 Zero

, "Britain's Best Selling 16-bit mult-format mag", featured an "exclusive first review" of

Cruise For A Corpse

, both statements of which adorned the front cover. The Amiga adventure game from Delphine Software/US Gold is a classic take on the murder mystery theme. "Quite a few publishers could learn a thing or two from Delphine," stated David Wilson. [They] would prefer to delay a game's release for yonks rather than release a duffer. The quality of previous titles has more than made up for the delay in their scheduled releases.

Cruise For A Corpse

is no exception… A well impressive and very 'friendly' package, beautifully presented."

Elsewhere,

Joe Montana Football

impressed on the PC with a 90% rating,

Eye of the Beholder

, also on the PC, was given 91%,

F-29 Retaliator

flew by for a 94% on the PC,

F-15 Strike Eagle 2

on the Amiga landed in for a 92%, while

PGA Tour Golf

on the Amiga holed in for a 92%.

In the 'Console Action' section,

Rad Gravity

on the NES took centre stage with an impressive 91% rating and a 'Console Classic' accolade to boot. Essentially a space exploration platform game,

Rad Gravity

tasks the player with a series of missions throughout the solar system. "A fabulously original platform game," wrote Jane Goldman, "with first-rate gameplay and depth of playability you'd be more likely to in a good computer game, than on an 8-bit console." Other impressive games in 'Console Action' this month included

Contra

on the Gameboy with 91% and

Pacmania

on the Master System with 90%.

In 'Dosh Eaters', the arcade game that scored a perfect five invaders icon (or a five out of five in laymen's terms) was puzzle game

Ataxx Master

. David Wilson described the game as "a rather addictive little number and yet, like all the best puzzlers, it's such an incredibly simple idea." Other games that fared well included

Big Karnak

(4.5/5),

Euro Football Champ

(4/5) and

Rad Mobile

(4/5).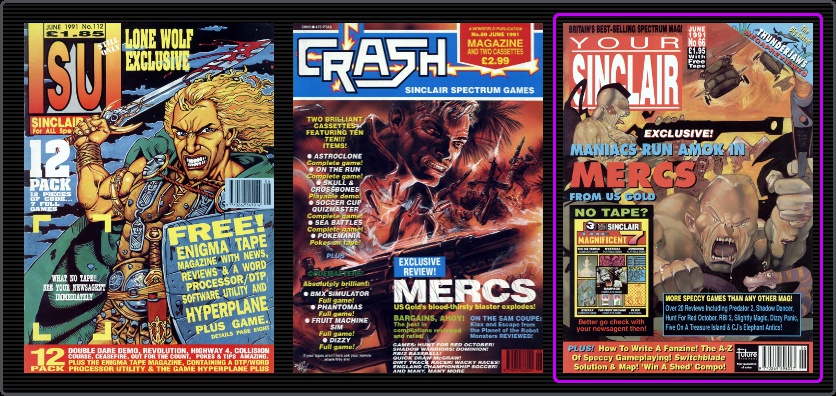 It was the 66th issue of

Your Sinclair

and the Spectrum cover tape wars was showing no signs of slowing down. But wait a minute, there was actually another fantastic complete game on the

YS

cover tape in the form of Activision's arcade conversion of

Rampage

. Other, not quite as great, complete games included

The Ice Temple

,

Syntax

and

Top Fruit Machine

. Playable demos of new games included

Mystical

and

Dominion

.

The 'Complete YS Guide to Fanzines' feature really says it all in the title, as Rich Pelley took the reader through the ins and outs of the homemade magazine publishing empire. Spectrum fanzines picked out for mention included

Adventure Probe

,

Specreview

,

From Beyond

,

Turbo

,

Re-Run

,

Pokes and Prods

and

Enigman

.

It was sadly a sign of the times when a Code Masters budget range game stole the highest rating of the issue with 94.

Slightly Magic

took the template of the successful

Dizzy

series and added improvements galore. "I'm even going to say that

Slightly Magic

is better than the

Dizzy

games," stated Riche Pelley, "because with the addition of spells you've got to think quite a lot more about what to do rather than simply using the correct thing in the correct place." Just missing out on the

YS

accolade were

Gauntlet III

with 89,

Five On A Treasure Island

with 83 and

Shadow Dancer

with 85.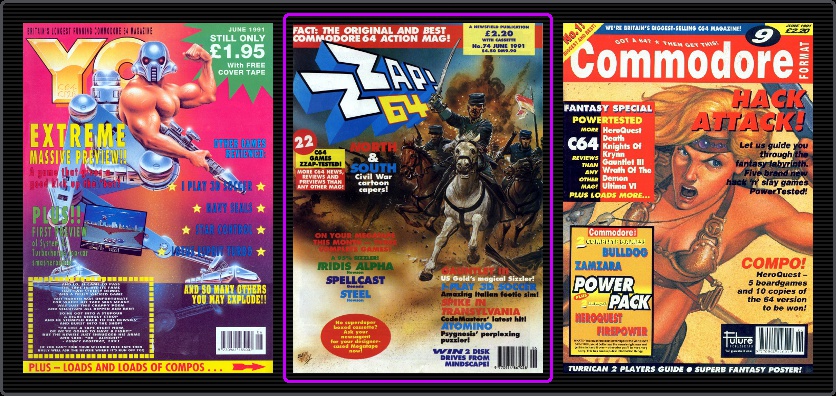 Long time fans will no doubt have been dismayed when they set their eyes on issue 74 of

Zzap!64

, for there had been a rather drastic re-design of the magazine. By dropping the Amiga coverage,

Zzap!64

was back to being a dedicated C64 magazine that could take on the new C64 mag on the block:

Commodore Format

. While this news, along with a shiny covertape box, will have been welcomed by readers, the re-design will not have. Gone was the distinctive design of the mag, which had more or less remained for 70+ issues and in came a rather bland look, but worst of all was the removal of the famous caricatures of the reviewers in the pages, to be replaced with almost childish cartoon versions.

In this issue, the saga of

Creatures II

's development continued in 'The Fuzzy Factory'. Held up momentarily, Steve Rowland had to deal with a package from Thalamus' Dave Birch. Eleven copies of

Creatures

were not complementary copies, as thought, but returns. "Apparently these games were RETURNS, and didn't work," Steve explained, "but every single one that we tried to load, loaded perfectly – apart from the one that actually had

Midnight Resistance

recorded on it (I spent a few hours playing this – not bad)."

The classic

Zzap!

Challenge was back as the staff of

Zzap!

(Robin Hogg and Phil King) and

Crash

(Nick Roberts and Mark Caswell) squared off against each other in 'Shoot-out At The Mill'. Taking on each other at

World Games

on the C64,

Narc

on the Spectrum,

Turrican II

on the C64 and

Super Scramble Simulator

on the Spectrum. After a gruelling four events, Phil King topped the inter-magazine league table with 13 points followed by Nick and Robert (10 points) with Robin trailing behind with seven points.

The results of the 1991 readers' C64 awards were in. Best Game of the Year went to

Creatures

, Coin-Op Conversion went to

Golden Axe

and Best Strategy/RPG Game went to

Lords of Chaos

. Other awards included Best Licence (

RoboCop 2

), Original Game (

Creatures

), Adventure (

Bloodwych

), Graphics (

Turrican

), Software House (

Ocean

), Programmer (

Apex

), Sound (

Creatures

), Advertisement (

Creatures

), Budget Game (

Head Over Heels

) and Worst Game (

Hard Drivin'

).

Although gaining the highest rating of 93%, the Sizzler awarded

Atomino

was shoehorned into a one page review. "

Atomino

is one of those game you simply can't leave alone," admitted Phil King. "Like all the best puzzle games the control system and basic concept are simple – the only difficulty is winning! In short

Atomino

is brill and blows

Tetris

into tiny atoms!"

Also sizzling in the

Zzap!

Testing were

North & South

with 91% ("another conversion miracle from Probe."),

Gauntlet III

with 92% ("State-of-the-art 3-D, masterpiece backdrops and good gameplay make this a true classic") and

Supremacy

with 91% ("the ease of play and sheer tyrannical power makes Supermacy one of the best strategy games around.").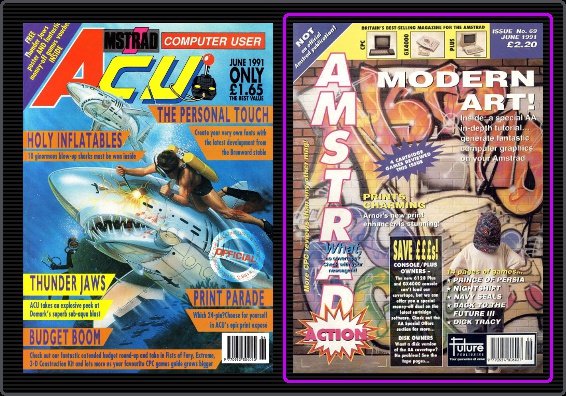 With issue 69 of

Amstrad Action

, the marvellous isometric puzzle game

Spindizzy

was given away absolutely free with the 'Action Pack' covertape. It was also an action packed 'Action Test' section in the magazine this month, which proved that the Amstrad gaming scene was showing no signs of dying off just yet.

Broderbund/Domark's classic platforming hijinks

Prince of Persia

made it to the humble Amstrad CPC and was the highlight of the lot with a massive 95% rating and taking away a 'Master Game' accolade for its efforts. "First impressions could lead you to believe you were playing the ST version," enthused Frank O'Connor, "things look so smooth and detailed. The difficulty level has been pitched exactly right… In short, this is one of the best Amstrad games ever…"



Night Shift

from US Gold/Lucasfilm Games managed an 'AA Rave' rating of 85%.

Navy Seals

was a cartridge release for the new range of Plus machines and the GX4000 consoles and achieved its mission with a 'Console Stunner' accolade and a rating of 88%.

Exterminator

racked up a rating of 83% and an 'AA Rave' accolade.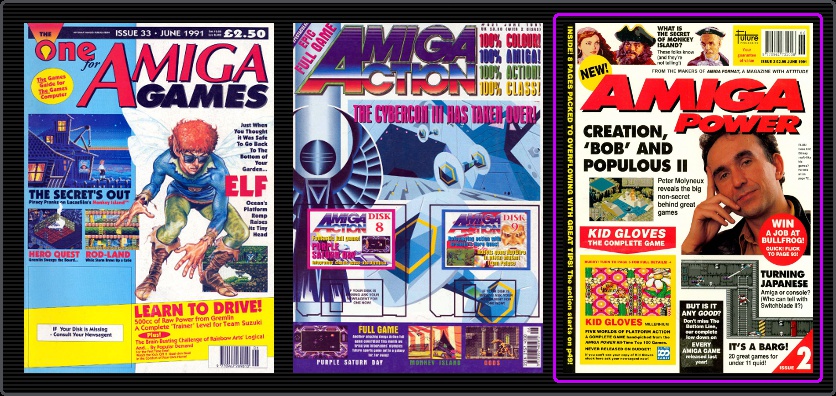 Amiga Power

returned with its second issue and another complete Amiga game to give away on the coverdisk.

Kid Gloves

had never been released on budget before and was another scoop for the magazine, but this kind of giveaway was not to last. The industry were getting panicky about lost revenues if gamers were able to get free games from magazines every month.



Amiga Power

were displaying their infamous no holds barred stance when it came to games reviewing early on with only

The Secret of Monkey Island

breaking the 90% barrier, nearly, with, erm, 90%. "It's taken ten years," wrote Mark Ramshaw, "but the first truly accessible adventure is finally with us. Keep this game in a plastic bag, because the atmosphere really does drip from it. Graphics, sound, and plot – everything gels perfectly." Other worth games that were covered this month included

Wonderland

(81%),

Switchblade 2

(87%),

3D Construction Kit

(80%),

Hero Quest

(80%) and

MegaTraveller 1: The Zhodani Conspiracy

(88%).

In 'Pond Life', Matt Bielby spoke to Bullfrog's Peter Moleneux about the development company's past and its forthcoming games such as

Powermonger

data disks,

Populous II

,

Bob/Higher Functions

and

Creation

. And if that in-depth look at Bullfrog wasn't enough Eric Matthews known as one of the Bitmap Brothers was the star of 'If I'd Known Then…' – the feature where developers lookback at their games in hindsight.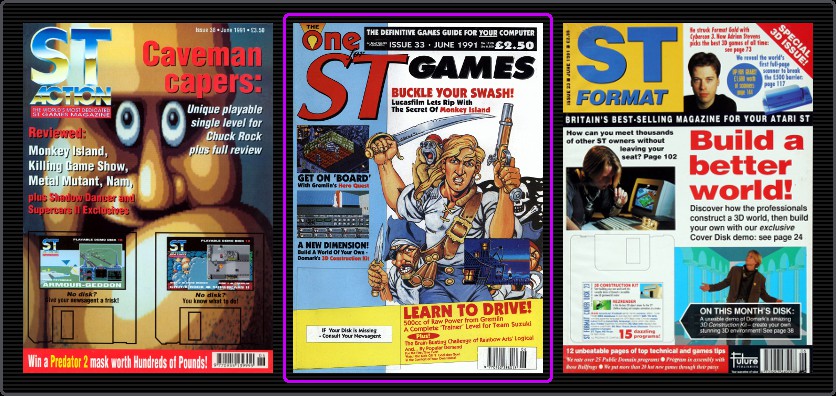 Having successfully split off into

The One for ST Games

, issue 33 had some fantastic content to fill the, now dedicated, Atari ST magazine. First up was the coverdidsk which contained a complete 'trainer' level of

Team Suzuki

, five levels of

Logical

and the month's Goal-den Goal winner.



The Secret of Monkey Island

kicked off an action packed reviews section. The Lucasfilm Games' graphic adventure had made it to the ST with style, coming away with an overall rating of 92%. "A hilarious storyline, strong characters and an intriguing setting make it impossible to fault the gameplay," wrote Paul Pressley, "while even the perfect SCUMM control method has been improved."



Elf

from Ocean Software was a rarity as it wasn't a licensed based title from a movie or arcade. The arcade adventure impressed Ciaran Brennan who gave it an overall 90%.

Hero Quest

was given 91%,

Pro Tennis Tour 2

rated 90%, while the

3D Construction Kit

was rated 93%.