'Back in Time' is a monthly feature where we look back at the classic video gaming magazines twenty years ago this month. This month it is May 1991 when Cyberzone hit the Virtual Reality TV headlines, The One magazine split into two (one for Amiga and one for Atari ST), and two new games dedicated magazines launched: Amiga Power and the weekly Games-X....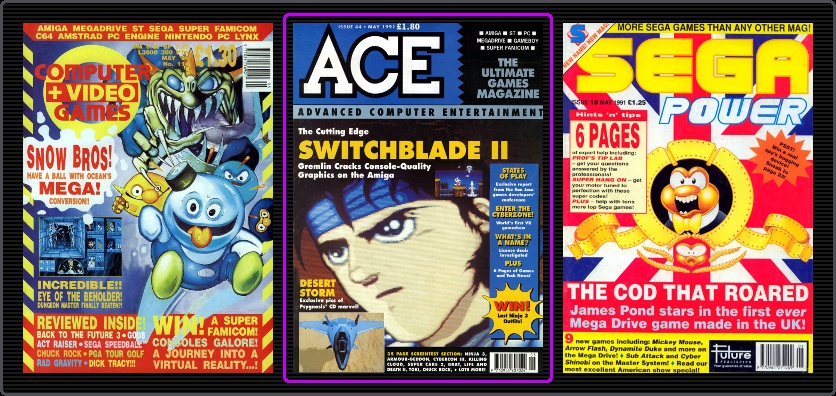 In issue 44 of

ACE

, David Upchurch visited the TV studios in Anglia, England to get the lowdown on

Cyberzone

, a virtual reality game show hosted by Craig Charles. The show pitted two competitors against each other as they attempted to guide their computer generated digitised character through a puzzle filled scenario. Think

Driller

or

Dark Side

with rogue cars and UFOs out to get you and you're looking at

Cyberzone

.

Major ACE Battles the Licence Overlords was an article looking at the process of the licensing business, from TV to movies to sports. In the Coin-Ops,

ACE

went to Blackpool to check out the latest gaming action in the arcades. Most interesting – or not – was Photo Star, which isn't really a game, rather a flash way of getting your face plastered next to a celebrity. Moving on to the real stuff with a slight disappointment with

RoboCop II

, which seemed to have lost something from its first arcade outing.

The screentest section kicked off with in style with the front cover review of

Switchblade II

. The Amiga platformer from Gremlin was given a rating of 900 and praised as being a console beater with its quality graphics and gameplay. "Perhaps unlike any other Amiga game to date,

Switchblade II

successfully provides the feel of a console title," explained Jim Douglas, "it's distinct from playing any of the other shoot-em-ups on the Amiga."



The Killing Cloud

from Image Works also gained an ACE Trailblazer with a 915 rating. "Where Vektro Grafix [the designers] have really triumphed, and this is the reason they've won themselves a Trailblazer, is in generating atmosphere," stated David Upchurch. "The ten missions are diverse, and the plot thread running through them lends a feeling of consequence to your efforts..."

The first issue of

Games-X

hit the streets in May 1991. The weekly dedicated games magazine was the brainchild of the magazine's publisher Hugh Gollner, who also oversaw the launch of the magazine as Editor. The magazine featured the usual content as its monthly peers – news, previews, features, arcades and reviews – but at a staggeringly fast weekly rate.

Feature wise, the first issue had Street Talk with mini interviews with gamers out and about in London, The True Love Story of How

Games-X

is Created with an interview with Hugh Gollner himself and there was The Making of Utopia – the Story so far...

Receiving the full five x-ratings for the first issue was the Amiga conversion of strategy board game

HeroQuest

. "Gremlin's brilliant adaptation manages to recreate the simplicity of the original perfectly," commented Alex Simmons, "and also includes that spooky and mystical atmosphere as well… A strong product based on the original, and a really refreshing change to the usual boring role playing game"

Not far off the five X mark were

Darius Twin

(SNES),

Shadow Dancer

(Amiga),

Gauntlet III

(Amiga),

Warbirds

(Atari Lynx),

Eye of the Beholder

(Amiga),

Chip's Challenge

(PC),

James Pond

(Mega Drive) and

Joe Montana Football

(Master System) all with four x-ratings.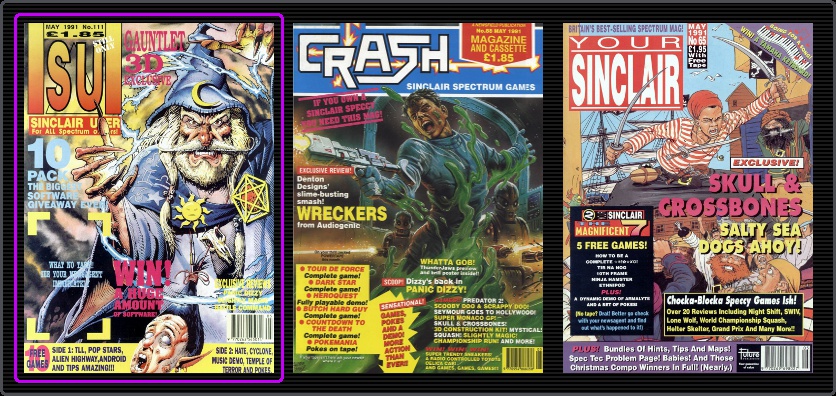 With issue 111,

Sinclair User

upped the ante on the Speccy covertape wars by placing their Ten Pack on the cover. What this actually meant was seven full games (including

H.A.T.E.

and

Highway Encounter

) and three other features such as pokes, music demo and other tips.



Battle Command

blasted onto the monochrome screen of the Spectrum with a SU Silver medal of honour. The 3D arcade tank sim from Ocean Software proved a direct hit with a rating of 85%. "The 3D on the tanks is quite spectacular," commented Steve Keen. A "real enjoyable romp through a war zone..."

Another 3D game, this time

Gauntlet 3D

, was given the SU Silver award treatment with 85%. "The 3D element addes a new perspective to a tried and tested product," stated Garth Sumpter."

3D Gauntlet

should keep you blastin' away for quite some time… definitely worth a whirl if you're a fan of the genre."



Predator 2

topped the other games with a SU Silver rating of 86%. The Mirrorsoft licence game took scenes from the movie and merged them with an

Operation Wolf

style interface. "Quite an enjoyable game," wrote Garth, "and if you haven't got one of the 1st person perspective shot [sic] 'em ups in your collection but it. It's the best of this year's bunch."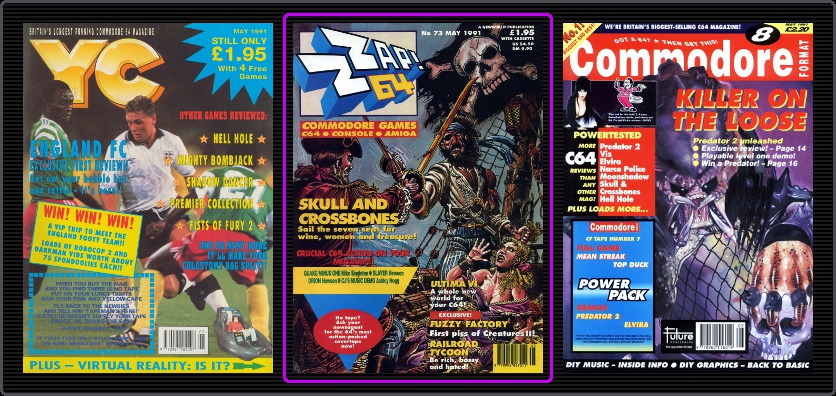 Zzap!64

issue 73's MegaTape featured Mike Singleton's classic

Quake Minus One

, as well as

Slayer

,

Orion

and

CJ's Music

Demo. Topping the Commodore 64 charts this month was

Teenage Mutant Hero Turtles

,

Chip's Challlenge

and

Golden Axe

. With the development of

Creatures II

having begun, the Rowland Brothers were back with their diary notes in The Fuzzy Factory.

In the The Think Tank, Zzap's adventure and strategy section, a handful of games generated some high rated games, including

Genghis Khan

on the Amiga. The war game strategy title from Koei/Infogrames garnered a Sizzler award with a 93% rating. Another Amiga game,

Bandit Kings of Ancient China

, also from Koei/Infogrames, sizzled with a 90%.

However, it was

Utlima VI – The False Prophet

that proved to be the biggest hit with a massive 98% and a Gold Medal. The C64 RPG classic was rated highly in all its categories with the reviewer describing the game as "simply incredible… an enthralling plotline with untold depth, and a high level of character interaction with an intricately detailed and delicately balanced world that will take a long, long time to explore."

The cover featured C64 game

Skull and Crossbones

surprised the reviewers following the somewhat lukewarm preview version the previous month and was given an overall 81%. "

Skull and Crossbones

adds little to the beat-'em-up genre other than a novel theme," admitted Stuart Wynne, "but it's well executed with lots of colour and humour."

On the Amiga,

Armour-Geddon

came away with a 94% and a Sizzler. "Great fun to play," commented Phil King, "and well worth a look even if, like me, you wouldn't normally touch military sims with a long –range missile!" Also on the Amiga,

Railroad Tycoon

achieved Gold Medal status with a 96%. Stuart Wynne described

Railroad Tycoon

as being "constantly demanding, utterly compulsive and addictive beyond belief."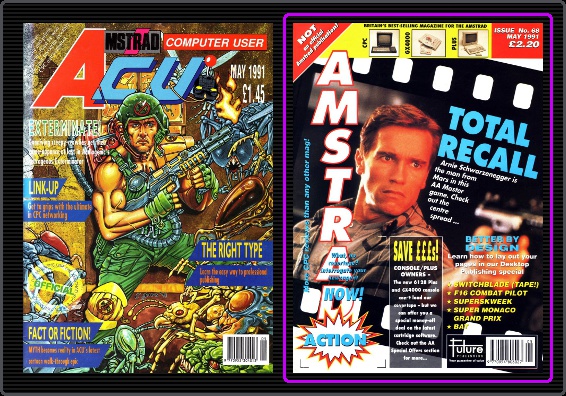 With issue 68 of

Amstrad Action

, we had reach only the second Action Pack coveratpe, and it would prove to be a controversial one. It wasn't the inclusion of the licensed

Biggles

or

Predator 2

games that caused the fuss, but rather the content of

How To Be A Complete Bastard

(rather than repeat myself, I suggest you head over to the appropriate article on

Retroaction

for the full lowdown).

The Readers Charts of 1990 were finally compiled and published. Top of the shoot-em-ups was

Turrican

, while

Rick Dangerous II

came top of the platforms and

Sim City

topped the simulators. Overall,

Rick Dangerous II

,

Turrican

and

Fantasy World Dizzy

were voted most popular games of 1990. In the actual Gallup charts,

Teenage Mutant Hero Turtles

were still clinging on to the top spot, with

Dizzy

Collection and

Total Recall

close behind.

Having looked at the GX4000 version of

Switchblade

, it was now the turn of the trusty old CPC to get its own version. And with a 90% rating and a Master Game award, the game fared just as well. "The only discernable variation is the slight lack of colour on the CPC," explained Frank O'Connor, "but this does not effect gameplay, and barely detracts from the graphical appeal of the game."

Taking centre stage on the front cover and with a double page review at the centre of the issue was

Total Recall

. The Ocean Software movie licensed game was given a Master Game rating of 91%. "Although the game follows a somewhat tried and tested formula, it is polished and exciting enough to make it rank among some of the best film tie-ins ever," enthused Frank. "A real treat, and a game no Arnie fan can afford to be without."



F-16 Combat Pilot

also landed in with a Master Game award. The flight combat sim from Digital Integration impressed with a 92% rating. "Once you've got to grips with flying the plane.

F-16 Combat Pilot

is great fun," gushed Adam Waring. "Flight sims are not everybody's cup of tea, but

F-16

is the best there is."

Rounding off the quartet of Master Games this month was the disk only adventure game

BAT

from UbiSoft. Frank O'Connor was full of praise for the game and gave it an overall rating of 91%. "The control method is a dream in operation… The depth and wealth of options available is breathtaking… The challenge set before you is an immense one and is chock full of surprises… The graphics are unbelievable… just about the most professional product ever on the CPC…" and "Gameplay is a dream…" were just some of the comments from Frank.

If you were wondering where Matt Bielby went to after leaving

Your Sinclair

a couple of months back then you need wonder no more. He was busy working on the launch issue of a brand new Amiga games dedicated magazine called

Amiga Power

. With its in-depth games coverage, infallible writers and a no nonsense approach to games reviewing,

Amiga Power

would become one of the most respected games magazines in the industry and gain a cult following.

With its first issue,

Amiga Power

gave away Tony Crowther's classic puzzle game

Bombuzal

on the coverdisk. To accompany the full game, a four-page guide to the game explained the loading, gameplay controls, the display, tips and more. The Amiga Gallup chart looked pretty good with

Lemmings

sitting on top and

Turrican 2

and

Speedball

2 in second and third place.



Cybercon III

from US Gold kicked off the Games of the Month section (where the best and most interesting games are featured) with a rating of 88 percent. "

Cybercon III

is state-of-the-art as far as games go," stated Jonathan Davies, "a deeply serious, immensely playable and generally enormous 3D explore-'em-up that's quite possible the only game you'll need to buy this year."



Exile

, the

Thrust

style game that originally appeared on the BBC, finally arrived on the Amiga and managed to get an impressive 89 percent. "

Exile

is a bit tasty," stated Gary Penn, "it's entertaining, highly rewarding and so involved that you won't get through it in a hurry."

Electronic Arts'

PGA Tour Golf

was next up with Rich Pelley giving the first outing of the future golfing franchise an 88 percent. "

PGA

is utterly (utterly) addictive – whether you're practising 'en seul', playing a friendly with some pals or competing in the tournament, it's one of those games which'll have you itching for 'just one more go' before bedtime."

The classic RPG adventure

Eye of the Beholder

was also given an overall rating of 88%. Mark Ramshaw pointed out that the game is "not really as big a leap on from

Dungeon Master

, but still sufficiently different to make it an essential purchase. Intelligent and (yes, it's that word again) atmospheric, it's a wonderful piece of software and no mistake." Other Games of the Month inclusions included

Chuck Rock

(86%),

Gods

(87%),

Armour-Geddon

(87%) and

The Killing Cloud

(65%), while the Japanese arcade puzzle game

Gem-X

stood out from the normal games reviews with 88%.



Amiga Power

asked 'Which Amiga Game Do You Really Wish You'd Written?' to several famous coders. Gary Bracey from Ocean Software chose

Populous

, as did John Phillips and David Braben. Steve Kelly (on of the Bitmap Bothers) went for

Dungeon Masters

, as did Steve Screech, Jo Bonar, Peter Molyneux and Herman Serrano.

Lemmings

was also a favourite, being chosen by Andy Beveridge, Mike Singleton, Marc Djan (Ocean France), Mark Cale, Jez San, Ian Oliver and Archer Maclean. Interestingly, Jon Hare (of

Sensible Soccer

fame) went for

Kick Off

.

In an interview special, Matt Bielby discussed the Renegade publishing house with fiunder Tom Watson, The Bitmap's Brothers' forthcoming game

Magic Pockets

with the programmer Sean Griffiths and the

Cadaver

levels disk with Steve Kelly. The 'If I'd Known Then…' feature looked at Peter Molyneux's career past, present and future.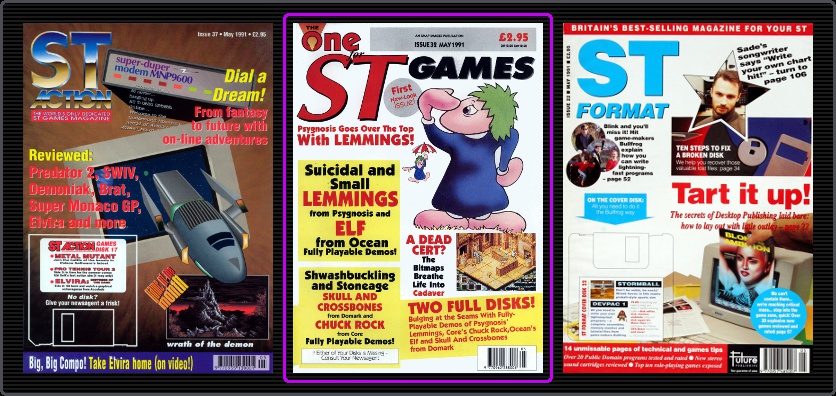 After 31 issues,

The One

has split into two:

The One for Amiga Games

and

The One for ST Games

. Ciaran Brennan led the ST version onto issue 32 as the numerical numbering followed on from its previous incarnation. With the new ST dedicated magazine, two coverdisks were placed on the front cover, featuring four playable demos (

Elf

,

Lemmings

,

Chuck Rock

and

Skull & Crossbones

). Among the feature packed issue, That Was Then looked back at previous issues of

The One

and this time around, issue 8 was under the spotlight, Kati Hamza reported back on new virtual reality TV show

Cyberzone

, Rik Haynes interviewed Peter Molyneux and the CDTV was revealed.

The Golden Joysticks were considered the most prestigious awards event in the gaming calendar and 1991 was no exception. From the highly competitive Best Graphics category,

Shadow of the Beast 2

from Psygnosis triumphed. Best Soundtrack went to

Speedball 2

(Mirrorsoft), Best Simulation went to

F-19 Stealth Fighter

(Mircoprose), Best Coin-Op Conversion went to

Golden Axe

(Virgin Games), Game of the Year went to

Kick Off 2

(Anco), Hardware Manufacturer of the Year went to Sega and Software House of the Year went to Ocean.



Lemmings

proved to be the highlight game of the issue as Laurence Scotford gave the classic Psygnosis puzzler a solid overall rating of 95%. "

Lemmings

is one of the most playable and enjoyable games ever," declared Laurence. "Graphically it may not look very exciting, but that's been a deliberate manoeuvre to get as much of each level on screen at one. But where Lemmings really scores is in its addictive playability."

Julian Watsham awarded Core Design's caveman platformer

Chuck Rock

a rating of 91%. "It's obvious that Core Design has spent a great deal of time on the thought, design and general preparation of this game," remarked Julian. "If you don't take your computer too seriously, you fancy a great laugh and lashings of stomping, puzzle-solving and general fun and chaos, then this is definitely the game for you."