'Back in Time' is a monthly feature where we look back at the classic video gaming magazines twenty years ago this month. This month it's October 1991 when one of the 1980s most iconic and influential publishers shuts shop, The Bitmap Bros' Magic Pockets appeared to mixed reviews, Speedball 2 arrived onto the humble C64, Future Publishing along with Amstrad Action celebrated their sixth birthday, Alien Breed entered the gaming arena and a new magazine dedicated to the PC entered the fray...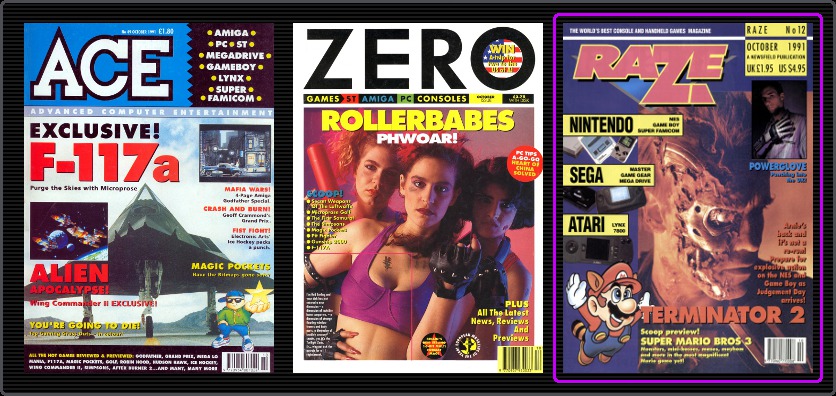 With Newsfield Publications falling victim to liquidation,

Raze

was one of the big casualties and it turned out that issue 12 would be the last of the underrated multi-format magazine. In the meantime, the magazine carried on oblivious. News wise, , Nintendo, in partnership with Philips, were set to launch the Super Famicom CD-ROM unit in August 1992. Having been left out of the deal, Sony were rumoured to be releasing their own unofficial CD-ROM unit.

Electronic Arts' bone crunching

EA Hockey

arrived on the Mega Drive with a slap shot score of 90. Julian Boardman praised the game aplenty, stating that "Electronic Arts are onto a definite winner here.

EA Hockey

plays like a dream, is highly addictive and looks great. The action theme should make it even more successful than

John Madden's Football

…"



Marvel Land

took the honour of receiving the highest rating in

Raze

's short history with an overall rating of 96. Les Ellis rounded off the 'Rave' review by stating that "if you like games that look good and play for ever – and, let's face it, who doesn't? – then

Marvel Land

is the answer to your prayers. Move over Sonic, Marvel Man has arrived."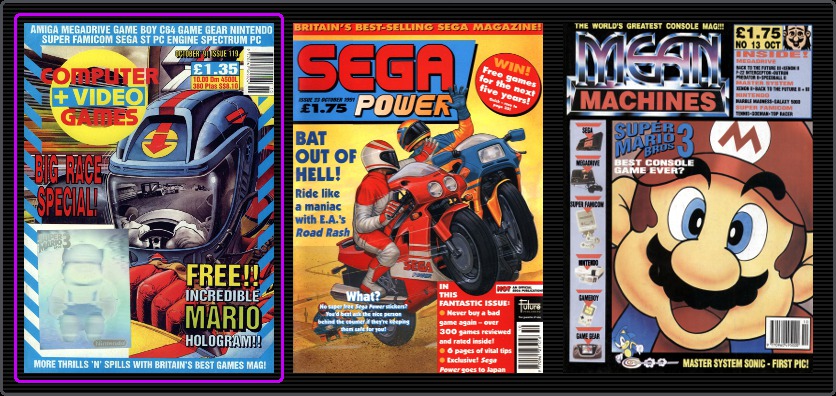 The 119th issue of

Computer + Video Games

went straight into the games reviews with the 93% 'CVG Hit'

Geoman Warrior

on the Super Famicom. "There's something deeply brilliant about this game," stated Tim Boone. "With so much to choose from you'll be bowled over first time you play… Totally original, utterly vast and darned funny to boot, Geoman Land is a bit of a must buy…" Paul Rand concurred with consensus "that Geoman Land is a fantastic arcade adventure, incorporating so many extras it makes a dodgy, 100-game Nintendo cart look barren in comparison."



Magic Pockets

on the Amiga followed up with its own 'CVG Hit' rating of 93%. "Considering the time it's taken,

Magic Pockets

had to be something a bit good," stated Paul, "and as usual, the Bitmap Bros have delivered the goods spectacularly… the best thing from the Bitmaps yet." Tim also voice his approval: "Lucky enough to be treated to an early preview of

Pockets

, I knew we were all in for a bit of Bitmap brilliance once again – and here it is at last!

Magic Pockets

is just that: Magic."

The Super Famicom racked up its second 'CVG Hit' this issue with the 94% rated

UN Squadron

. "Surprisingly enough, I've never had the opportunity to play the UN Squadron coin-op, so I can't compare this Super Famicom conversion to its arcade parent," admitted Paul. "What I can tell you is that to my mind this is probably the best shoot 'em up available on the Fammy at the moment – even better than

Super R-Type

!"

Not to be left out of the 'CVG Hit' accolades, the Mega Drive got in on the action with the classic side scrolling beat-'em-up

Streets of Rage

getting 93%. "I almost wet myself and called the police when we first plugged in the

Streets of Rage

cart," admitted Frank O'Connor. "The game starts up with a stupendous opening sequence and a great house remix of some fabulous oriental music. From here on, things just get better and better… If fast, mindless, pointless violence is your cup of tea, then get hold of

Streets of Rage

and have those Famicom owners wishing they'd never up-graded. Here's the game that actually makes the Famicom look a bit feeble – and that's saying something!"

The massive 50 meg Neo Geo game,

King of the Monsters

, managed to achieve a 91% 'CVG Hit' status despite retailing at a wallet busting £120.

Starflight

launched into the Mega Drive stratosphere in search of a 'CVG Hit' and came back with 91%. More 'CVG Hit' praise reigned down on Amiga God sim,

Mega lo Mania

, while

F117-A

flew on to the PC with a 93%.

Topping the all formats chart was

Manchester United Europe

, followed by

Hero Quest

and Rainbow Collection.

Manchester United Europe

also dominated the Amiga, Amstrad CPC, and C64 charts, while

Flames of Freedom

topped the Atari ST list and the Dizzy Collection moved up to the Spectrum top spot.

Super Mario Bros 2

moved up to number one on the NES and

Super Mario Land

hung onto number one on the Game Boy.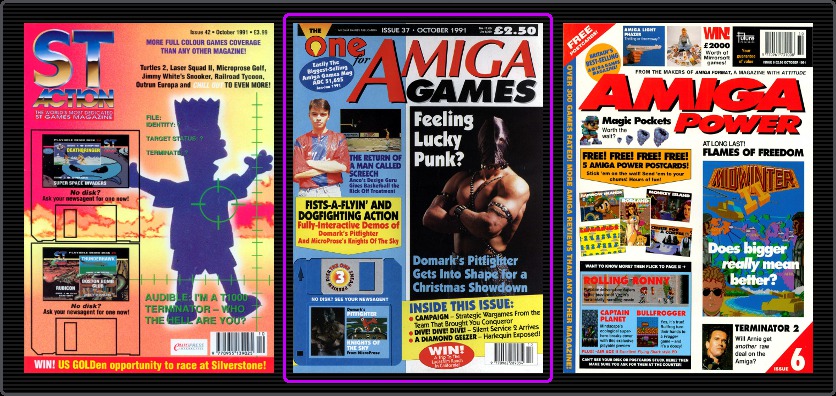 Issue 37 of

The One For Amiga Games

featured its third "Sneak Preview Disk" with playable demos of

Pitfighter

and

Knights of the Sky

. Amiga chart happenings included

Manchester United Europe

at the top, natch, with

The Secret of Monkey Island

and

Thunderhawk

close behind. Charting the same positions two years previously were

Falcon: The Mission Disks Vol. One

,

Powerdrome

and

RoboCop

. In 'That Was Then', The One team looked back two years to October 1989, including news of the non-starters of the ST laptop and the Konix Multisystem.

Within

The One

profiles this month were programmer Shaun Southern, publisher Henri Coron and programmer Steve Screech. Having been the design brains behind the popular

Kick Off

series of soccer games, Steve was now developing the upcoming Basketball game,

Tip Off

. The One asked Steve if the

Kick Off

success worried him… "In some respects…" began Steve, "other companies will have to go to extreme limits to produce something which matches

Kick Off 2

, especially with

Kick Off 3

on the way. It's going to be at least three years before another decent footie game comes out." - Really, Steve?

Kelly Beswick looked at the problem of software piracy with input from a few people in the industry itself. Some true words from Bob Hay (CEO of FAST, aka Federation Against Sofware Theft): "Pirates say that they rip off the software because of the high price and that otherwise they couldn't afford it. I can't afford a Rolls Royce, but that doesn't give me the right to go out and pinch one." Roger Bennett (Chairman of ELSPA – European Software Publishers Association) also had some stark statistics on the subject: "A software publisher can only expect to reach 10 per cent of a particular machine's users with a new product – and that's even on the best full-price arcade game."

In 'My Ideal Compilation', Gary Bracey from Ocean Software chose his, erm, ideal compilation, which included

SimEarth

,

Manic Miner

,

F-29 Retaliator

,

Valhalla

, The

Zork

Trilogy and

PGA Tour Golf

.

First up in the reviews was

Rise of the Dragon

which was awarded 92%, but there were doubts of the game's value for money, which Paul Pressley posed and countered. "…there's a lot in

Rise Of The Dragon

, but thirty-five quid's worth? I'd say yes, mainly because it offers a kind of quality that's missing from most home-grown products. It's not quite as big as

The Secret Of Monkey Island

, but neither is it as easy – which makes a rather nice balance really."

The latest entry into Sierra's famous adventure series,

King's Quest V

, made its appearance with a solid 90%. More questions raised by Paul about the game's worth. "Well, it certainly doesn't look like anything that's come before – the graphics and sound are nothing short of incredible. Of course, that usually means the game itself suffers, but not so here… the best adventure to be seen on the Amiga since

The Secret Of Monkey Island

."

Fans of

Gauntlet

and

Aliens

(the movie) were in for a real treat as

Alien Breed

took inspiration from both titles to create a 90% rated shoot-'em-up. "It plays like a cross between futuristic versions of

Crackdown

and

Gauntlet

," explained Paul, "and is great fun, especially with two players. The myriad of little touches (such as the way the computer system flickers on and off while accessing and then offers you a game of

Pong

) give it a sense of humour as well as tension… a classy product, very professional and very enjoyable."

Other games that scored highly were the submarine sim,

Silent Service III

, with 90%,

Lotus Turbo Challenge 2

with 91% and the hugely playable run 'n' gunner,

Zone Warrior

, with 92%.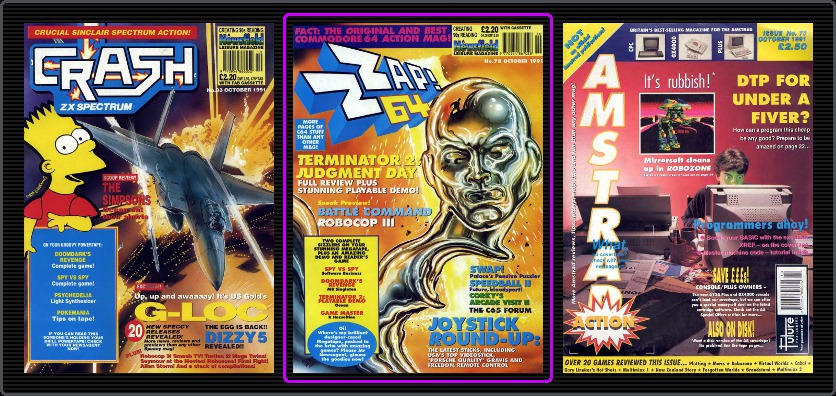 The 78th issue would seem to be the last of "The original and best Commodore 64 action mag" as the Newsfield Publications magazine,

Zzap!64

, closed its doors for what seemed the last time. But what a fantastic covertape to go out with: two complete Sizzlers (

Spy vs Spy

&

Doomdark's Revenge

), a playable demo of

Terminator 2

and a reader's game from R Hezseltine (

Game Master

).

The multi-format (cassette, disk and cartridge) movie tie in of

Terminator 2

just fell short of gaining a 'Sizzler' with 89%. "Most people will find completing

T2

difficult, but is it worthwhile?" quizzed Stuart Wynne. "Well, there certainly isn't much in the way of originality… However, the levels are all well programmed, the graphics are good and gameplay enjoyable."

The Fuzzy Factory, a development diary on the upcoming

Creatures 2

, continued. So what did the Apex lads do this month? Friday 12th: prepare for holiday to Majorca, Tuesday 16th: enjoy the sand, sea water and topless entertainment, Monday 22nd: attend beach party, Thursday 25th: lose track of day as every day is Saturday in Majorca, Sunday 28th: fly back home, Monday 29th: sleep all day, Thursday 1st August: back to business with

CRIT

(

Clyde Radcliffe In Torture Trouble

). "We've been given the idea that if we add '

ERS

' to the end of the abbreviation we end up with

CRITTERS

… swear words aren't allowed!"

Amazingly, the 16-bit futuristic sports game,

Speedball 2

, made it to the humble 8-bit Commodore 64. Not only that, but it is on par with the Amiga classic, coming away with a 'Sizzling' 90%. "What a brilliant conversion this is," enthused Phil King. "Not only have the Amiga's features been included, but incredibly they've been crammed into a single load." Stuart added that "although we now see the odd flaw in

2

, this is an astounding conversion, a great game in its own right and one of the best sports sims around. Rapid-fire action and a good management element make this highly recommended."

The Action Pack covertape adorning the front cover of

Amstrad Action

issue 73 featured playable demos of

Turrican 2

and

Thunderjaws

, along with the complete game of

Marsport

. Moving up to the top of the Full-price charts was

Manchester United Europe

, followed by

Teenage Mutant Hero Turtles

and the Dizzy Collection. Meanwhile, the ever popular budget charts featured revivals of old classics such as

New Zealand Story

,

Shinobi

and

Bubble Bobble

. Domark released its Freescape compilation which featured classic titles such as

Driller

,

Total Eclipse

,

Castle Master

and

Castle Master II: The Crypt

. With a verdict of 87%, the compilation gained an 'AA Rave'.

Adam Peters, the new Staff Writer, following the departure of Frank O'Connor, made his debut review with the impressive looking

Robozone

. The Game of the month was given a rating of 86% and an 'AA Rave'. "Graphics throughout are superb," commented Adam "The big, colourful sprites and complex animation in level one set this game apart right from the start… More addictive than methadone, cooler than a well-chilled Sol. And hotter than a chilli bean tostada," explained Adam. "Not bad at all."

There was birthday celebrations as

Amstrad Action

looked back on six years covering the Amstrad CPC range. Former staff members dropped in to give their fondest memories of working on the magazine. Bob Wade commented on how bad issue one was. "Thank heavens we got better fairly fast." Trenton Webb looked back at the catastrophic

Emlyn Hughes International Soccer

competition. "…nobody entered. To enter the compo you had to have played the game. The game finally came out (late) three days before the competition's closing date…"

As with Newsfield's sister publication,

Zzap!64

, the "Crucial Sinclair Spectrum action" magazine,

Crash

, featured complete games of

Doomdark's Revenge

and

Spy vs Spy

. Barely a week into her new Assistant Editor job, Lucy Hickman was faced with the prospect of the long running magazine being no more. Newsfield were going into liquidation and every magazine ceased production and all staff were laid off. A tough blow for the staff and readers of the innovative and influential titles.



The Simpsons: Bart vs the Space Mutants

came in for what looked like the last ever 'Crash Smash' awards with an overall rating of 91%. "If you're a

Simpsons

fan the game's incredibly appealing," stated Richard Eddy. "Non-fans can still get loads of entertainment, but some parts may be frustrating if you're not into the characters…"

Capcom's seminal side scrolling brawler,

Final Fight

, made its way onto the Speccy with a 'Crash Smash' and 90%. "I'm usually not very impressed with beat-'em-ups," admitted Nick Roberts, "as programmers usually fall into the trap of producing mediocre games with nothing new to offer.

Final Fight

is different. With its detailed, gigantic graphics and loadsa whacky enemies it's bound to be a real winner with all beat-'em-up fans…"

Joining the 'Jack of all Trades' Format magazines of Amiga and ST at Future Publishing was

PC Format

. Like its siblings,

PC Format

started out with coverage of both serious and gaming. This coverage was quickly noticeable with the coverdisk, which included two playable demos (

MiG-29 Super Fulcrum

and

Speedball 2

), a screensaver, utility and an archiver package.

Interesting news included a new portable PC released by Amstrad: the ACL-386SX with 20 Mhz speed and a price tag of £4,000 and that Channel 4 had commissioned a computer and video games show called

Games Master

. Reports also showed that PC game sales were up 400% in the past year.

There was some pretty harsh reviewing going on in the games section with the shock of the month being the paltry 73% given to

Speedball 2

(for shame, Jason Saunders). Other games that fared better were

Secret Weapons of the Luftwaff

e (88%),

Gunship 2000

(88%), and

F-117A Stealth Fighter

(87%).

Rather confusingly, iD Software's influential shareware version of

Commander Keen

made its appearance in the Public Domain section, scoring a rather disappointing 5/10. Other, more fortunate, PD titles were

Ground War

(7/10),

Word Fugue

(a word processor, 8/10),

Hugo's House of Horror

(7/10) and

Picture Puzzle

(8/10).

For the inaugural

PC Format

issue, the team listed The 50 Best Games Ever. Grouped into categories rather than a top 50 list, there was non the less some impressive pre-

PC Format

titles named. In the 'In Flight' category,

F-19 Stealth Fighter

,

F-15 Strike Eagle II

,

Knights of the Sky

and

Their Finest Hour

all flew in for a mention. 'In Space' listed

Elite Plus

and

Wing Commander

. 'Shoot-'em-ups' included

Xenon I

&

II

. The 'Role Playing' group had some classics in its midst, including

Eye of the Beholder

, The

Ultima

series and

Captive

. 'Driving' games were

Indianapolis 500

,

Test Drive

,

Stunt Car Racer

and

4D Sports Driving

. Jostling for a mention in the popular 'Adventures' section were The Infocom range,

Indiana Jones and the Last Crusade

,

The Secret of Monkey Island

,

Wonderland

,

It Came From the Desert

and

Rise of the Dragon

. 'Sport' was surprisingly well catered for with

3D Pool

,

PGA Tour Golf

,

Links

,

Chessmaster 2100

. The other staple PC genre, the 'Strategy', was also well catered for with

Populous

,

Railroad Tycoon

,

Supremacy

and

Sim City

. 'Puzzles' included the well known

E-Motion

,

Lemmings

and

Tetris

. The often-overlooked PC 'Arcade' genre was represented by the likes of

Golden Axe

,

Prince of Persia

and

Rick Dangerous 2

.



All the intellectual property rights related to the works presented on this site belong to their respective owners.
This site is strictly created for the purpose of preservation and education.
Follow us on Twitter to get the latest updates as they go live: