'Back in Time' is a monthly feature where we look back at the classic video gaming magazines twenty years ago this month. This month one magazine ended while another two were launched. Alien 3 burst onto the Mega Drive, LHX Attack Chopper flew onto the Mega Drive, Elvira 2 impressed all on the Commodore 64, Premiere made its premiere on the Amiga and Prince of Persia arrived on the SNES...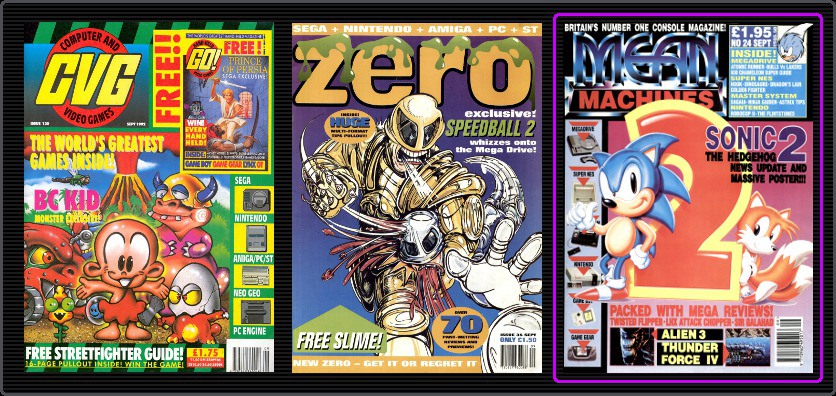 "

Mean Machines

is dead!" opened Julian Rignall's editorial to

Mean Machines

issue 24, and indeed, in a way, it was. Rising from the ashes of

Mean Machines

would be two separate magazines:

Mean Machines Sega

and

Nintendo Magazine System

, dedicated to Sega and Nintendo consoles respectively. In the meantime, there was a final issue of

Mean Machines

magazine in its current state to enjoy.

The big exclusive this issue was an update and screenshots of the eagerly anticipated

Sonic 2

, which was due for release in November. The biggest news on the game was that there would be a second character called Two Tails to help out along with more roller coaster style hazards.

Chart news this month included three non-movers at the top of the NES list with

Rescue Rangers

,

Mario III

and

Turtles

in at one, two and three respectively. Holding on to the Game Boy top spot was

Super Mario Land

, again, followed by

Choplifter II

and

Duck Tales

. The Master System chart was filled with sports games as

Wimbledon Tennis

aced the competition, while

Champions of Europe

and

Super Monaco GP II

settled for runners up positions.

Taz Mania

scrambled to the top of the Mega Drive charts, with

Super Monaco GP II

and

Desert Strike

hovering around in second and third place.

There were no 'Mega Games' in the last issue, although the

Alien 3

movie licenced run-'n'-gun game shot up an 89% rating on the Mega Drive. "If there was more to the game,

Alien 3

would definitely deserve a Megagame award," stated Richard Leadbetter. "As it is, although not perfect,

Alien 3

is an extremely polished, highly enjoyable blasting exploration game."

Newbie staffer Angus Swan took to the skies in the Mega Drive air combat sim,

LHX Attack Chopper

, coming in to land with an 89%. "I must admit it took me a bit of time to get into

LHX Attack Chopper

," commented Gus. "At first it looked like

F-22

with the best bits cut out, but with a little perseverance I had to change my mind. The bottom line is that this is a game which is bound to reward from a little patience and attention."

Due to the vast amount of releases on the Mega Drive, horizontally scrolling shoot-'em-ups got quite a raw deal in their day. And

Thunder Force IV

was no exception with a rather lukewarm 87%. "Brilliant and challenging though it is," explained Julian Rignall, "I found the lack of originality in

Thunderforce IV

a disapointment. One of the most challenging and visually appealing blasters yet seen, but I'd only buy it if I didn't have many horizontally scrolling shoot 'em ups in my collection."

Ratings in the eighties also went to

Bulls vs Lakers

(Mega Drive, 83%),

Galahad

(Mega Drive, 86%) and

Ninja Gaiden

(Master System, 83%).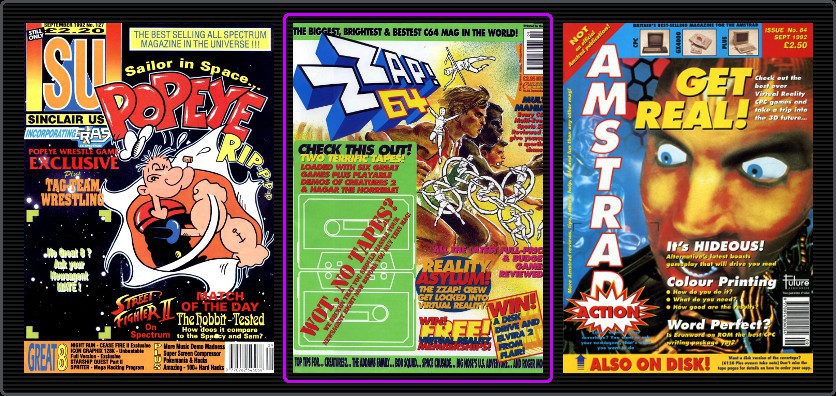 In an effort to fight off the competition,

Zzap!64

had went through some changes for its 88th issue. The most obvious change was the addition of another cassettes to the cover, featuring even more demos and complete games. Then there was the page size increase of 2cm per page width. However, along with the changes came an increase in the coverprice, from £2.50 up to £2.95.

The official Gallup charts for full price C64 games had a new number one in the form of

James Pond 2: Codename RoboCod

.

Creatures 2: Torture Trouble

climbed up to second spot while

Space Crusade

gained one position to third place. The readers' chart had

MircoProse Soccer

at number one, followed by

Emlyn Hughes International Soccer

,

Creatures 2

,

Creatures

and

Turrican II

.

The only 'Sizzler' award this issue went to

Elvira 2

with 94%. "

Mistress of the Dark

was a brave but ultimately flawed incursion into C64 roleplaying," stated Ian Osborne, "it's slick programming and wild graphics couldn't hide the sudden deaths and occasionally awkward problems. Game designers Horrorsoft obviously listened to reviewers' citicisms and pulled out all the stops for

Elvira 2

. Its sheer playability and attention to detail leaves the oppostition standing!"



The Cool Croc Twins

racked up a rating of 87% with varied comments from all three reviewers. "There's a slight puzzle element in

Cool Croc Twins

, working out how to negotiate the obstacles can be pretty hair-tearing at times," stated Mark Caswell. "But frustration is light and I can assure you that you'll be playing

Cool Croc Twins

until the cows come home."

In 'Multi Mania', Phil King rounded up all the multi-event sports sims for a special feature.

World Games

(96%),

Summer Games II

(94%),

Hypersports

(90%),

Winter Games

(88%),

Summer Games

(87%), all the way down to

Hunchback at the Olympic Games

(15%).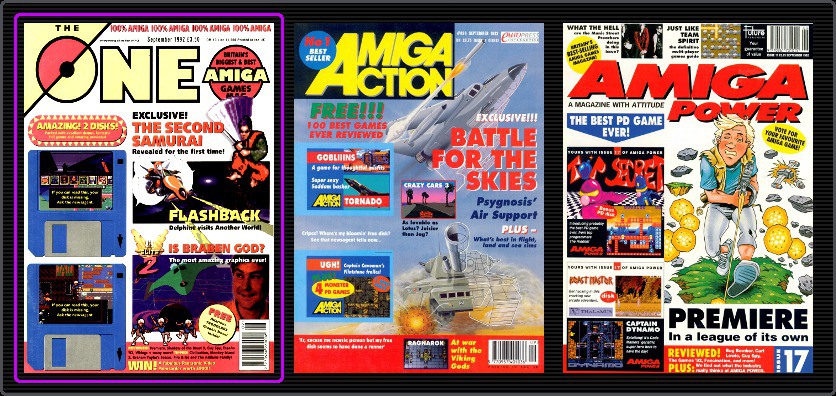 There was a lot of staff movement with the 48th issue of

The One

. Jim Douglas had left, meaning that David Upchurch stepped up to take the editor's chair. This meant that Gary Whitta moved up to Deputy Editor and Jim Willis was promoted to Head of Design. While the staff were shuffling around, the Amiga games scene was pretty quiet with the biggest games coverage coming from previews of upcoming releases such as

Elite 2

,

Flashback

and

The Second Samurai

. The Amiga chart was topped by

Sensible Soccer

with

Monkey Island 2

and

Fire & Ice

in at two and three.

Most magazines had them and

The One

was no different. What's that? Games challenges, of course. 'The Whitta Challenge' saw Gary Whitta take on reader Grant Harrison in a one-on-one game of

IK+

. After three rounds of scuffles, Whitta took the game with results of 1-3, 6-0 and 6-1.



Premiere

, Core Design's colourful platform-based arcade adventure, made its… premiere on the Amiga with an 81% rating. "This is a game that's likely to be appreciated more by arcade adventurers and platform gamers than those who are just out for a quick runaround and a high bodycount," explained Gary Whitta. "You've got to think on your feet, you see. It's pretty, it's fun and it's long-lasting. And that'll do me nicely."

In a major change of direction for the series – the main character is no longer a best –

Beast 3: Out of the Shadows

impressed Khalid Howladar enough to receive a 90% rating. "A highly playable game that should provide ideal entertainment for gamers looking to exercise their minds as well as their joysticks. Highly recommended – this

Beast

is the best by far!"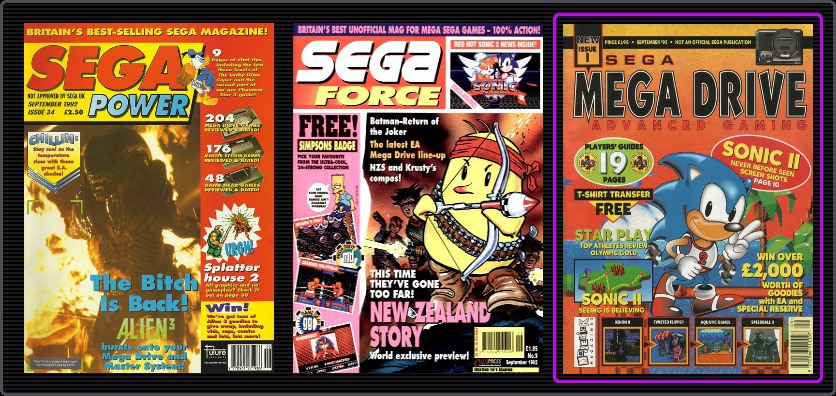 Publishing entrepeneur, Hugh Gollner, had decided to leave Europress Interactive behind and, once again, run his own publishing house called Maverick Magazines. To help kick things off,

Mega Drive Advanced Gaming

and

Control

were launched, covering the Mega Drive and Super Nintendo machines respectively.

Launching an independent magazine is always a trying time, so to help sell the first issue of

Mega Drive Advanced Gaming

, Sonic adorned the front cover and was the focus of a special feature on the forthcoming

Sonic 2

game. However, Sega were being extremely secretive about the game which meant that most magazines could only write up a brief news piece on the game with a few screen shots. The

Mega Drive Advanced Gaming

team decided to come up with a speculative feature, detailing their thoughts of what they would like to see in the highly anticipated sequel.

With all the focus on launching the magazine and eyes on

Sonic 2

, other games didn't seem to get much of a look in. The best rating went to pinball game

Dragon's Fury

with 87%. "Very addictive with new ways of scoring being constantly found and other new kinks or permutations to the game appearing," commented Julian Boardman. "How it manages to keep this feat up is quite remarkable. You'll keep coming back just to try and beat the thing."

Japanese import

The Flaming Dodgeball Kid

was the only other game to achieve anywhere near a similar rating with 82%. "Once you know exactly what is going on the game is really quite playable," stated John Davison. "With the inclusion of a battery backed league system and numerous locations and graphics I'd say that this is one of the more successful 'unusual sport' sims to arrive on the Mega Drive."

To tie in with the 1992 Olympics, 'Star Player' featured Duncan Goodhew (Gold medal swimmer) and John Regis (Gold/Bronze medalist athlete) playing

Olympic Gold

. The scores on the doors revealed that John Regis narrowly won more events than Duncan Goodhew, coming on top in the hammer, archery, hurdles and swimming.

In the first 'Mega File',

MAG

rounded up the best ten shoot-'em-ups. Taking the number 1 spot with 88% was

Undeadline

(an import title from Palsoft), followed by

Gynoug

(also with 88%), with

Super Fantasy Zone

in third place with 86%.

Shadow Dancer

,

Rolling Thunder 2

and

Streets of Rage

, oddly, also made it into the top ten.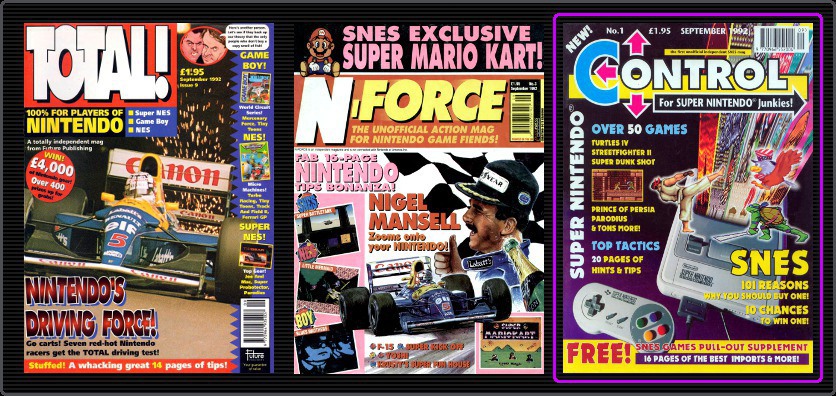 And here was

Control

issue 1, which, as mentioned on the front cover, was "the first unofficial independent SNES mag". Content and layout wise,

Control

was very much a sister title to

Mega Drive Advanced Gaming

with similar features and an approach to reviewing games.

In the 'Gremlin in the Works' feature,

Control

visited the Sheffield based devlopers Gremlin Graphics for the lowdown on their upcoming games for the SNES.

Nigel Mansell's World Championship

was the multi-format Formula One racing game that "just oozes class".

Utopia

was also picked out as "a welcome change from the brainless slaughter of classic SNES stuff," while

Video Kid

– "a platform game with guns and cutey effects that emits an aura of professionalism – rounded the article off.

Gamers doing a spot of shopping in the Stockport branch of Virgin Games were in for a surprise as the

Control

crew grabbed them for a natter. One of the more amusing conversations was with Simon Wood. Alex Lee: "Have you read about the SNES at all?" SW: "I have. The magazines seem to be biased towards the SNES." AL: "That's because it's the best machine." SW: "Well I won't be getting one. I was looking to see how many games were available, and there's not many. What are you going to do? Give each game 20 pages?" (ho ho, never head that one before), quipped the

Control

guys.

In a slightly disapointing reviews section,

Street Fighter 2

only managed to beat an 82% out of the reviews team. Alex cast his critical eye over the high profile release: "The definitive beat'em-up on any home computer system, the conversion being so perfect it could easily be mistaken for the arcade original."



Prince of Persia

managed one extra percent mark with an overal rating of 83%. "The presentation of the product is one of sheer quality," explained Alex. "The gameplay is frustrating enough to keep you coming back for more... A stunner – entertaining and exquisitely drawn."


All the intellectual property rights related to the works presented on this site belong to their respective owners.
This site is strictly created for the purpose of preservation and education.
Follow us on Twitter to get the latest updates as they go live: