| | | |
| --- | --- | --- |
| April 1990 and Sinclair User — the longest runnning Sinclair magazine — showed their love for Rainbow Islands in issue 98 along with Activision's Hammerfist, which both received a 'Sinclair User Classic' award with overall ratings of 94 and 92 respectively. Editor Jim Douglas described Rainbow Islands as a "truly excellent conversion of an "unconvertible coin-op." Deputy Editor Garth Sumpter summed up Hammerfist by saying that "all the magical ingredients of a great game cooked to perfection. A feast for arcade fans." Other games that just missed out on the award were E-Motion and Zombi, with ratings of 89 and 87. 'The MegaTape' on the cover included a playable demo of Hammerfist, along with Room Ten, Amaurote and Brat Attack. The Coin-op show looked at Sega's Rough Racer, Tsatsumi's Round Up 5, SNK's Beast Busters, Namco's Marvel Land, Konami's Aliens, Taito's Cadash and Sega's Super Masters. | | |

| | | |
| --- | --- | --- |
| | | Your Sinclair moved from London to Bath as Future Publishing had successfully purchased the magazine from Dennis Publishing, and, according to issue 52's news section of YS, it was all just a misunderstanding. Apparently, Future had phoned up asking about purchasing a Sinclair C5 and came away with YS and the editor for the bargain price of £180.00. On the covertape was the complete Dizzy game and a demo of Lords of Chaos. Inside the issue was a feature on the SAM Coupe disk drive launch with a review of the add-on, while the Spectrum chart was topped by Gazza's Super Soccer from Empire. 'Your Sinclair Megagame' awards were given to Rainbow Islands (Ocean Software) and Fighter Bomber (Activision) with overall scores of 94 and 92 respectively. Editor Matt Bielby proclaimed that Rainbow Islands is "bloomin' brill!" and you should "go and buy it, you won't regret it!" |

Crash issue 75 also had a jam packed covertape to compete in the Covertape Wars, including Master Blaster from Cybadyne, Karyssia - Part II from Incentive, Breakpoint from Airline and Rockfall from Powertape. The SAM Coup got a look at as Franco Frey test-drives the Coup's new disk drive. 'Crash Smash' games reviews included Hammerfist from Activision with 95% and Rainbow Islands from Ocean Software with 94%.

Robin Candy hosted the 1989 Crash Readers' Awards Ceremony. 'Best Overall Game' went to Ocean Software's Batman - The Movie. 'Best Coin-op Conversion' was won by The New Zealand Story, again courtesy of Ocean Software. 'Best Non-coin-op Licence' was won by The Untouchables by Ocean Software. 'Best Original Game'


went to Carrier

Command

by Rainbird. 'Best Adventure' went to Myth by Magnetic Scrolls. 'Best Strategy' went to Times of Lore from Origin. 'Best Graphics' went to Operation Thunderbolt by Ocean Software. 'Best Sound' went to Ghouls 'n Ghosts by US Gold. 'Best Software House' was, unsurprisingly, won by Ocean Software. 'Best Advertisement' went to Ocean Software for Cabal. 'Best Budget Game' was won by Treasure Island Dizzy 3 from Code Masters. 'Best Newcomer' went to the Sam Coupe. And finally, 'Most Disappointing Product' went to the Sinclair Magnum Light Gun.

| | | |
| --- | --- | --- |
| | | YC, formerly Your Commodore before turning into a dedicated C64/128 magazine, featured some random content at the best of times. Issue 67 was no exception. On the covertape were complete software Cellrator, Blastball and 3into1 Plus. 'Featuroonies' included 'Could You Be A PR Girlie/Geezer?', 'VDUs - The Truth', 'Cabbages and Kings' (a profile of Audiogenic) and 'Central 64'. The games reviews section was pretty sparse of high rated efforts this month, with only CRL's Search For The Titanic achieving 'YC Fun *1' status with 86%. The Neon Zone section reported on the latest arcade games, including the likes of R-Type II, Gradius III, Klax, Badlands, Truxion, Fire Shark, World Grand Prix, Line of Fire and Beast Busters. |

Issue 60 of Zzap!64 Amiga announced the (attempted?) "murder" of the editor by the Scorelord (the mysterious overlord of the High Score and Challenges pages), resulting in the hospitalization of Stuart Wynne for several months. In reality, this meant that Stuart would offer review comments under the Scorelord pen name for the next few issues, before his return as editor. Elsewhere, the Zzap! Challenge made a return as reader Andrew Roberts narrowly lost out to resident Zzap! staffer Robin Hogg on the game Snare. To catch up on the progress with the arcade conversion of Shadow Warriors, Robin Hogg visited the development team of Teque.

It was a busy month at for games reviews at Zzap! Towers with one 'Gold Medal' and six 'Sizzler's awarded. Midwinter on the Amiga received an overall 97% rating from


Robin Hogg and Phil King, receiving the 'Gold Medal'. Ferrari Formula One by Electronic Arts for the C64 picked up a 'Sizzler' award with 95%. Pipe Mania by Empire was reviewed on both C64 and Amiga with both versions getting a 94%. Crackdown (from US Gold) and Warhead (from Activision), both for the Amiga, received 90% each.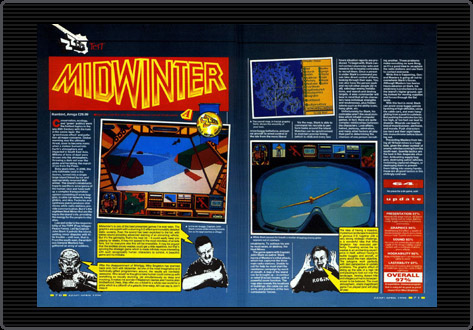 | | | |
| --- | --- | --- |
| | | Amstrad Computer User was the Amstrad CPC's official magazine. The April 1990 issue included the usual mix of technical and games content. Audiogenic were profiled as ACU's Deputy Editor, Chris Knight, visited the development team. X-Out received the cover review treatment as Adrian Pumphrey gave the game a glowing write up: "For sheer blastability you will have to look hard and long to beat this game." Laser Squad also got a belated review with a smilie grin as an overall rating. The Amstrad CPC game topping the charts in April 1990: Batman - the Movie. |

| | | |
| --- | --- | --- |
| Amstrad Action issue 52's news section revealed plans for an Amstrad console plus enhanced CPC computers. The Action Test section contained a review of Myth: History in the Making, which got a coveted 'AA Mastergame' accolade (games rated 90%+) with a great 94% rating from Trenton Webb with enthusiastic appraisal: "as an arcade adventure, Myth is unsurpassed. It has depth and cunning gameplay, subtly blending joystick speed with grey matter power to a near perfect degree." 'AA Raves' (games rated 80-89%) were handed out to Fiendish Freddy's Big Top O'Fun and Rainbow Islands, both scoring overall ratings of 88%. | | |

| | | |
| --- | --- | --- |
| | | There weren't many high rated games in issue 7 of Amiga Action, with the only game coming close to an award was F-29 Retaliator from Ocean which got an 84% rating. Dinamic's After the War's final rating was blank — it appeared that there had been a mistake in the design of the page. Other games that fell just short of recommendation were Bloodwych Data Disk (77%), Conqueror (76%), Cabal (74%) and Super Cars (74%). Elsewhere in the issue was a feature which looked at the future of graphics. |

| | | |
| --- | --- | --- |
| CU Amiga featured a healthy dose of technical and gaming content. The April 1990 issue handed out three 'CU Super Star' awards for ratings of 93% or over. Infestation from Psygnosis got a 94% rating from reviewer Tony Dillon who said that "Infestation is an incredible game. I'd even go far as to say it's a game that every Amiga owner should have. And every ST owner too. Truly a top-notch release." Player Manager from Anco — which was based on the successful Kick Off engine — got 94% and Tower of Babel from Rainbird got 93%. Five games picked up the 'CU Screen Star' award for ratings of 85%-92%: Hammerfist from Activision with 88%, Ninja Spirit from Activision with 87%, 688 Atttack Sub from Electronic Arts with 86%, Sherman M4 from US Gold with 86% and Crackdown from US Gold with 85%. The Arcades section looked at T&J from Jaleco — an early version of Rod-Land — and a Robocop pinball table. | | |

| | | |
| --- | --- | --- |
| | | While Amiga Format covered all aspects of Commodore's 16-bit computer with features on multimedia and programming, but it also had good coverage of gaming. On issue 9's coverdisk was a demo of Empire's Pipe Mania along with various utilities and programs. 'Amiga Format Gold' awards (for games rated 90%+) were handed out to Dragons Breath (Palace Software) with 94%, Conqueror (Rainbow Arts) with 93% and Knights of the Crystallion (US Gold) with 91%. |
| | | |
| --- | --- | --- |
| Just like Future Publishing stable mate Amiga Format, ST Format covered both the serious and games side of their respective machine; in this case, the Atari ST. The main feature looked at scanners on the ST, while on the coverdisk were demos of Conqueror, Pipe Mania and Canvas. 'ST Format Gold' awards (90%+) were given out to Rainbow Arts' Conqueror, with a 91% overall rating, Microprose's Midwinter, which got a massive 96% overall rating, and Ocean's Rainbow Islands, which got 93%. | | |
| | | |
| --- | --- | --- |
| | | ST Action was the world's only dedicated games magazine for the Atari ST, often having many game reviews and features, and issue 24 was no exception — there was a mammoth list of ST games up for review. The best of the bunch included E-Motion, which got an overall rating of 82%, and Pipe Mania, which got 85%. The coverdisk was a Special Feature version with playable demos of Psygnosis' It Can't Be Done, Logotron's Kid Gloves and Ocean Software's The Lost Patrol. |

S - The Sega magazine (later renamed Sega Power) hit the newsstands for the first time with issue 5, having been previously available to subscribers only. S was the UK's first magazine to be dedicated to console gaming - up to a year before Mean Machines came along - and was even a Master System only magazine until the Mega Drive and Game Gear came along later on that year. With only 36 pages, the editorial team of Steve Jarratt, Tony Takoushi and Tim Smith crammed as much as they could in there. In the news pages was an announcement that Sega of America were working on a Sega handheld codenamed the Micro Drive. There were a handful of reviews in this issue with three news games rated and three older games given the "Past Master" treatment. out of the latest games released the light gun game Assault City was rated 69%,


RC Grand Prix rated 55% and Slap Shot, "One of the better team sport simulations, with loads of hotly-paced action and some joystick-busting gameplay" was rated 80%. The Reader's Top 10 was published in the letters pages, with R-Type coming top, followed by Wonder Boy III and Shinobi... The Made in England feature looked at Gauntlet and Impossible Mission with an interview with US Gold. The arcades pages looked at Line of Fire.



Computer & Video Games got their April 1990 games reviews off to a flyer as Paul Rand awarded a 96% rating and a 'C+VG HIT!' to Origin's Space Rogue. "For depth of gameplay," concludes Paul, "I think Space Rogue knocks spots of Braben's all time great [Elite]." Other 'C+VG HITS!' included E-Motion from US Gold on the Amiga, PC, Atari ST and Amstrad CPC, with ratings of 95% for the 16-bit versions, 92% for the Amstrad and 89% for the Spectrum. Usually reserved for 85% and above rated games, Cyberball got one of the awards despite only getting 80% and 84% for the Amiga and Spectrum. Ubi Soft's horrorfest Zombi garnered 93% and 92% ratings for the Spectrum and PC versions. Other 'HIT!' rated games included Manchester United from Krisalis on the Amiga (95%), Vendetta from System 3 for the C64 (93%), TV Sports Basketball from Mirrorsoft on the Amiga (91%), Knights of the Crystallion
on the Amiga by US Gold (85%) and Warhead on the Amiga by Motion Picture House (85%).

Elsewhere in the issue, the Arcade Action section featured reviews of World Grand Prix from Taito, which got a 90% rating, Gradius III from Konami with an 80% rating and Round Up Five with 83%. The Mean Machines section took a look at Golden Axe from Sega on the Mega Drive, which got 95%, and Slap Shot from Sega on the Master System picked up 85%. The monthly Gallup all formats top 20 was published with Paperboy knocking Chase H.Q. from the top spot. Code Masters' Fantasy World Dizzy entered at number 3.

| | | |
| --- | --- | --- |
| For issue 31 of ACE, they travelled to Austin, Texas to get an exclusive update on the upcoming Ultima VI. The Skywalker Ranch was also invaded by the ACE team as Lucasfilm Games were interviewed. If you have ever read an issue of ACE then you will know that they had quite a unique rating system where they awarded games out of 1000, rather than the popularized percentage standard. Reviews this month included Knights of Legend on the PC from Origin/Mindscape which scored a 945 rating, Gravity on the Atari ST from Image Works which was rated 930, Player Manager on the Atari ST from Anco got 920, Vendetta on the C64 courtesy of System 3 got 912 and Pipe Mania on the Amiga and Atari ST from Entertainment International both got 910. | | |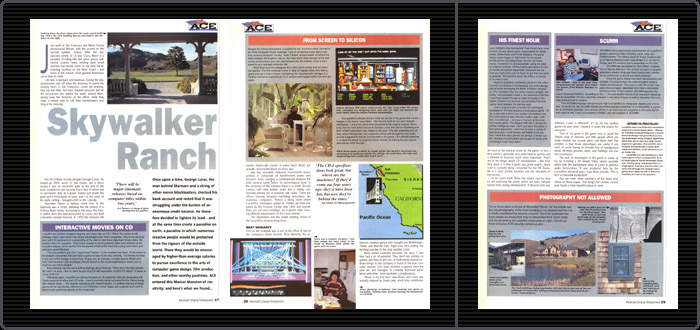 The Games Machine's issue 29 featured the duo popstar pairing of Bros. TGM asked "So, you want to be a popstar?" as they had the quick hit guide to topping the charts. Other Entertainment features included Super Grafx (NEC's follow up the the PC Engine), Digitising, CD creations and more.

Activision's Hammerfist lead the way for the 'Star Player' awards as the C64 version pips the other versions (Amiga 93% and Spectrum 92%) in the ratings, with Mark Caswell giving the game 94% stating that "if this is what happens when a bunch of programmers get together, think up ideas and program away to perfection without any deadlines, then I hope this is the thinking of the nineties." The review also included a brief summary of the unfinished Konix Multi System version. E-Motion, from US Gold, was given 90% on both the Amiga and Atari ST versions. The month's
favourite game across the magazines, Rainbow Islands was rated 92% on the Atari ST. Crackdown on the Atari ST, courtesy of US Gold, was given 90%, and Warhead, from Activision, on the Amiga was also awarded 90%.


| | | |
| --- | --- | --- |
| The One For 16-Bit Games issue 19 featured an Arcades section with Eugen Lacey reporting on Aliens and T&J. Kati Hamza presented a complete history of pinball tables, including those computer versions and Gary Whitta talked to Atari Games. The highest rated games of the month included Castle Master for the Atari ST from Incentive with 90% and Klax on the Amiga from Domark which got an overall rating of 93%. | | |

| | | |
| --- | --- | --- |
| | | Issue 6 of Zero kicked off with in style with a feature on Artistic Licensing as John Minson went on location with the making of the Back to the Future part II game detailing the process of developing a movie licence, from inception to release, with hilarious consequences. David Wilson handed out a 'Zero Hero' award (rated 90+) to US Gold's Knights of the Crystallion with a 91%, while describing the game as "a huge involved fantasy adventure offering atmospheric graphics and sound with gameplay intricately crafted with enthusiasm." A 'Zero Console Classic' award was given to Sega's Mega Drive conversion of their own Golden Axe arcade hit with an overall 94% rating. Blood Money from Psygnosis also got a 'Zero Hero' award with 90%, and Dracula on the Game Boy got a 'Zero Console Classic' with 90%. |