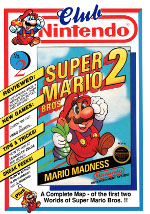 As the first release of a new year we have something rather special to present to you. A magazine which I wasn't sure about if it would be possible to bring it back to life again. But after a ton of work and even more hours put into it compared to a regular 100 page magazine in decent condition, this slim 20 page magazine of 29 years ago finally looks brand new again! :)
To view just what it went through, be sure to take a look at the bottom of the updated Restoration Process feature that has high resolution before/after shots of several problematic pages.
Since this is a tiny magazine, we only selected two preview features this time. The first one being Rad Racer by Square, and the classic Castlevania by Konami.
Enjoy!