'Back in Time' is a monthly feature where we look back at the classic video gaming magazines twenty years ago this month. This month it's August 1990 when Smash TV crashed into the arcades, Kick Off 2 kicked the other soccer games in to touch, Midnight Resistance impressed all and Italy 1990 topped the All Formats Top 20 Chart...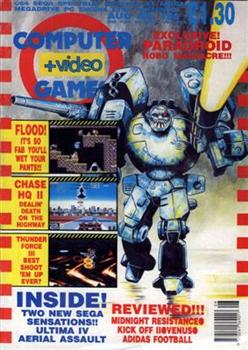 Topping the 'Arcade Action' hits in issue 105 of Computer & Video Games was Smash TV, which came away with 96%. Editor Julian Rignall declared the coin-op hit as being "one of the most potent coin-grabbers I've ever played." Closely following behind was Racing Hero from Sega with 92%.

Thunderforce III dominated the Mean Machines section with a massive 95% rating. Julian Rignall commented that "Thunderforce III is the state of the art in shoot 'em up technology and is easily one of the best console games yet seen." Ultima 4 on the Master System was given 86%.

'C&VG Hit!' games this issue included Flood (Amiga, 95%), Kick Off 2 (Amiga, 95%), Turrican (Amiga, 94%), Venus the Flytrap (Amiga, Atari ST, 94%), Paradroid 90 (Amiga, 93%),

Italy 1990 from US Gold topped the Gallup All Formats Top 20 games chart, fending off the likes of Fantasy World Dizzy (Code Masters) and Pro Boxing (Code Masters).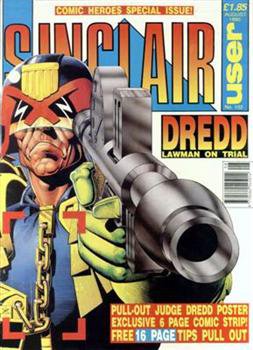 Issue 103 of Sinclair User was a Judge Dredd special, which, not only reviewed the game (getting an average 63%), but featured the future law enforcer in a six-page comic strip special. Also on the front cover was a 'Doublehits tape', which included a full game from Ocean called Tank, a playable demo of Midnight Resistance and a whole level of Destiny Mission. The Coin ops section featured Moonwalker from Sega, which got an 'Addict Factor' of 92. Hydra from Atari Games didn't fair too badly either, getting an 81 rating.

Skate Wars, the futuristic sports game from Ubi Soft – basically Speedball on ice – was given a top rating of 90% and won a 'Sinclair User Classic' award. Chris Jenkins described the game as "a real man's game", with "the crunch of bones! The smash of helmet on helmet! The thunggg of the ball in the back of your opponent's teeth!" Midnight Resistance was hailed as "the ultimate military combat game", coming away with a 'Sinclair User Classic' award and 90%. Elsewhere, Garth Sumpter took on Hostages from Infogrames and gave it a rewarding 83%. The Dracula platform game, Night Hunter, sucked out an 89% rating from Chris Jenkins. Vendetta from System 3 managed an 82%.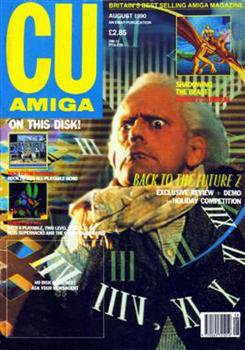 CU Amiga's August 1990 cover featured Back to the Future part 2's Doc Brown. Why? To publicise the exclusive review of the game, the demo on the coverdisk and the holiday competition. Also gracing the coverdisk was two levels of Venus The Fly Trap.

Unreal was once again impressing reviewers, getting a 'CU Screen Star' award with its 87% rating. Bomber Bob, a brightly colourful game from Ideal/The Software Business, flew away with an 88% and a 'CU Screen Star'. But once again, Kick Off II was the star of the show, getting the 'CU Screen Star' trophy with 90%. Mark Heley perfectly summed up the game: "it may not be perfect, but no other footie game can touch it." Unfortunately, Emlyn Hughes' International Soccer came in at a bad time and came off the pitch runners up with an 81%.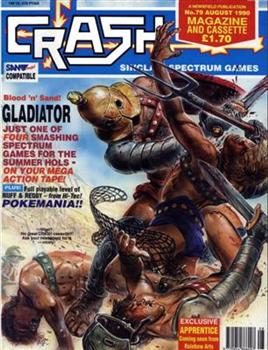 Crash issue 79's 'Game Thrills' covertape featured Gladiator (a beat-'em-up from Domark), Satcom (a strategy game from Atlantis), Ruff & Ready (a playable demo from Hi-Tec), Assassin ("Freaky alien shoot out from Psychaedelic Hedgehog") and Déjà vu – The Remix (by Andrew Daly). 'Sinclair's Survival', a feature tracing the history of Sinclair computers, continued with part two.

Nighthunter from Ubisoft gets the reviews section off to a good start with 91% and a 'Crash Smash' award. "Night Hunter is simply a must for all fans of addiction", comments Nick, "miss this and you won't sleep easy in your bed. Come to think of it, play this and you still won't be sleeping easy!!" Hostages, a special forces rescue game from Infogrames, rescued a 'Crash Smash' award with an overall rating of 90%. Nick praised the game and stated that he "enjoyed every single minute of Hostages… An excellent game." Having reviewed the Spectrum version of Defenders of the Earth last issue, it was now the SAM Coupe's turn. The game, from Enigam Variations, came away with a respectable overall rating of 81%. Sim City from Infogrames and Adidas Championship Football by Ocean Software both finished with an 83%.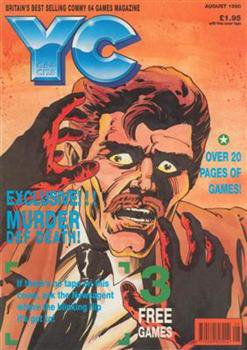 "Britain's best selling Commy 64 games magazine", YC (aka Your Commodore), was back after going AWOL last month. The reason? YC had moved home and publisher, now residing under the wings of Alphavite Publications Ltd in Milton Keynes. Despite the move, the YC content still retained the usual madcap shenanigans from the motley crew. On the YC Tape #7 was Phobos, Limbo and Frogs In Space.

In 'The Perils of Programming', a rather serious feature for YC, Kati Hamza guided the reader through the ups and downs of programming your own game. 'Painting the Town Red' chronicled the YC's adventures as they teamed up with sister publication Your Amiga to take on the might of the EMAP crew at indoor paintball. The winners? The YC/Your Amiga coalition, apparently.

In the reviews section, Editor Rik Henderson looked at Murder, a fine mystery game from US Gold that got an overall score of 92 and a 'YC Fun One' award. Rik said "for those with more intelligence than a piece of popcorn, and are willing to use it when they play games, this is THE game to play." Klax also got a 'YC Fun One' with a "skorebox" rating of 93. After the ravenous summary for Murder, Klax was given a rather predictable "if you like action puzzling games then try it out" remark. Wow. Just when you think you had seen the highest score yet, Might and Magic II came along with a rating of 95. Needless to say, the game was plauded as being "very playable and addictive. Go out and get it."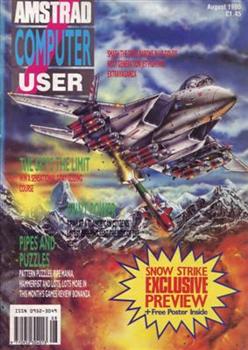 For the August edition of Amstrad Computer User, Jon Cook entered the 'Combat Zone' for another round of arcade gaming. The game that swallowed up Mr Cook's 10p coins this month was G-Loc, which impressed so much that it was pretty much the whole 'zone'. In the Top 20 Gallup chart, Fantasy World Dizzy remained on top with new entry, Temple of Doom, at two and Paperboy slipping to number three.

Kicking off the Amstrad CPC games reviews was an amusingly unrealistically named reviewer called Basil Bread who looked at Hammerfist. The US Gold platform action game managed to get a knockout punch rating (whatever that meant was anyone's guess). Empire's Pipe Mania was next to receive the bizarre rating treatment, getting a 'Hot curry' image for its troubles. Chris Knight explained the rating choice in his summary of the game: "Pipe Mania is compulsive playing and guaranteed to set your blood boiling along with the Flooz. Go out and buy it now, it's piping hot stuff." E-Motion, the colourful puzzle game from US Gold, got a 'rabbit out of a hat', with the rabbit even giving a thumbs up. Chris Knight proclaiming that "this certainly wasn't what Albert Einstein had in mind when he started juggling with molecules, but he wouldn't half be proud of it." Rounding off one the best games section in months was Turrican, getting an 'A-OK' verdict from what appears to be a caricature image of the Queen.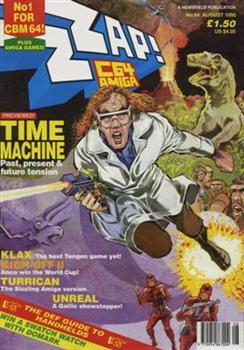 Zzap!64 Amiga issue 64 featured a front cover illustration from Ron Smith. This was the first cover not to be illustrated by the legendary artist Oliver Frey. Having produced all previous cover illustrations of Zzap!, not to mention Crash, Amtix! And The Games Machine, Oliver had to stand aside to deal with administering the Newsfield Empire, including editing Crash itself. 'The Word' news section reported on the launch of the Amiga CD-ROM console called the CDTV (also known as Commodore Dynamic Total Vision). Commodore also confirm news of the C64 console, called the C64GS, which was intended to take on the NES in the USA.

First of the 'Sizzler' games this month was Klax. Both the C64 and Amiga conversions of the arcade puzzler impressed the Zzap! reviewers and came away with 92% each. Phil King summed up his comments by saying that "it's the incredible addictive action that impresses and, on both machines, Klax is by far the best Tengen conversion yet."

It was the Amiga's turn to receive praise for its version of Turrican (following the C64 version), garnering recommendations from all three reviewers and a 'Sizzler' award with a 94% rating. Phil King commented that "this is original arcade action at its best, fully making use of the Amiga's capabilities." Kick Off 2 also played an excellent game, coming away with a fine result: a 'Sizzler' and a 94% rating. Robin Hogg commentated that "Kick Off 2 is a great sequel and not just a revamp of the original. A big jump over Kick Off and a massive leap over all other football games around."

The 'Essential Beachware' feature looks at handheld gaming consoles. Consoles looked at included the Atari Lynx, the Konami Handheld and Nintendo's Game Boy. Robin Hogg reported back on his trip to US Gold's headquarters in Birmingham with the latest news on their upcoming games. This included previews of Snow Strike (a shoot-'em-up from Epyx), Murder (an isometric murder mystery) and Gold of the Aztecs (a platform rescue game from Kinetica).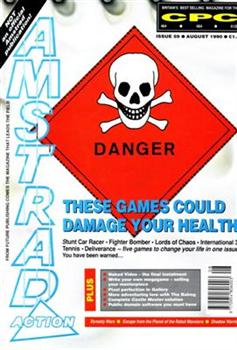 Issue 59 of Amstrad Action continued their 'How to Make a Megagame' series. This month was how to sell your game to a software publisher. Trenton Webb took Fighter Bomber to the skies in the Action Test section. The flight sim from Activision soared with an 89% and an 'AA Rave'. Stunt Car Racer, the high speed racing game from MicroStyle, got a very impressive rating of 96%, one of AA's highest ever ratings. "It stakes its claim as one of the best games ever on the CPC!" Trenton Webb proclaimed in his closing comments. Lord of Chaos didn't quite have the same impact as Bladesoft's earlier Laser Squad, but still came away with a fine rating of 84% and an 'AA Rave'. Deliverance, the sequel to Hewson's Stormlord, was given an 'AA Rave' for its 89% rating. International 3D Tennis rounded things off with an 'AA Rave' rating of 81%.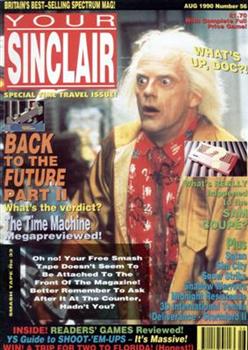 Your Sinclair issue 56 was a special time travel issue with cover feature review of Back to the Future II as well as a preview of The Time Machine. Complimenting the time travel theme was a playable demo of Back to the Future II on the covertape. If that wasn't good enough, there was also the complete game of Rebelstar II on offer (yes, that super strategy game from Julian Gollop that was the predecessor to Laser Squad).

Sim City was reviewed and rated 93* by Matt Bielby. "It really is the bee's knees," claims Matt, "and will appeal to just about anybody - even my dad thought it was 'Quite good, I suppose' and that's saying something!" Deliverance – Stormlord II was also given a 'Megagame' status with 91*. Rich Pelley wasn't too keen on Italy 1990 so he brought in his little brother "who managed to polish the thing off on his first game and win the World Cup within three quarters of an hour." Despite this, the final verdict was a reasonable 81*. Matt Bielby rated the arcade conversion of Midnight Resistance, giving the Ocean Software game 92*. "I really think this is one of the best shoot-'em-ups I've ever see in ages (perhaps ever)," stated Matt. Another 'Megagame' and another 92* rating went to Turrican. Matt Bielby described the Rainbow Arts game as "one of the best games of this year…"

Matt Bielby picked up from last issue's 'Complete Guide to Shoot-'em-ups' with part 2. Rich Pelley presented the 'YS Reader's Games'. So what kind of games did the readers come up with? Advanced Lawnmower Simulator and Football Janitor both came away with impressive 8* ratings, but even better was The Morning After Simulator which managed to reach the dizzying heights of a 6*. Thankfully, Julia and Simon Barnsley redeemed the readers with a mighty impressive rating of 84* for their strategy game called Gods.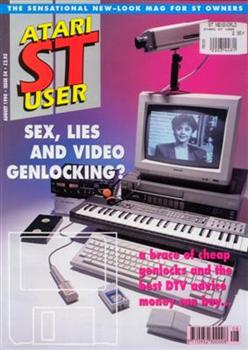 Like a handful of computer magazines in the day, Atari ST User was quite technical heavy and issue 54 was no different. The coverdisk contained mostly utilities but there was a demo of Nitro from Psygnosis and a PD game called Super Breakout. Amongst the main features of DTV and hard drives was a handful of games coverage. The pick of the reviews was F-19 Stealth Fighter, which managed 91%. "F-19 is the flight simulator for the ST, combining brilliant tactical gameplay with fast action." Other games worthy of mention include Combo Racer (88%), Projectyle (80%) and The Viking Child (89%).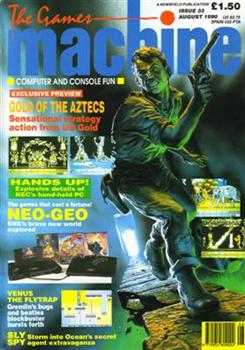 In issue 33 of The Games Machine, Robin Candy looked at two of the newest gaming consoles: SNK's Neo Geo and Cybertech's ProBoy. One of the Neo Geo's games inspected was Nam 1975 which came away with 81%. Sly Spy: Secret Agent was given the 'TGM Star Player' treatment across three formats. The 16-Bit versions (Atari ST & Amiga) managed to get 87% each while the Spectrum version got 85%. It was Venus the Fly Trap that impressed Warren Lapworth, who gave the Amiga game a solid 95% rating and 'Star Award'. "Presentation and attention to detail are high but take a back seat to the amazing playability – truly addictive," commented Warren. "Venus is one bug you really must catch." Another praising review for Kick Off 2 as Warren gave the Amiga game a 92%. The Atari ST space strategy game Imperium impressed and got a 96% rating to match.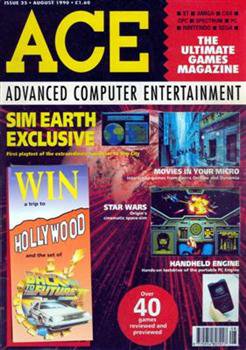 Issue 35 of ACE covered three new flight sims. Flight of the Intruder on the PC was 'ACE Rated' with 910, F-19 Stealth Fighter for the Atari ST flew straight in with a 935 and Falcon mission disk II was playtested but not rated. Elsewhere, Railroad Tycoon on the PC was given a fine 943 rating. "Put simply," guest reviewer Julian Rignall exclaimed, "Railroad Tycoon is an absolute classic. A game that gives your brain one of the most stimulating and enjoyable neural work-outs yet devised."

Eugen Lacey looked at both the C64 and Amiga versions of Turrican, giving the game an 'ACE Rated' award and a 912 score. "It is almost enough to restore faith that the Amiga is the best games machine money can buy despite rumours of things like FM Towns and Neo Geo's stealing its thunder." Ultima IV landed on the Sega Master System with a great rating of 929. Not to be outdone by its 8-bit relation, the Mega Drive nearly eclipsed the Master System offering with Thunderforce III, which gained an equally mighty rating of 911.

It was a case of the good, the bad and the very bad as John Cook visited the local arcades for the latest gaming. Smash TV, an arena shoot-'em-up very much an updated Robotron, was first up, followed by Moonwalker, Columns and Dr. Mario.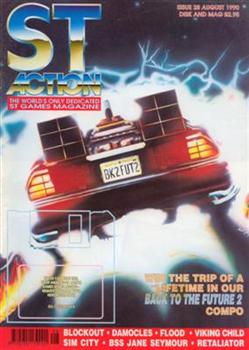 ST Action issue 28's coverdisk featured demos of Cadaver (Imageworks), The Viking Child (Wired) and Pyramax (Arc). Out of the handful of decent games featured this month, Sim City managed 88% and was described as "a really enticing and unique little game for all you potential megalomaniacs." Other games of note included BSS Jane Seymour (85%), Blockout (84%), The Viking Child (86%), Midnight Resistance (86%) and F-29 Retaliator (86%). Once again, Back to the Future part II managed to make the front cover of a magazine this month, but could only manage an average rating of 64%. Eleswhere in the issue, Jeff Minter appeared in his regular column 'Yak's Yak' where he discussed Defender II (which he was working on), enjoying Super Mario Bros 2 on the NES and Gauntlet 3 on the Lynx.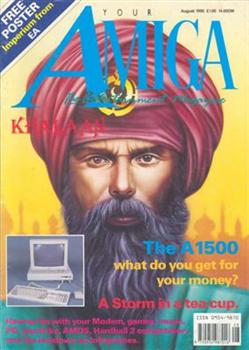 Your Amiga, sister mag to YC at Alphavite Publications Ltd, had a good handful of 90% and over games in their August 1990 issue. Klax was given 95% from Ashley Cotter-Cairns, who said that "the game just has to be played to be believed. It is just so addictive – one of those games that keeps you coming back for just another twelve hour session." Not to be outdone, Breach 2 was also given 95% with Ashley Cotter-Cairns simply stating that the strategy game "is a superb product," that "even non-strategy fans will love." Other games that made an impression with the reviewers were Kick Off 2 (94%), Their Finest Hour: The Battle of Britain (93%) and Khalaan (92%). Games just out of reach of a 90% were Italy 1990 (89%) and Police Quest 2 (88%).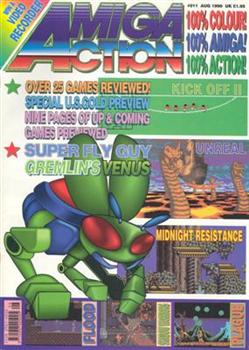 Amiga Action issue 11 and Hero's Quest was first up to gain some praise in the reviews section, getting an 84%. Alex Simmons commented that this was "another superb game from the exceedingly capable hands of Sierra On-Line… A brilliant game that is worth anybody's money." The lovable sex pest, Larry returned in his third outing, cunningly titled Leisure Suit Larry III. The game contained enough humour to be given an 82%.

Midnight Resistance was able to resist any serious criticism and come away with a fine rating of 85%. Editor Steve Merret stated that "not only is Midnight Resistance an excellent conversion, it rates as one of the very best all-action shoot'em-ups I have ever played." Manhunter 2: San Francisco was another Sierra game reviewed this issue, surviving the review ordeal with a respectable 80%. International 3D Tennis was served an 80%. Ubi Soft's Unreal impressed the reviewers enough to be given an 82% rating.

Despite all the fantastic games and ratings given so far, it was nothing compared to the soccer game from Anco. Kick Off II scored a late winner in the reviews section and finished the winning game with 93%. Steve Merrit said that "Anco have done the impossible and improved on an already brilliant game, creating a classic masterpiece in the process."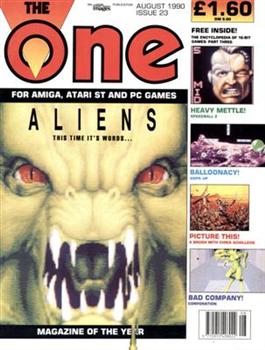 The One issue 23 and with the forthcoming release of Billy the Kid from Ocean Software, Gary Whitta took a look at the story of the infamous young outlaw from the wild west. Kati Hamza looks to the future and speculates on what type of sport would replace football and tennis. Think Speedball 2. A mammoth 11 pages were given to a journey through space and time as The One gave their definitive guide to aliens.

In the reviews this issue were Oops Up from The Software Business which got 91%. Corporation from Core Design, Plotting from Ocean and Turrican from Rainbow Arts - all Amiga games - all managed a 90%. Yolanda on the Atari ST got 88% and Midnight Resistance got an 81%.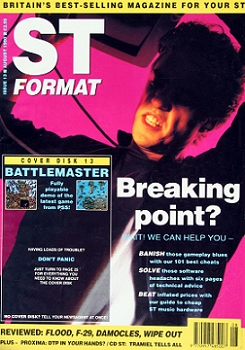 Although ST Format covered a fair amount of gaming software – alongside their serious content – issue 13 was somewhat lacking in notable games. Gracing the coverdisk included a playable demo of Battlemaster. The pick of the reviews included Damocles - Mercenary 2 from Novagen, which managed to impress the reviewers with a 94% rating and 'ST Format Gold' award. Other games to receive fine scores included Flood (91%), Thunderstrike (88%) and Treasure Trap (81%).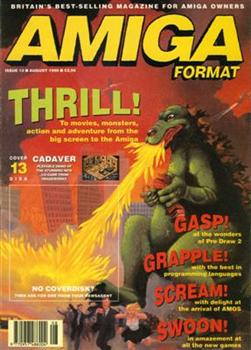 A playable demo of Cadaver, the latest game from the Bitmap Brothers, headed up the coverdisk of Amiga Format issue 13. The main feature, 'Moviedrome', looked at how games take a lot of their influences from the movies. Other features included AMOS (Mandarin's games creating language), Round-up of programming languages and TFMX (making music for games).

Once again, Kick Off II was the main attraction in the games review section. This time getting a 94% rating and 'Amiga Format Gold' status. Andy Smith judged the game as "the best footy game to have appeared on any machine and the beauty of the game is that it just plays so damn well." Turrican blasted onto the pages and picked up an 88%. Hero's Quest impressed Pat McDonald who gave it 92% and a scintillating appraisal: "just to call this a game is inadequate: it's a five-disk work of art, brimming with imagination, humour and thought."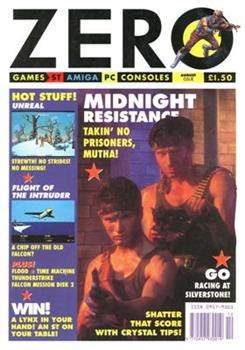 Zero issue 10's cover featured a couple of guys posing as the two main characters from Midnight Resistance. The Amiga game itself managed to secure a 91% rating and a coveted 'Zero Hero' accolade, while the Atari ST version survived with an 88%.

The top games this issue were two PC games, Flight of the Intruder and PGA Tour Golf, receiving 92% each and a 'Zero Hero' award. Other 'Zero Hero' games included three Amiga games: Flood (Electronic Arts), Kick Off 2 (Anco) and Unreal (Ubi Soft), all getting 90%.

In 'Console Action', the "mag within a mag", DJ Boy on the Mega Drive got 89%, Chase H.Q. on the Master System got 85%, Bugs Bunny on the Game Boy got 83% and Operation Wolf on the Master System got 82%. Games just missing out on accolades included Breach 2 on the Atari ST, Projectyle on the Amiga and Rotox on the PC, all with 88%.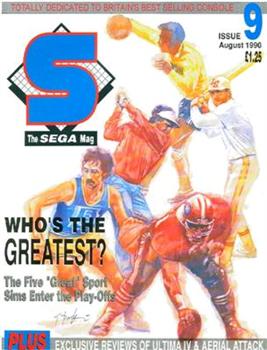 The two main reviews in issue 9 of S The Sega mag were Aerial Attack and Ultima IV, both for the Master System. Aerial Attack managed an S-Factor rating of 82% while Ultima IV got 92%. The Aerial Attack review stated that "If you like a game with a bit of depth and strategy then this is the kiddy. If you like your games to be more immediate then beat a path round it. Although not as vissually stunning as Phantasy Star It's a good meaty game." As usual, the magazine looked back at previously released games in the 'Past Masters' segments. Here Penguin Land got 88%, Fantasy Zone 81% and Choplifter 80%.

For the "sports freak with limited funds", there was a feature on "Great" games, including Great Golf, Great Football, Great Baseball, Great Basketball and Great Volleyball. With scores ranging from 52% to 73%, the games weren't exactly 'great' fun. 'What's Cookin' At Chicago' was a feature on the Consumer Electronics Show in Chicago, previewing upcoming Master System and Mega Drive games.