'Back in Time' is a monthly feature where we look back at the classic video gaming magazines twenty years ago this month. This month it's August 1991 when Sonic the Hedgehog continued to leave a blue blur across the review pages, the CES hit Chicago, the classic computer game, Boulderdash, made its way onto the NES and forthcoming movie licence, Terminator 2, adorned several front covers...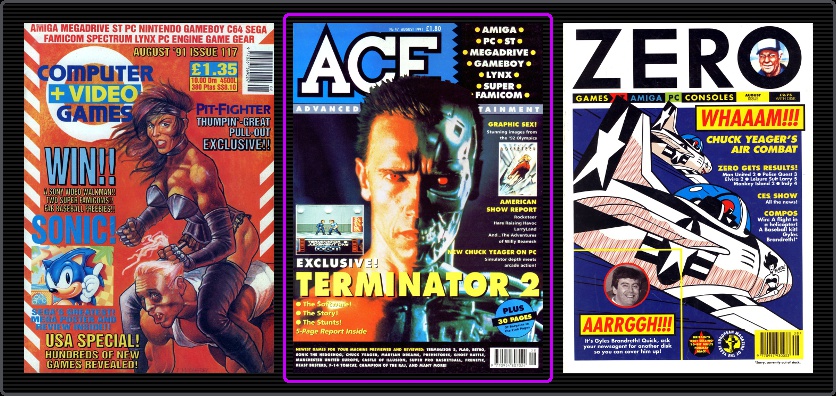 For the 11th issue of

Mean Machines

, Julian Rignall reported back from the CES show in Chicago, the biggest electronics show in the world. Among the upcoming games on display were Sega's upcoming titles, including

Toe Jam and Earl

,

Decap Attack

,

Donald Duck

,

Mercs

,

Phantasy Star III

,

Shining in the Darkness

,

Streets of Rage

and

Golden Axe II

. A pretty darn good selection of games for Sega. Topping the charts this month were

Shadow Dancer

on the Mega Drive,

Super Marioland

on the Gameboy,

Nintendo Cup

on the NES and

Mickey Mouse

on the Master System.

EA's

Hockey

arrived on UK shores for the Mega Drive and, following in their

John Madden

success, the game came away with high praise. "Programmers Park Place have done it again," explained Julian, "and

Ice

is to that violent high-speed sport what

John Madden

is to American Football… The action is fast and furious, and it's packed with subtle and not-very-subtle-at-all touches… another superlative sports simulation from EA, and ranks as an utterly essential purchase."

The Commodore 64 classic,

Boudlerdash

, made its belated appearance on the NES, coming away with an impressive haul of 92%. Rich commented that "

Boulderdash

was never a game to impress graphically, but Data East have spruced up the original with more variety in the dackdrops and better sprites. Combine this with the classic playability of the older 8-bit versions and we've got an extremely impressive title."

In a special lookback to pre-

Mean Machines

days, the Master System platform game,

Psycho Fox

, is given the 'Classic Game' treatment with 90%. "Sporting a weird storyline and even weirder graphics,

Psycho Fox

is one weird game," stated Julian, "but it's challenging, playable and very addictive too. Easily one of the best platform games available on the Master System, and is a vital addition to any self-respecting player's collection."



Kabuki

on the NES also gained a 90% rating and 'Mega Game' status. "

Kabuki

's quite a novel game," explained Rich. "Well, have you ever seen a game where the main character dispatches his foes by lashing out at them with his massive hair-do?"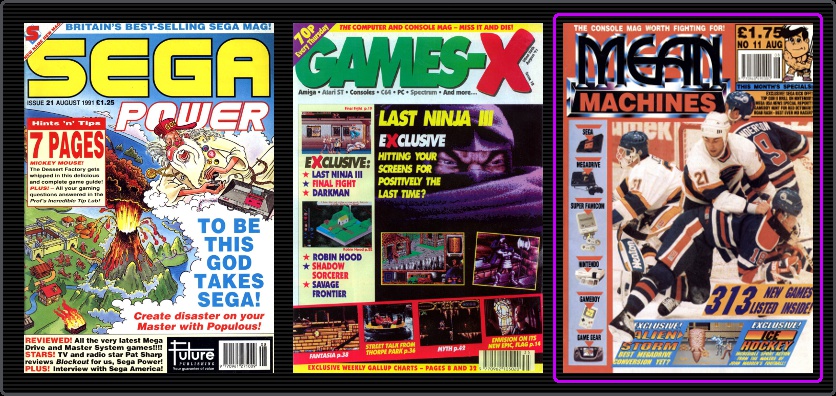 It was a special

Terminator 2

front page special in

ACE

issue 47 as they looked at the film and an in-depth preview of the upcoming game from Ocean Software.

ACE

also reported back from the CES show on the latest happenings and forthcoming titles in the world of gaming. Main headline news was the break up of Sony and Nintendo over the proposed CD-Super Famicom and the imminent release of the Philips CD-I.

There was blue fever running through the industry as the effects of

Sonic the Hedgehog

were still being felt as further reviews of the spiky mammal emerged. Receiving another praising, Sonic added an 'ACE Trailblazer' accolade to its ever growing list of awards with a 925 rating. "In its attempt to create a game that would do for the MegaDrive what Mario has done for Nintendo," Gary Whitta commented, "Sega deserves credit for not coming up with just another uninspired clone, but a game that's genuinely original in its approach to the platform genre and still immense fun to play."



Chuck Yeager's Air Combat

also flew in on the PC to pick up a 'Trailblazer' with a rating of 900. "Definitely

NOT

for boy racers who can't handle more than up-down-left-right-fire," explained Gary, "but if you seek a more challenging and longer-lasting experience, you can't go wrong."

Origin's latest worlds of

Ultima

release,

Martian Dreams

proved to be another RPG hit on the PC with a 928 rating from Steve Cooke. "Definitely one of the better RPG scenarios of recent years and the message is clear – this is one tall story that'll have you over the moon in more ways than one."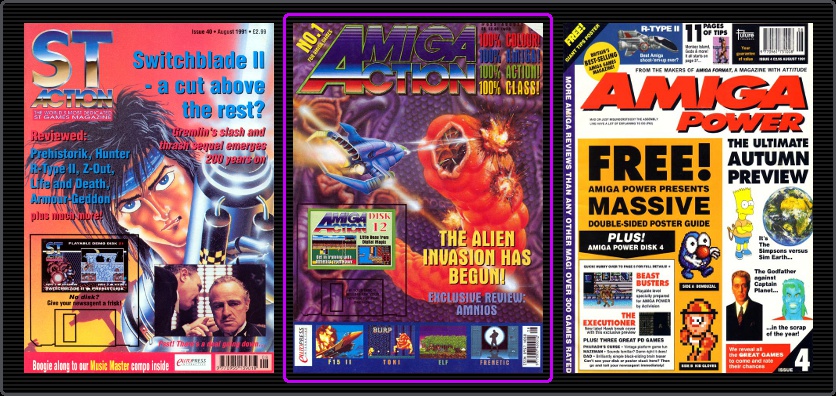 Over on the 16-bit computers,

Amiga Action

dished out a slew of accolades with its 23rd issue. Granted, many were for the Super League Accolade Recommended rating of 75%-84%, but there was an impressive handful of Super League Accolade rated games of 85% or over.

Gaining an impressively high rating of 93% out of the reviewer, Psygnosis' shoot-em-up

Amnios

easily lifted a Super League Accolade. "the multi-direction scrolling is smooth and fast. Even with the screen chock-a-block with moving sprites the game doesn't slow down. On top of this the gameplay is superb… Put simply,

Amnios

is the best shoot'em-up that has been released for a long time."



P. P. Hammer

from Demonware received an 88% overall score for its addictive little platform title. "Straight down to facts," the reviewer declared, "the sound isn't brilliant…. The graphics are better and have some nice touches. So why do I keep coming back to have just one more go, and another, and another and so on? Basically the game has a certain something that makes it so addictive." Other impressive Super League Games included

Manchester United Europe

(87%),

Deuteros

(87%),

Toki

(86%),

Prehistorik

(85%),

Proflight

(85%) and

R.B.I. Two Baseball

(85%).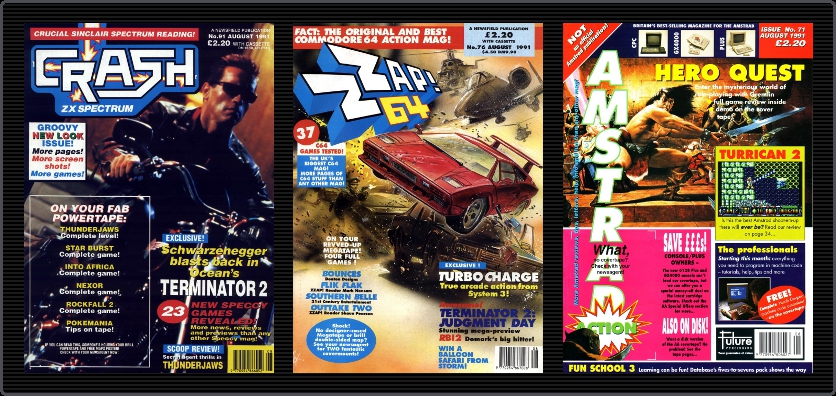 In the land of the 8-bit computers, the 'New Look'

Crash

also took a look at the upcoming

Terminator 2

game, this time on the humble Spectrum. The

Crash

team (Richard, Nicko and Mark), along with former staffers, Stuart Wynne, Robin Hogg and Phil King, all came up with the definitive top 100 Speccy games ever produced. With the first part this month (100 to 76), notable entries included

3-D Deathchase

(no. 98),

Manic Miner

(no. 95),

Laser Squad

(no. 90) and

Gauntlet

(no. 83). In the reviews pages, only

Prince of Persia

on the SAM Coupe made any impression with a fantastic 96%. "

Prince of Persia

is undoubtably the best SAM Coupe game yet," stated Nick Roberts, "its combination of superb gameplay and great graphical content really shows off what the SAM can do!"

Landing a 'Zzap! Gold Medal' award in issue 76 of

Zzap!64

was

Turbo Charge

from System 3. The third person arcade racer garnered a top rating of 96% from Stuart Wynne. "The racing shoot-'em-up format has never been faster or more graphically stunning," enthused Stuart. "Disk and cart versions, in particular, benefit from great intermission screens, but even with a C2N this eye-burning speed merchant is unmissable."



Amstrad Action

offerd a double dose of Master Games with issue 71. First up was

Hero Quest

with a 91% from Frank O'Connor. "In many ways it's better thatn the board game, commented Frank. "it's more accessible, much faster and at the end of the day, much more fun. One of the best games of the year and

THE

board game conversion."

Turrican 2

went even better with a 95% as Frank stated that the run-'n'-gun platformer "is a quantum leap in game design on the Amstrad. Rainbow Arts have pulled out all the stops, used real imagination and made

Turrican 2

the single best shoot-em-up on the Amstrad ever."

All the intellectual property rights related to the works presented on this site belong to their respective owners.
This site is strictly created for the purpose of preservation and education.
Follow us on Twitter to get the latest updates as they go live: