'Back in Time' is a monthly feature where we look back at the classic video gaming magazines twenty years ago this month. This month it's December 1991 when RoboCop 3 patrolled the 3D gaming scene on the Amiga, Smash TV was ported to many home machines, RoboCod swam onto the 16-bits, Sid Meier's landmark Civilization emerged and Populous returned for a second coming...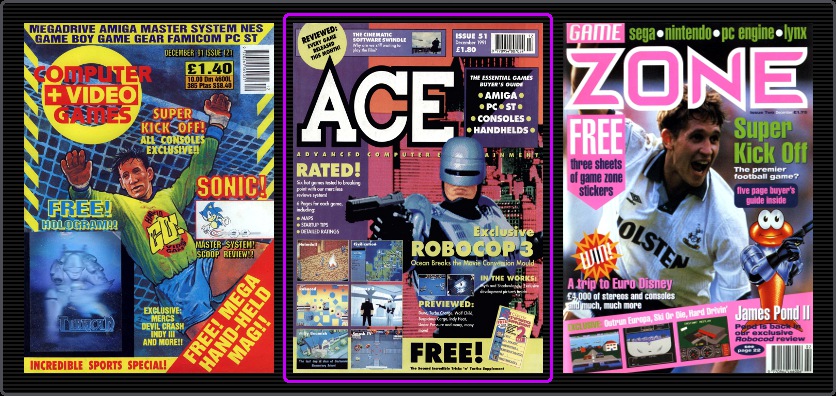 First among the chosen games given the six page review treatment in issue 51 of

ACE

was

Heimdall

for the Amiga. Gaining a fine rating of 895 from Gary Whitta, who commented that "

Heimdal

l does a fine job of blending together elements of role-playing, strategy, arcade and adventure into a single well-formed and playable game."



Civilization

, from strategy guru, Sid Meier, garnered an even more impressive rating of 930. "

Civilization

represents a sizeable step forward for the strategy genre by showing just how much is possible with a game of this type," stated Gary. "It's huge, compelling, compulsive, intriguing and – most importantly – very, very enjoyable."

With the release of

RoboCod

, the Amiga had a platform game within the same league as the console's finest examples. David Upchurch thought so, giving the game a rating of 934. "

Roboco

d is a completely excellent game. Polished, playable and – thank God – fun," enthused David, "it's like a sweet breath of fresh air in these days of rehashed film licenses, turgid strategy games and written-by-numbers shoot-'em-ups… Best platform game on computer? Without the faintest shadow of a doubt."

The mighty impressive looking

RoboCop

3 rounded up a decent rating of 883 on the Amiga. "

Robocop 3

isn't quite as different as perhaps Ocean believes it to be," stated David. "Like many other film tie-ins it's a blend of several game styles – a bit of shoot-'em-up, a bit of driving, a bit of beat-'em-up – with the simplistic nature of each element compensated for by the sheer variety on offer. However, the quality ground breaking 3D presentation adds an incredible amount to the game… there are times when you do actually feel like you're taking part in a film."

Fans of the arcade smash hit,

Smash TV

, were rejoicing as the Amiga version hit home with a rating of 895. "One of the finest conversions of a coin-op in ages, "stated Jim Douglas. "Graphically pleasing if not exactly elegant, with more action than you could wave the most rapid-firing stick at, the no-nonsense feel of the original has been most adequately captured."

Highly rated games in the console section included

Super Tennis

on the Super Famicom (920),

Klax

on the Mega Drive (915) and

Super Ghouls 'n' Ghosts

on the Super Famicom (915).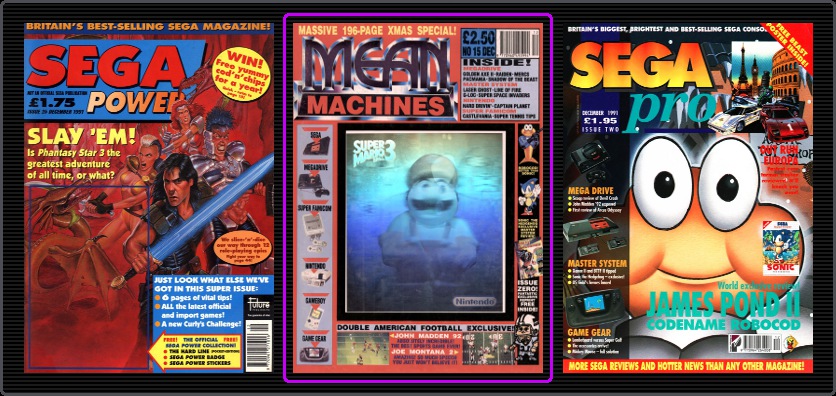 It was an (American) football special with

Mean Machines

issue 15 as John Madden went head to head with Joe Montana. Coming out of the match in one piece was

John Madden Football '92

with an impressive score of 95%. "The greatest ever Megadrive sports game has just got even better," commented Julian Rignall. "Rather than completely rewrite the game, the programmers have kept the basic elements that made

John Madden's Footbal

l so brilliant, and just tweaked the gameplay and added some new features… What's the point of fixing something that's not broken?"



RoboCod

also made it onto the Mega drive with an equally impressive rating of 95%. "Let's face it,

Robocod

has certainly been heavily "influenced" by other major console platform games such as Sonic and Mario," stated Rad Automatic, "but it's managed to take all the best bits and leave out any annoyances…. Once again, Electronic Arts have come up with the goods; an incredible game which only Captain Dough Head would miss."

LucasArts' classic adventure,

Maniac Mansion

, made its belated appearance on the NES with a respectable 89%. "It's refreshing to see a decent adventure on a console," commented Rad. "

Maniac Mansion

has been around for years, but it's still as playable today as it ever was. If you're just a jaded blast-o-rama head, you probably won't reckon much to

Maniac Mansion

, but if you're looking for an adventure or just a game with a bit more depth, I'd recommend

Maniac Mansion

."

Another classic made its way onto the NES as

California Games

landed in with a 90% rating. "

California Games

is one of my all-time favourite Master System games," stated Julian. "At first things don't look promising… However, play it and your fears soon evaporate – the gameplay offers even more fun and challenge. With its multitude of options, including the multi-player mode,

California Games

offers plenty of challenge and lasting appeal and shouldn't be missed by crazy dude sports fans."

Other worthy games included

Mercs

on the Mega Drive (88%),

Pac Mania

on the Mega Drive (86%),

Sonic the Hedgehog

on the Master System (90%). Feature wise, the team looked back at the making of

Mean Machines

, including a look at the magazine's origins, a

Strider

issue two cover that wasn't and even a re-print of the dummy issue zero itself.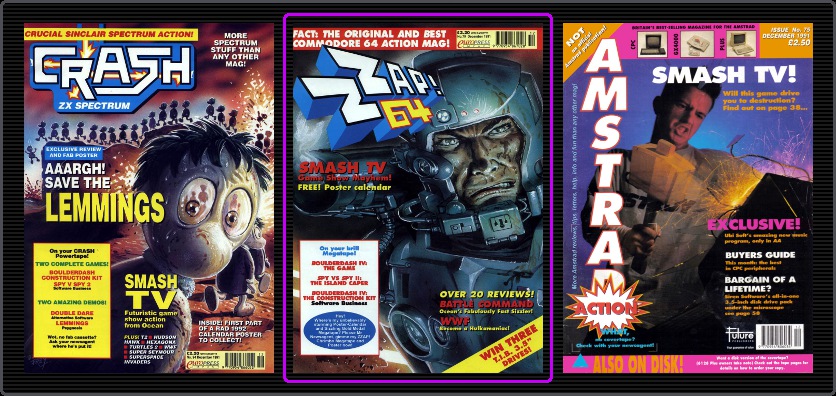 Following a one month absence – due to the liquidation of Newsfield Publications -

Zzap!64

(along with sister title

Crash

) was back. Published under Europress Impact – a satellite company of Europress –

Zzap!64

continued with issue 79. Stuart, Phil, Robin, Lloyd and gang were back with the original Commodore 64 gaming mag. Accompanying the comeback was one of the best Megatape covermounts for some time with complete games of

Boulderdash IV

,

Spy vs Spy II

and the

Boulderdash IV Construction Kit

.

First comeback 'Sizzler' award went to

WWF Wrestle Mania

with 90%. Stuart Wynne admitted that "this was going to be [his] least favourite of Ocean's Xmas line-up." Before adding that "

WWF

has turned out to be a real winner and possibly the most fun game this month…" Mark Caswell added "after playing

WWF

on several machines I can honestly declare the Commodore version is the best I've seen to date."

The 16-bit 3D

Battle Command

made its belated appearance on the C64 thanks to the cartridge compatibility of the computer. "C64 restrictions mean the polygon graphics aren't too sophisticate but that doesn't mean there aren't some great graphics in there," explained Robin Hogg. The airfield with the jets by the runway, the missile launchers and bridges are all worth a look…" Stuart commented that "

Battle Command

shows how carts can dramatically improve C64 performance and the blindingly fast 3-D is as impressive as any we've seen."

With

Smash TV

doing the rounds on other machines, C64 gamers needn't have worried as their favourite computer played host to a 'Sizzling' conversion that received a super 93%. "It's rip-roaring shoot-'em-up action all the way, and none the worse for it either," stated Stuart. "A well thought out learning curve makes sure you just keep coming back for more… Simply one of the best games to be released this year, it's just so much fun, and incredibly playable."

The eighth issue of

Amiga Power

and it was conveniently the eighth cover disk. This time around Amiga gamers could play around with

Elvira

and experience the wild driving of

Cisco Heat

. The Amiga Gallup Top 10 chart featured no fewer than six new entries, with

Jimmy White's Snooker

pocketing the top spot, while

Silent Service 2

homed in just behind and

Cruise For A Corpse

climbed all the way from 24 to take third place.

One of the highest rated games came in the form of

Populous II

. The God sim sequel racked up a very impressive – especially for Amiga Power standards – 93%. "A pure computer game," explained Matt Bielby, "it couldn't even begin to work in any other medium – presented with wit and skill and imagination... An action game for strategy fans, a strategy game for arcade junkies, and, until

Populous III

come along, unmissable."

The

First Samurai

sliced and diced his sword wielding moves on the Amiga with an equally outstanding 91% rating. "A breath of fresh air brought to a tired genre," commented Stuart Campbell. "One day all games will be written this way – then again, hell might freeze over first. A brilliant game, and an object lesson to programmers everywhere in – yes – How To Do It Properly."

Elsewhere, games just falling short of this un-Amiga Power like praise were

Mircoprose Golf

(84%),

Flight of the Intruder

(83%),

Heimdall

(86%),

Alien Breed

(82%),

Rugby World Cup

(86%),

Knights of the Sky

(87%),

Volfied

(80%) and

Covert Action

(81%).

The Xmas feature 'All I Want For Xmas…' highlighted the must have Christmas presents for Amiga gamers, including Mice, monitors, games, the Amiga 500 pack, and, of course,

Amiga Power

subscriptions and books. In a new regular feature called 'Definition of Sound' the team looked at puzzle games, including the likes of

Welltris

,

Gem'X

,

Stack Up

,

Lemmings

,

Atomino

,

Puzznic

,

Pipe Mania

,

Klax

,

Plotting

and more...

All the intellectual property rights related to the works presented on this site belong to their respective owners.
This site is strictly created for the purpose of preservation and education.
Follow us on Twitter to get the latest updates as they go live: