'Back in Time' is a monthly feature where we look back at the classic video gaming magazines twenty years ago this month. This month it's July 1990 when Blood Money sizzled on the Commodore 64, G-Loc flew into the arcades with guns blazing, F-19 Stealth Fighter impressed all on the 16-bit computers and Fantasy World Dizzy topped the All Formats Top 20 Chart...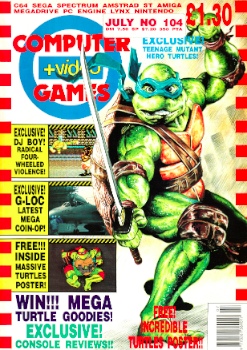 Computer & Video Games issue 104 looked at the latest console release, the Neo Geo. Paul Glancey and Julian Rignall both gave their thoughts on the super console: excellent graphics, superb sound, great games, however, the games came in at around £120.00 each. Ouch! Julian Rignall tested out the latest coin-op games in Arcade Action. Sega's hydraulic flight action game, G-Loc, impressed and was given an 86% rating. Other games worthy of mention included shoot-'em-ups Sagaia (71%) and Lightning Fighters (75%). Fantastic World Dizzy from Code Masters topped the All Formats Top 20 this month, with Paperboy (Encore) and Indiana Jones and the Temple of Doom (Kixx) trailing behind in second and third place.

Microprose's Railroad Tycoon on the PC was first up in the 'C&VG Hits!', receiving a fine 94% rating. Gordon Houghton commented, "With its sheer complexity, vast array of options and immense scope for hours and hours of play, Railroad Tycoon is one of the classiest simulations you're ever likely to see..." Other 'C&VG Hits!' included International 3D Tennis (Amiga, Palace Software), which racked up a good score of 93%, BSS Jayne Seymour (Gremlin, Amiga) was given 91%, Bloodwych (Mirrosoft, ZX Spectrum), both scored 91%, Thunderstrike (Millenium, PC) got 90%, the popular PC RPG, Ultima VI, from Origin was given 90%, F-19 Stealth Fighter (Microprose, Atari ST & PC) got 89%, Projectyle (Electronic Arts, Atari ST) got 89% Combo Racer (Gremlin, Amiga) got 88%, Spidertronic (Smash 16, Atari ST) got 88%, Prophecy 1: The Viking Child (Wired, Atari ST) got 85% and Theme Park Mystery (Image Works, Atari ST) got 85%.

The ever expanding 'Mean Machines' section, which focused on console gaming, featured no less than four 'C&VG Hits!'. Formation Soccer (Human, PC Engine) scored 91%, DJ Boy (Sega/Kaneko, Mega Drive) got 90%, while Golfamania (Sega, Master System) and Teenage Mutant Hero Turtles (Ultra, NES) both got 89%.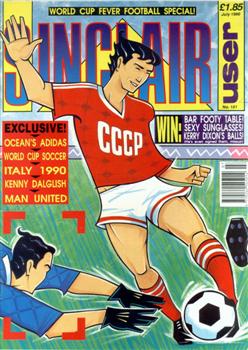 Issue 101 of Sinclair User contained a covermounted 'Doublehits tape' with Super Soccer and a demo of Ocean's Adidas Championship Soccer. The Coin-Ops section looked at Sagaia (Taito), Liquid Kids (Taito), Lightning Fighters (Konami), but coming away with the highest Addict Factor rating was G-Loc with 95. Sega's arcade flight arcade game was described as "another quantum, leap ahead for Sega in the forehead thumping stakes. The action is super smooth and super fast." Dizzy dominated the top two spots in this month's Spectrum Gallup chart, with Fantasy World Dizzy remaining at number one, while Treasure Island Dizzy moved back up to two. Paperboy trailed behind at number three and five new entries populated the rest of the top ten.

SU was another magazine going football crazy with some of the latest soccer games given a full playtest. Adidas Championship Football topped the group with an impressive 90% and a 'Sinclair User Classic' award. Editor Jim Douglas commented that if "you want a realistic World Cup series of events and a thoroughly sound football arcade game: Adidas Championship Soccer is your man, er, men…" Manchester United from Krisalis came away as a close runner up with 86%. Elsewhere, Escape From the Planet of the Robot Monsters was given a 'Sinclair User Classic' stamp of approval with 91%. "Fun, compulsive and fast action with more than its fair share of humour," stated Garth Sumpter. "Fab". Heavy Metal from Access also gained a 90% rating with Chris Jenkins summing up the game as "non-stop combat mayhem for sim freaks and blast addicts alike."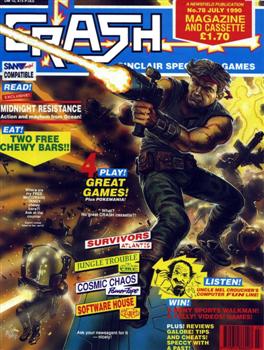 There were some fantastic covermounts on issue 78 of Crash. Not only was there a handful of games and demos but two McGowans Tangy chewy bars. Mmm, yum, yum. Oh, yes, the covertape. First up was Survivors, a "crazy arcade adventure from Atlantis," along with Jungle Trouble ("Amazon antics from Elite"), Cosmic Chaos ("a mean blaster of an invaders game") and Software House (a management game from Cult).
First up in the reviews section was Midnight Resistance from Ocean, which got 'A Crash Smash' award with 93%. Mark Caswell described the game as "an average coin-op transformed into a brilliant computer shoot-'em-up." Another fine arcade conversion was highly rated as Escape From the Planet of the Robot Monsters was awarded 90%. Mark summing up the review perfectly by saying "forget the silly title – just play, play, play!" Games just missing out on the praise this month included Sly Spy – Secret Agent (88%), Deliverance – Stormlord II (89%) and Italy 1990 (80%).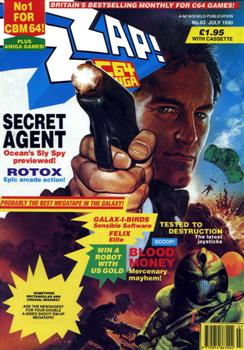 In issue 63 of Zzap!64 Amiga, the C64 version of Blood Money, a side scrolling shoot-'em-up from Psygnosis, came away with one of the two 'Sizzlers' awarded with 93%. Robin Hogg had plenty of praise for the game: "DMA Design deserve a bloody big pat on the back (and several drinks) for having the sheer guts to convert this monster game – they've made it fast, they've made it immensely playable and they've made it brilliant." International 3D Tennis from Palace Software came away with the other 'Sizzler' with 92% for the Amiga version. Other games that fell just short of the required rating included Rotox (US Gold) and Tower of Babel (Amiga) with 88%.

On the megatape this month was Galax-I-Birds from Sensible Software and Felix from Elite. Phil King playtested the latest gaming joysticks in 'Stick 'Em Up' and proclaimed the Cruiser stick from Powerplay as the best around with five out of five score. Elsewhere in this issue, the Rowland Brothers continued their development diary of Creatures, recalling game and non-game related shenanigans.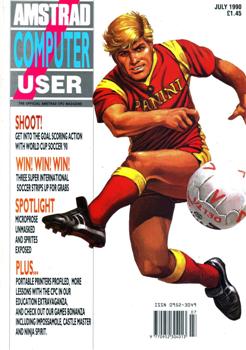 For the July 1990 issue of Amstrad Computer User, John Cook entered the 'Combat Zone' once again to report on the latest games in the arcades. This month, John visited Funland – Luna Park amusement centre in Piccadilly Circus, London. World Grand Prix, a motorcycle game, introduced a unique gameplay feature: the viewpoint leaned to the left or right as you physically leaned left or right on the mounted handlebars. Other games of note included Mercs (Capcom) – an Ikari Warriors type shooter – and Crude Buster (Data East) – a beat-'em-up. Fantastic World Dizzy (Code Masters) leaped over Paperboy (Encore) to take the top spot in the CPC's Top 20 Gallup chart. Thomas the Tank Engine (Alternative) entered in at three.

Roy Race (from Roy of the Rovers comic fame) featured on the front cover this month. Presumably, the world's most famous comic strip footballer graced the cover to coincide with the centre page spread coverage of Virgin Mastertronic's World Cup Soccer '90. The final verdict for the game was a positive 'rabbit out of the hat' caricature. Castle Master (Domark) also came away with some of the better ratings in this month's 'Gameplan' section and got a 'pot of gold' image as its final score. Rupert Dennis described the game as being "extremely good value for money, and will be difficult to put down once the drawbridge is up." Other games that received glowing ratings included Boxing Manager (Goliath Games) and Sonic Boom (Activision).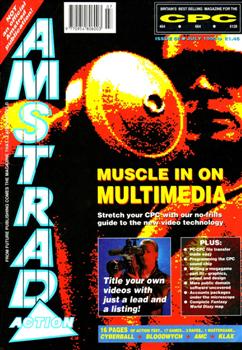 Issue 58 of Amstrad Action featured technical details of the forthcoming CPC Plus computers and GX4000 console. The CPC Plus range was basically described as a souped up CPC which included built-in hardware scrolling, increased colour palette and improved sound, while the GX4000 looked like a CPC Plus without a keyboard. With those technical specs revealed, and Amstrad sticking to the 3" disk format, instead of the more popular 3.5", anticipation for the new machines was hardly at fever pitch. Coding maestro Adam Waring provided the readers with part III of his series on writing your own game, this time dealing with graphics, sound and design.

Cyberball from Domark was first up to get the Action Test treatment. The American football and Speedball hybrid game scored an 82% overall rating and an 'AA Rave!'. However, it was Image Works' Bloodwych that garnered the highest praise this month, coming away with an impressive 92% and a 'Master Game' accolade. "With this two-player element and great dungeon graphics, Bloodwych is off to a stormer," proclaimed Trenton Webb, before adding: "At last there's an adventure you can see, touch and fight in with out having to spend hours flicking through text screens." AMC, an impressive looking run-'n'-gun game from Dinamic, secured an 'AA Rave!' with 83%. The addictive arcade puzzler Klax made its way onto the CPC courtesy of Domark, getting an excellent 89% and an 'AA Rave!'. Italy 1990, that football game from US Gold to coincide with the World Cup at the time, won an 'AA Rave!' award with 88%.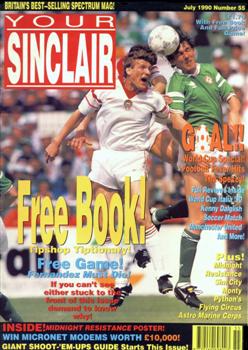 The covertape on the front cover of issue 55 of Your Sinclair contained the complete game of Fernandez Must Die. The Image Works game was accompanied by YS Capers, which was developed for YS by Damian Scattergood. Part One of 'The Complete YS Guide to Shoot-'em-ups' contained five pages of mini-reviews of classic games, hints, tips and more.

Unfortunately, the YS crew didn't feel any of the games reviewed this month were worthy of 'Megagame' status. The highest rated game was Escape From the Planet of the Robot Monsters, which was given 83. Other near misses were the two football games, World Cup Soccer Italia '90 and World Cup Year '90, which both got 79, while Vendetta got 76.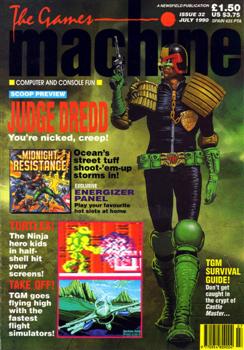 Issue 32 of The Games Machine and Midnight Resistance stood out from the crowd as it was given a 'TGM Star Player' award for three different versions of the game: the Amiga got 92%, Atari ST got 90% and the ZX Spectrum got 92%. Mark Caswell commented that the Spectrum version was "graphically and sonically," a game that "fulfills all your blasting needs." The C64 version of International 3D Tennis racked up a fine score of 92%, while the Amiga version came second with 87%.

Other games of note were Ghosts 'n Goblins (Amiga, 84%), Theme Park Mystery (Amiga & Atari ST, 81%) and Nuclear War (Amiga, 80%).

In the 'Bored of the Board' feature, Sean Kelly looked at board games on the computer. Paul Rigby presented 'Flight Fever', a feature that looked at the best of the flight simulation games.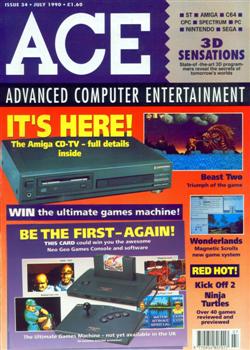 ACE issue 32 looked at the Commodore CD-TV, "the machine that could change the face of computing and entertainment". Yeah, right. Micro Wimbledon was the tennis game feature as Eugene Lacey tested the latest games in the sport. International Tennis on the PC Engine came away with three balls out of five, while 3D International Tennis and Game Boy Tennis also got three balls.

In this issue's Screentest, the Tracon and Rapcon package was the first to get an 'ACE Rated' award. The PC flight simulation package was given an overall 915 from Laurence Scotford, who said that "you are going to come back to time and time again." Resolution 101 on the Atari ST also received an 'ACE Rated' award with 917. Rik Haynes described the game as "aggressive, bracing, crisp, devious, ecstatic, frenzied, glaring, homicidal, instinctive, jolting, keen, lethal, manic, novel, obsessive, psychological, quick, rigorous, striking, thrilling, unorthodox, virulent, wild, x-rated, yomping, and zippy. In other words, Resolution 101 is an excellent stimsim, a game for the artificially intelligent. Buy it, become it." 3D Golf Simulator on the FM Towns chipped in with a 935. "Beautifully packaged, superb use of the machine, totally authentic, great sound, nifty user interface, stunning manual – what more can you want? Apart from an FM Towns machine." The PC Engine version of the race 'n' smash Chase H.Q. raced away with 925 and an 'ACE Rated' award. Eugene Lacey stated that "the PC Engine was designed with game like Chase HQ in mind and this fact shines through in the quality of the conversion."

Elsewhere, Flimbo's Quest by System 3 received an 'ACE Graphics' award for the high ratings the Amiga and C64 games got for their visuals (9/10 and 8/10 respectively). Overall, the Amiga game got 890 and the C64 managed 850. Italy 1990 from US Gold got 895 for the Atari ST version. Rotox on the Amiga got 905 and an 'ACE Rated' award, Theme Park on the Amiga came away with 880 and an 'ACE Idea' award and Golfmania on the Master System went round with a score of 915, getting an 'ACE Rated' award. Other worthy games included Revolution '76 on the PC with 830, Teenage Mutant Ninja Turtles on the Amiga with 825 and Time Soldiers on the Atari ST with 868.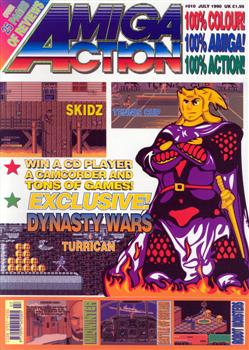 Games worthy of mention in issue 10 of Amiga Action included Champions of Krynn (SSI/US Gold) which managed an 86% and some fine praise from Andy Mitchell: "A brilliant game, and one of the best in the RPG Genre." Also gaining a similar rating and praise was Midwinter from Rainbird. Doug Johns stated that "the game is amazingly addictive, and even if you eventually do manage to beat it, the options will keep the game going for ages to come." Other games of note included Turrican (Rainbow Arts) which got 83%, Klax (Domark) which got 82%, Skidz (Gremlin) which got 81%, Their Finest Hour: The Battle of Britain (US Gold) which got 81% and Tennis Cup (Loriciel/US Gold) which got 80%.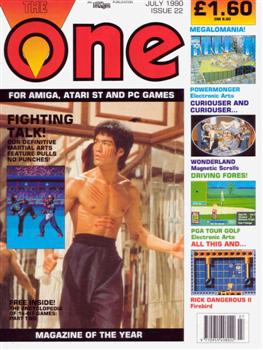 Bruce Lee adorned the cover of issue 22 as The One For 16-Bit Games presented their definitive martial arts feature. Plenty of high ratings were dished out this month with 12 games receiving 80% and above. Kick Off 2 (Amiga) was rated highest with a massive 96%. F-19 Stealth Fighter (Atari ST) and Flight of the Intruder (PC) were given equally impressive ratings of 95%. PGA Tour Golf (PC) holed a fine 92%. Falcon mission disk vol 2 (Atari ST), Flood (Amiga) and Oriental Games (Atari ST) all got 88%. Monty Python's Flying Circus (Atari ST), Projectyle (Atari ST) and Thunder Strike (PC) were all given 85%. Resolution 101 (Atair ST) and Theme Park Mystery got 80% each.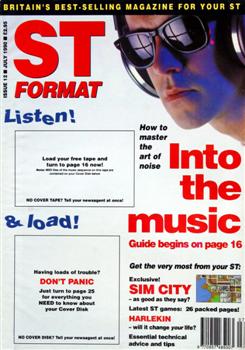 Although ST Format maintained a balanced coverage of gaming and serious content, there was enough fine gaming to shout about in issue 12. F-19 Stealth Fighter from Microprose came away as the undisputed 'Format Gold' game this month with a huge 96% rating. That was followed by Sim City, which managed a fine 92% and a 'Format Gold' award. Just missing out on the accolades was Chronoquest 2 from Psygnosis with 88%, Imperium from Electronic Arts with 87%, Projectyle from Electronic Arts with 86%, Final Command from Ubi Soft with 82%, Rotox from US Gold with 81% and Cyberball with 80%.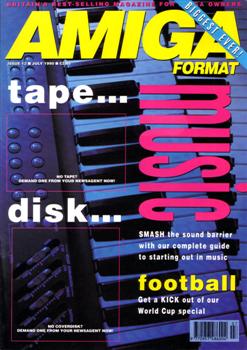 While Amiga Format followed a similar stance on content as sister title ST Format, there was still room for some gaming action. On the coverdisk this month was a playable demo of Dan Dare III, a sci-fi action game from Virgin based on the famous space adventure comic strip from the pages of Eagle comic. Midwinter received the only 'Format Gold' awarded this month with 92%. Hammerfist just missed out with 89%. Ultimate Golf from Gremlin holed out for an 88%. Other games of note included Resolution 101 (Millennium, 87%), Skidz (Gremlin, 86%), Wipe Out (Gonzo Games, 85%), Rotox (US Gold, 84%), Dragon Force (Interstel, 83%), Theme Park Mystery (Image Works/Mirrorsoft, 82%), Jumping Jackson (Infogrames, 81%), Italy 1990 (US Gold, 80%) and Storm Across Europe (SSI/US Gold, 80%).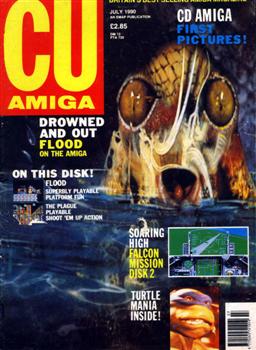 The July issue of CU Amiga featured a specially compiled level of Flood as well as a full first level preview of The Plague. John Cook checked out the current arcade gaming scene in the, erm, 'Arcades' section. The ever popular G-Loc was rated highly with 91%, while WGP from Taito got 85%.

Flimbo's Quest led the way in the reviews section with 92% and a 'CU Screen Star' award. Mark Patterson said that "this is a game which has everything. The graphics are excellent… music is fantastic… A damned good game that will appeal to everybody." Following closely behind was The Falcon mission disk vol 2 with 91%, Flood with 89%, Midnight Resistance with 89%, Manhunder 2: San Francisco (Sierra) with 87% and European Superleague (CDS) with 85%.

Just missing out on awards were Combo Racer (Gremlin, 84%), Rorke's Drift (Impressions, 84%), The Plague (The Software Business, 83%), Federation Quest One (Gremlin, 80%) and Turn It (Taste Software, 80%).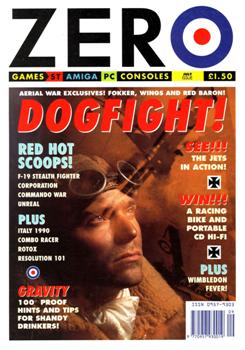 Issue 9 of Zero also contained a healthy dose of awards, with seven given out in total (five 'Zero Hero' and two 'Console Classic' awards). F-19 Stealth Fighter (Microprose) on the Atari ST was rated highest with 94%., Projectyle (Electronic Arts) on the Atari ST, and Tennis Cup (US Gold) on the Atari ST came away with 90%. Italy 1990 (US Gold) scored a 90% and 89% ratings on the Amiga and Atari ST respectively. Receiving the 'Console Classic' awards were Nemesis (Gameboy) and Afterburner 2 (Mega Drive) with 91% and 90% respectively.

Also highly rated was Combo Racer (Gremlin) with 89% and 88% on the Amiga and Atari ST respectively. Rotox on the Amiga got 89%, 688 Attack Sub on the Amiga got 88%, Battle Out Run on the Master System got 87%, Resolution 101 on the Atari ST got 85% and Railroad Tycoon on the PC got 83%.