'Back in Time' is a monthly feature where we look back at the classic video gaming magazines twenty years ago this month. This month saw the release of the hugely anticipated SNES arcade conversion of

Street Fighter II

,

RoboCod

swam over to the 8-bit computer of the C64, the Amiga returned to

Monkey Island

,

Sensible Soccer

went out for its second half of critical aclaim and Nintendo gamers had one more magazine dedicated to their machines...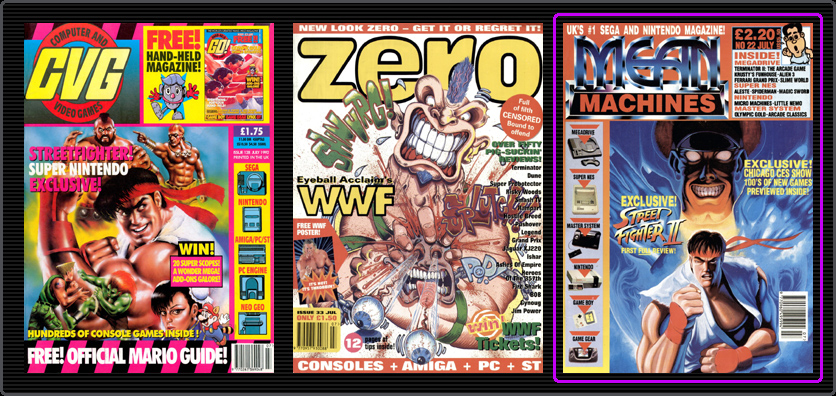 For

Mean Machines

issue 22 Julian 'Jaz' Rignall crossed the pond to get the latest happenings and news from the CES show in Chicago. The most anticipated game on preview was

Sonic the Hedgehog II

, although grabbing some shots of the game in action proved quite difficult when the bouncers ushered Jaz away from the screens, leaving only blurry and distant shots. Other titles on preview included

Street Fighter II

, which just happened to be

Mean Machines'

main review…

…Right here. Yup,

Street Fighter II

had arrived on the SNES with great hype and anticipation and with an overall rating of 98%, it seemed the hype for the one-on-one arcade beat-'em-up was justified. "It's ALL here!," exclaimed Richard Leadbetter. "We've got the

Street Fighter II

coin-op in the office, and the only tiny differences seem to be in the animation and the speed of the game – the amazing playability of the original remains intact. I would go as far as to say that

Street Fighter II

is even more playable and exciting than the classic

Super Mario World

– making it one of the greatest video games in the world today!" Strong claims indeed.

Codemasters' top down minitaure car racer,

Micro Machines

, and one of the NES' best games ever, scored a top three finish with an overall rating of 93%. "What sets

Micro Machines

apart is the superb playability," commented Radion Automatic. "The vehicles handle smoothly and realistically, sometimes with a frenzied turn of pace. One of the best NES releases in months."



Super Aleste

(aka

Space Megaforce

) blasted its way onto the SNES via importers and shot down a massive 93% rating. "If you'd asked me this morning what my favourite up-the-screen blaster was on my system, I'd have answered

Gunhed

on the PC Engine," explained Julian. "Now that's changed 'cos I've played

Super Aleste

– the fastest, loudest, best looking, most maniacal blastathon yet seen!"

Other 'Mega Games' featured in this month's Mean Machines included

Dragon's Fury

(Mega Drive, 92%),

Top Gear

(SNES, 92%) and

Prince of Persia

(Master System, 92%). Just missing out on accolades were

Olympic Gold

(Master System, 81%),

Talmit's Adventure

(aka

Marvel Land

) (Mega Drive, 84%) and

Tiny Toon Adventures

(NES, 86%)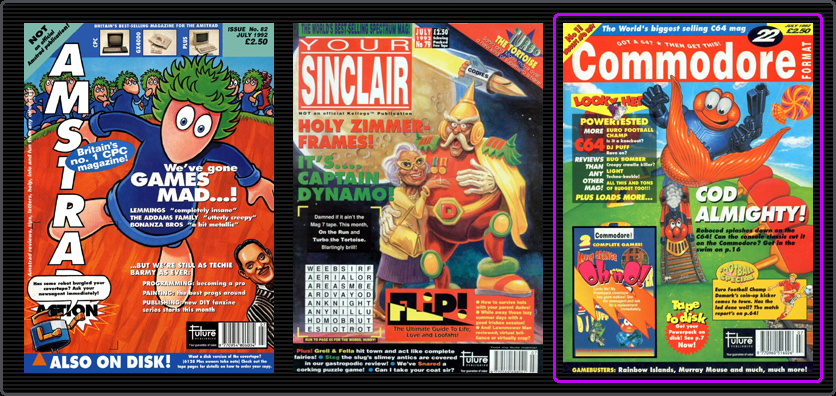 The ELSPA charts in

Commodore Format

issue 22 showed that the Commodore 64 scene was dominated by releases, budget games and compilations.

Rainbow Islands

,

Golden Axe

and

Championship 3D Snooker

(all at £3.99 each) topped the charts. The highest positioned new full release was Ocean's

WWF Wrestlemania

at number 13.



RoboCod

graced the front cover, a demo of the game adorned the cover tape and the issue's main review focused on the game. The 16-bit designed platform adventure made its way onto the humble C64 with a good response from James Leach who gave it a corking rating of 90%. "At this point, you might wonder if there is anything at all about

RoboCod

which is below par," commented James. "The answer is, er, not really. I'm pretty sure that it's the biggest game ever to be seen on the 64."

Not to be outdone by the full price hijinks of

RoboCod

, Code Masters' very own

DJ Puff's Volcanic Caper

very nearly matches the former game's rating with its own 88%. "Yes,

DJ Puff's Volcanic Caper

is really jolly good," stated James. "It takes cuteness into new realms. The characters are as good as anything you'll sdee on the 64."

In 'Old Coders Never Die… The Only Fade Away', Gary Penn looked at what happened to the developers that made the C64 the most popular 8-bit computer in the world. While some programmers did indeed seemed to have disapeared (Steve Brown, Jeff Minter) others moved onto the next generation of computers and consoles (Andrew Braybrook, Geoff Crammond, Rob Hubbard).

Take a maze like grid, fill it with computer bugs that you have to blast away with your well placed bombs and you have

Bug Bomber

, a single or multiple player action game that received an 86% rating from James. "

Bug Bomber

is a super game," stated James. "It's quick, lively and although all the sprites are small, they're well animated and move around nicely. Tricky indeed, but, as I say, it is really the most excellent fun. And the absolute best thing is that you can play against up to three other players."

With the release of

Euro Football Champ

– which finished with a slightly disapointing 76% -

CF

looked back at the best football games on the C64. Topping the Premiere League of football games was

MicroProse Soccer

, followed by

Emlyn Hughes International Soccer

and

Kick Off II

. The higest positioned management game was

Tracksuit Manager

at number 5.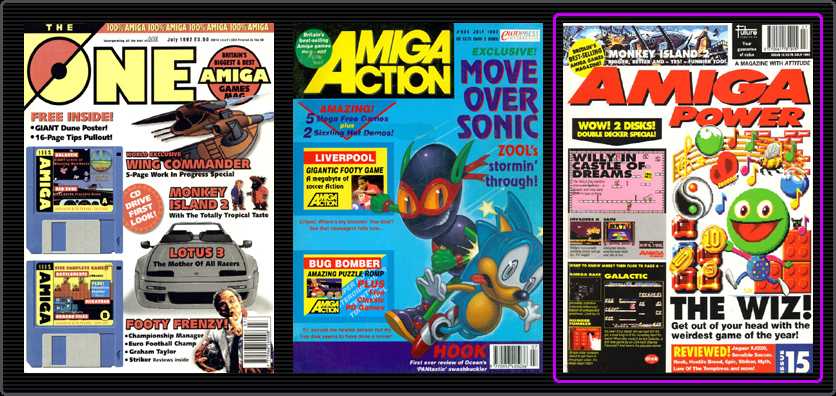 Amiga Power

issue 15 time and touching down into the top spot of the Amiga games chart was

John Madden American Football

, with

The Manager

and

Epic

following on in second and third place respectively.

For the 91% rated review of

Wizkid

, Mark Ramshaw spoke to the Wizkid himself. "The most refreshing thing in years," Mark summed up in the 'Bottom Line' box, "and so individual it's as much fun to play as it obviously was to write. If you don't buy

Wizkid

, your life really will be a bit poorer."

Stuart Campbell awarded

Sensible Soccer

93%, the joint highest rating given away in any

Amiga Power

issue. "This is true instinctive control, this is true perfect playability, this is true football simulation as well as being a fabulous game," commented Stuart on the game. "The scale of the graphics actually gives you a chance to use tactics, planning and skill. And if there's one thing that makes

Sensible Soccer

stand out from the crowd (and especially from

KO2

), it's that – from the first kick to the end of the penalty shoot-out, this feels like real football, not like some crazy pinball game or a dull slog up and down the middle of the parl."

LeChuck was back for some revenge and a 90% rating in Lucasfilm Games' classic adventure

Secret of Monkey Island 2: LeChuck's Revenge

. "

Monkey Island 2

is, by and large, a sheer delight to play," wrote Gary Penn. "Certainly, compared to a great many other Amiga releases, similar adventures in particular,

Monkey Island 2

is quite excellent – a better game than its illustrious predecessor even."

For the 'If I'd Known Then…' feature, the Amiga Power crew spoke to Jeff Minter about some of his Amiga games. Some of the highlights included

Llamatron

(Jeff's ultimate homage to Eugene Jarvis'

Robotron

),

Super Gridrunner

(a modern take on the classic

Centipede

) and

Revenge of the Mutant Camels

(sequel to the 1983 cult hit).

Other worthy games that made it into the 'Games of the Month' section included

Jaguar XJ220

(85%),

Hook

(84%),

Dune

(81%),

Hostile Breed

(82%),

Lure of the Temptress

(88%) and

Risky Woods

(82%).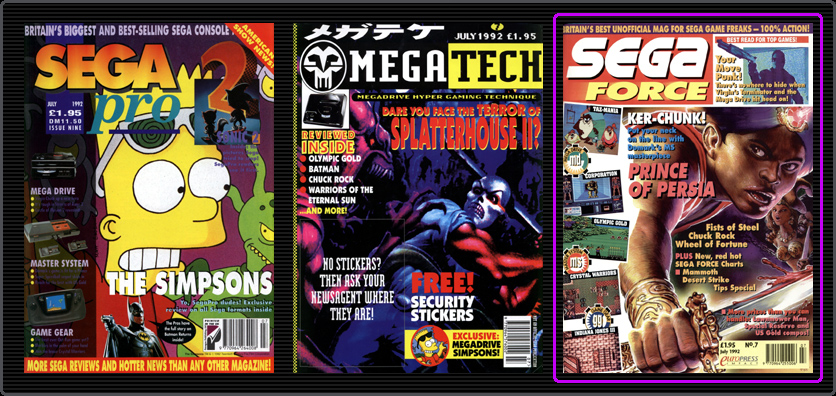 Sega Force

issue 7 and first up for review was

Prince of Persia

on the Master System. The MS port of the classic platform adventure proved that there was life in the 8-bit machine yet with a massive 94% rating. "For a Master System title it's a stunner," commented Adrian Pitt. "The backdrops and sprites are immensley detailed. Puzzles are in abundance, tricks and traps keep you well and truly on your toes. Mega Drive owners will buy MS Powerbase Converters just to play this!"

In the Cart Charts,

Desert Strike

topped the Mega Drive list followed by

World Cup Italia '90

and

EA Hockey

,

Sonic the Hedgehog

raced to the Game Gear number 1 spot with

Mickey Mouse

and

Super Monaco Grand Prix

trailing behind, while

Asterix

,

Sonic

and

Enduro Racer

were the top three on the Master System.

It was time for some wacky platform action with

Taz-Mania

on the Mega Drive, which duly received a 'Sega Force Smash' accolade and a 96% rating. "Taz-Mania's a stormer," raved Mat. "From the moment you flip on that 'on' switch, the thrills ooze out of your console. It's so blindingly addictive, you'll soon leave that

Sonic

cart on the shelf, gathering dust."

Following on in the wacky platforming mayhem theme was

Chuck Rock

on the Mega Drive with an equally impressive 93% rating. "Playing

Chuck

's an experience and a half," admitted Paul Mellerick. "It moves incrediblely well, and with use of various shaped rocks, lifts itself high above the crowd. It looks like

Sonic

's crown's slipping fast! Hurry up with

Sonic II

, Sega!"

'Sega Force Smash' accolades also went to

Olympic Gold

(MS, 94%. MS 82%) and

Corporation

(MD, 91%), while near hits included

Indiana Jones and the Last Crusade

(GG, 88%),



Batman

(Mega Drive, 86%),

The Terminator

(Mega Drive, 84%),

European Club Soccer

(Mega Drive, 81%) and

Zero Wing

(Mega Drive, 86%).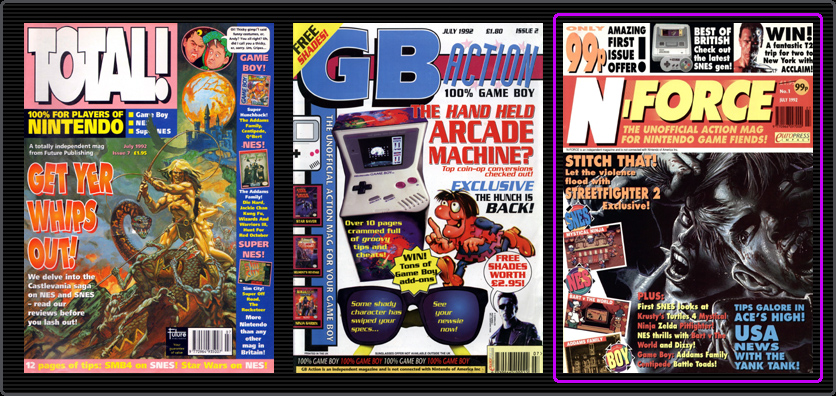 After being advertised in the last Newsfield edition of

Zzap!64

back in December 1991, Europress Impact's long awaited Nintendo magazine was now finally here. Renamed from its original title of

Nintendo Force

,

N-Force

covered all the Nintendo formats from the NES to the Game Boy to the SNES. Lucy Hickman led the team of new Nintendo enthusiasts, which included Nick Roberts, Doug Green, Chris Rice and Carl Rowley.

Kicking of the reviews section was

Street Fighter II

, which was one of a handful of games reviewed by Marshal M. Rosenthal (the US correspondent) that wasn't given any ratings what so ever. "

Streetfighter 2

is a nice piece of work with well defined graphics, strongly drawn backgrounds with sharp edges and good definition," commented Marshal. Other unrated reviews included

Krusty's Super Fun House

(SNES) and

Zelda: A Link to the Past

(SNES).

In 'Critical Acclaim',

N-Force

spoke to Acclaim's Larry Sparks and looked at why he believes the deleopment company will become a force in the land. With the likes of

WWF Wrestlemania

,

Terminator 2

,

Wizards and Warriors III

and more in the pipleline, he wasn't too far from the truth.

The popular dual stick arcade hit,

Smash TV

, arrived onto the SNES with a 'Super' prefix. Receiving an 'N-Force Knockout' accolade with 91%,

Super Smash TV

proved to be a smash hit with the N-Forcers. "This is one hell of an arcade conversion," enthused Nick Roberts. "All the looks, all the sounds and all the playability of the coin-op in your own home."



The Legend of the Mystical Ninja

was next to receive the 'N-Force Knockout' treatment with a massive 95%. "With

The Legend of the Mystical Ninja

, Konami have produced a winner," stated Gunns. "Oodles of character, excellent graphics, marvelous ditties to get your toes tapping throughout, more depth than the Grand Canyon but, most striking of all, is the fantastic humour – it kept me tittering for hours."

Konami were at it again with the brilliant blasting action of

Contra Spirits

, which racked up a 92% rating. "The game starts with a pretty standard horizontally-scrolling blast-'em-up with a handful of power-ups and lots of gonzos," commented Nick. "After disposing of the BIG end-of-level git, you're thrown into a 3-D extravaganza, with the whole landscape rotationg around the main characters… Simply the best game of its kind I've ever seen."

The 'N-Force Knockouts' didn't end there though as further accolades were dished out to

The Fantastic Adventures of Dizzy

(NES, 90%),

Tiny Toon Adventures: Bab's Big Break

(GB, 90%) and

WWF Wrestlemania

(SNES, 90%). Just missing out on the 'Knockout' action were

Beetlejuice

(GB, 86%),

Battletoads

(GB, 86%),

Dragon's Lair

(NES, 86%),

Prince of Persia

(GB, 87%),

Trog

(NES, 88%),

Castlevania IV

(SNES, 88%) and

Lemmings

(SNES, 88%).


All the intellectual property rights related to the works presented on this site belong to their respective owners.
This site is strictly created for the purpose of preservation and education.
Follow us on Twitter to get the latest updates as they go live: