'Back in Time' is a monthly feature where we look back at the classic video gaming magazines twenty years ago this month. This month saw F1 racing legend Ayrton Senna raced out with Sega's Super Monaco GP; the greatest soccer videogame of all time received its premiere review, Chuck Rock rocked the Mega Drive and Master System, Champions of Europe scored on the Master System, Wizards and Warriors sliced up the NES for the third time, a new Amstrad CPC games magazine appeared, Lemmings ports appeared on the SNES and Amstrad CPC and Dune made its way onto the Amiga...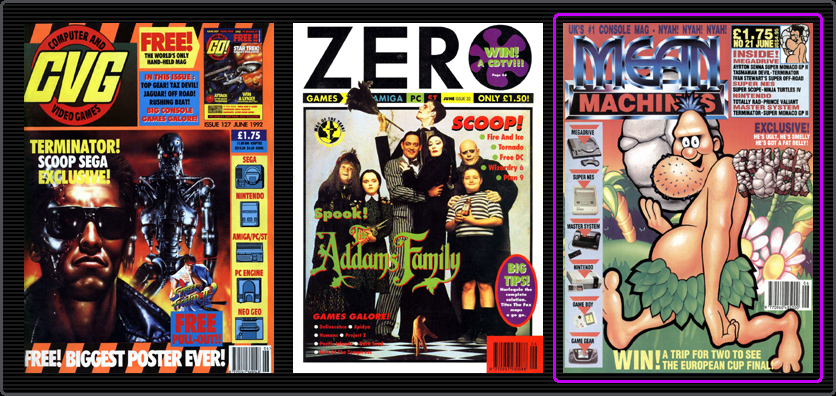 Mean Machines

issue 21 time and the Amiga puzzler,

Lemmings

, made its way onto the SNES with a 92% rating. "I really enjoyed the Amiga version of

Lemmings

– when I first saw it I personally ranked it as one of the most brilliantly original games of all time," stated Richard Leadbetter. "Although audio/visually it could be better, Lemmings has the gameplay and the challenge to make it a very worthwhile buy."

From the big screen to the small screen platform hijinks of the SNES,

The Addams Family

racked up an overall rating of 89%. "When I first played

The Addams Family

, I must admit to not being overly impressed," stated Julian Rignall. "The graphics and sound are both superb, but the gameplay seemed a bit bland. However, the more I played it the more I got into it. There's loads to discover, and there are more secret screens than even a Mario game!"

Taking centre stage with the front cover and double-header reviews of the Mega Drive and Master Sytem versions was

Chuck Rock

. Despite the obvious hardware limitations, the Master System fared very well against its higher spec Mega Drive sibling with an overall rating of 90% compared to the MD's 91%. "The

Chuck Rock

character might be slow, smelly and hairy, but there's nothing slow, smelly and hairy about the game," commented Julian on the MD version. "Okay, so the graphics aren't as good as the Megadrive version," admitted Rich. "However,

Chuck Rock

is still as playable as the 16-bit version with the same great fusion of reaction-testing and mini-puzzle solving."

Other fine ratings went out to

Ayrton Senna's Super Monaco GP 2

(MD) 87%,

Taz-Mania

(MD) 81%,

Terminator

(MS) 82% and

Super Off-Road

(MD) 83%.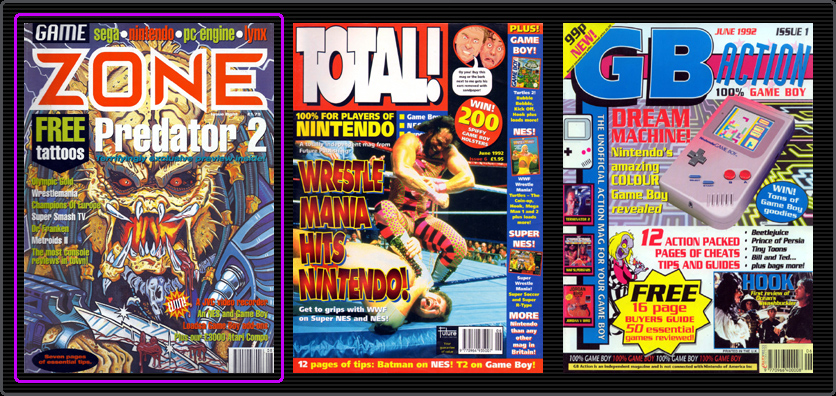 With the Euro 1992 championship soccer tournament doing the rounds, it seemed only natural to have a fluster of soccer games appear and the Master System played host to one of the better ones within the pages of

Game Zone

issue 8.

Champions of Europe

was very much influenced by Kick Off, what with its bird's eye viewpoint, but has an easier learning curve than the ping pong-ness of the aforementioned classic. "Slightly easier to play than

Kick Off

," explained Paul Lakin, "The ball doesn't tend to fly off the player's foot. The control/passing system is really neat, allowing you to trap the ball and then deliver fairly precise passes. It's impossible to avoid the

Kick Off

comparisons. In some respects

Champions of Europe

is better."

Released as

Gynoug

in Japan, released as

Wings of Wor

in North America and released as

Gynoug

in Europe, this classy shoot-'em-up didn't suffer from lack of identity with Tyler Martin giving it a 91 rating. "The graphics are superb and a lot of them are knee-shacklingly horrific and gut-wrenchingly gory... the playability is amazing. It is so addictive that I'd give my granny('s socks) for a go."

The third game in the underrated NES

Wizards and Warriors

series arrived with a 84 rated review from Nick Griffiths. "It keeps the old squidgy grey matter up top ticking along nicely, while mixing fantasy, the odd puzzle, humour and mindless violence rather well. The constant quest to better your character keeps you obsessively beavering..."

Within the games packed issue, other gems included

The Immortal

(NES) 84,

Smash TV

(NES) 87,

Adventure Island II

(NES) 80,

Super R-Type

(SNES) 90,

WWF Wrestlemania

(NES) 88,

Dr Franken

(GB) 92,

Baseball

(GB) 82,

Metroid II

(GB) 88,

Kid Icarus

(GB) 91 and

Hook

(GB) 88.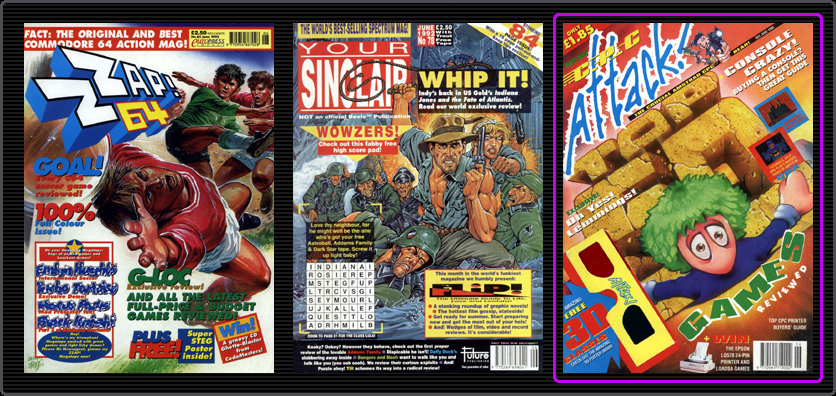 The first issue of

CPC Attack

had arrived and on first impressions, the promised games orientated magazine this was not. With only one new review, a top 50 games list and everything else covering BASIC, programming and other serious articles, the magazine would seem to have been a continuation of its predecessor,

Amstrad Computer User

. One article that had many CPC gamers scratching their head in confusion was 'Console Crazy', which looked at the then emerging console boom in the UK. Also adorning many of the pages throughout was a character called Amy Stradavarius.

The new game review and the top 50 games list even overlapped with new release

Lemmings

topping the list with an overall rating of 98%. "It's a well used cliché," commented the unnamed reviewer, "but the grafix are top-notch. The clever use of colour makes the grafix almost as good as those seen in 16-bit versions. It's a credit to the programmers and developers that the game fits into a standard 64k machine."



North and South

(93%) and Other games that made the top 10 included

Prince of Persia

(97%),

Smash TV

(96%),

Rick Dangerous

(95%),

Rainbow Islands

(95%),

Turrican II

(94%),

Switchblade

(94%),

Continental Circus

(94%),

Hudson Hawk

(93%). Topping the official CPC Gallup chart for the month was

WWF Wrestlemania

with Codemasters dominating the top ten with

Dizzy's Excellent Adventures

, Cartoon Collection and

Dizzy

Collection taking second, third and fourth spot respectively.

Other interesting statistical info was of the continued dominance of computer games in the UK market. Surprisingly, the Commodore 64 had a 26.1% share of total games sold, followed by Amiga (19.8%), Spectrum (14.1%), Master System (7.4%), Amstrad CPC (7%), Atari ST (7%), Mega Drive (6.4%), NES (3.8%), Game Gear (3.2%), Game Boy (2.8%), PC (1.3%) and Lynx (0.7%).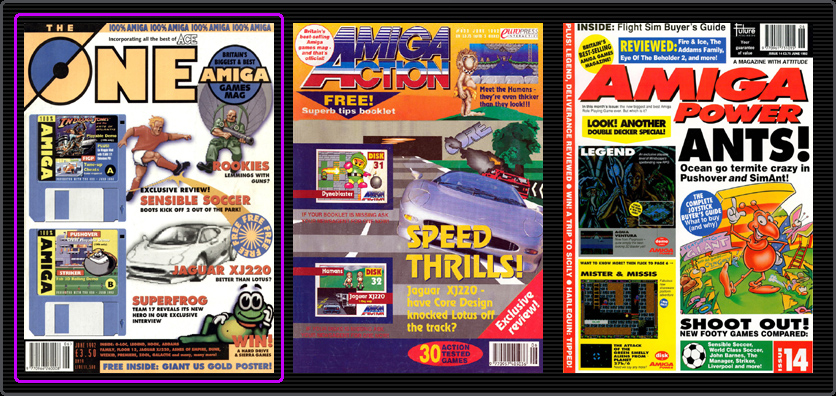 For issue 45 of

The One

, Gary Whitta caught up with Team 17's Martyn Brown for the One on One feature. Discussions involved the company's demo coding background, their first game (

Full Contact

),

Alien Breed

and

Project-X

. In Martyn's own words, Team 17 came "from nowhere, shown everybody what they can do, and taken a few companies by surprise."

The wait was finally over. The finest football game to ever grace a computer or console was here.

Sensible Soccer

was completed and ready for Gary Whitta to playtest and review. The final result was one worth waiting for as Gary gave the game an overall rating of 93%. "I'm gobsmacked," admitted Gary. "

Sensible Soccer

is just sooooo good it's unbelievable. The instinctive passing system allows for some amazing play –

Sensisoccer

actually feels and plays like real football.

Sensible Soccer

looks, sounds, plays, feels and – yes! – IS better than

Kick Off 2

."

It was a busy month for Sensible Software, what with

Sensible Soccer

making all the headlines and now

Wizkid

– the sequel to

Wizball

– nearly matching the sports game critical success with 92%. "

Wizkid

is a game that is seriously off its trolley," commented Gary Whitta. "

Whizkid

REALLY is funny, and if you're willing to come down to its level it can be hilarious in places. Not only is the most original, funny and clever arcade game I've seen in years it's also by far the most playable and addictive."

Frank Herbert's classic sci-fi story made its way from book to film and then to the Amiga as an adventure/strategy game.

Dune

the game was given ample coverage in the four page review by Gary Whitta and amassed a 90% rating. "Like the book and the film before it,

Dune

the game has no time for normality and convention – it's a very odd, very imaginative and, also like the book and film, it's impressively sweeping and epic in its scale.

Equally impressive games this issue included

Jim Planet in "Mutant Planet

(84%),

Jaguar XJ220

(85%),

Ashes of Empire

(80%),

Floor 13

(86%),

The Addams Family

(90%) and

Pushover

(83%).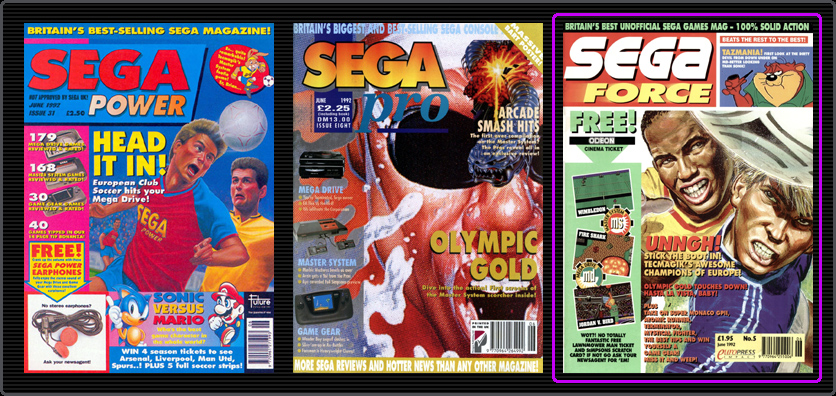 Sega Force

issue 6 and Paul Mellerick took on the might of Danny Curley, Sega European Champion, in a three game head-to-head match. Danny won the

EA Hockey

game 12-4, while Paul squeezed a 35-34 win on

John Madden Football '92

and secured the overall victory with 14838-13612 win on

Columns

. The previous defeats to 13-year old school kids were written out of memory with this historious victory.

The great F1 racing driver, Ayrton Senna, was the name behind Sega's

Super Monaco GP

sequel and what a great game it turned out to be, getting a 94% and 88% on the Mega Drive and Master System respectively. "Taking those corners at high speed on the MD feels like a dream and the MS version's no slouch either," commented Adrian Pitt. "The only difference is the MD gives a truer feeling of speed."

It was the turn for the SF crew to playtest

Champions of Europe

, coming away with a fine 91% rating. "Yeah! No argument this corner," stated Claire Morley. "First glance at the opening sequences and you know you've got something a bit special here. It may take you a little while to handle the controls but, once you're in, this is one helluva smooth playing game."

The comical one-on-one arcade Basketball game,

Arch Rivals

, made its belated appearance on the Mega Drive with a decent 86% rating. With the Master System version delayed it was left to the

Sega Force

team to review the Mega Drive version. "The MD game has all the looks, sound and appeal of the coin-op," explained Paul Mellerick. "

Arch Rivals

will go down a storm as a two-player competition but all you loners out there should leave well alone."

All the intellectual property rights related to the works presented on this site belong to their respective owners.
This site is strictly created for the purpose of preservation and education.
Follow us on Twitter to get the latest updates as they go live: