'Back in Time' is a monthly feature where we look back at the classic video gaming magazines twenty years ago this month. This month it is March 1991 when Super Marioland amazed all who played the Super Famicom launch title, Rise of the Dragon rose impressively onto the PC gaming scene, North and South showed that 8-bit games were still alive and well, and Gods turned up to start collecting its run of accolades...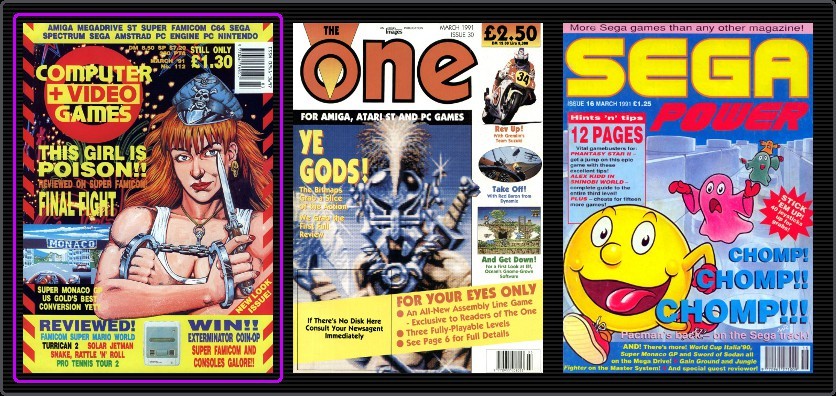 The front cover of

C+VG

issue 112 looked slightly different this month, and in the 'Ed First' column, editor Paul Glancey confirmed the new look

C+VG

. The recently introduced art editor Jon Billington had splashed his creative design over the magazine. Despite the re-design, which included a new higher benchmark target for games receiving the 'CVG Hit' accolade, there were no fewer than nine titles achieving the lofty status.

Stepping up to take the first new look 'CVG Hit' was the import review of

Final Fight

on the Super Famicom. Richard Leadbetter and Robert Swan were both impressed with Nintendo's conversion of the hit arcade game, given it 92%. ""Super Famicom

Final Fight

is just as good as its arcade parent," remarked Richard Leadbetter, "the graphics, sound and playability are almost identical to the coin-op and really show what the [Super] Famicom can do."

Other games getting the 'CVG Hit' stamp were

Bomber Man

(PC Engine, 93%),

Son of Dracula

(PC Engine, 93%),

Turrican 2

(Amiga, 94%),

Creatures

(C64, 90%),

Summer Camp

(Amiga, 85%) and

Mad Dog McCree

(Arcade, 90%).

One of the highest rated games in recent

CVG

history was given to

Super Mario World

, which was rated a massive 96%. The Super Famicom title was praised by Paul Glancey, who concluded that "with its amazing graphics and mindblowing sound,

Mario IV

is a stunning game…"

A couple of classic Rare games were covered in this issue with

Solar Jetman: Hunt for the Golden Warship

and

Snake, Rattle 'n' Roll

both getting 'CVG Hit' accolades with 94% and 95% respectively.

Solar Jetman

is "simply one of the best NES cartridges I've had the pleasure to play this year," declared Richard Leadbetter. As for the latter game, Rich mentioned that "with playability that knocks the many Megadrive (sic) games into oblivion,

Snake, Rattle and Roll

is simply superlative in every respect."

Topping the individual format charts this month were

RoboCop II

(Amiga),

Lotus Esprit Turbo Challenge

(Atari ST),

Teenage Mutant Hero Turtles

(C64),

Teenage Mutant Hero Turtles

(NES),

Golden Axe

(Master System),

Teenage Mutant Hero Turtles

(Spectrum),

OutRun

(PC Engine),

Mickey Mouse Castle of Illusion

(Mega Drive),

Teenage Mutant Hero Turtles

(Amstrad CPC).

As the editorial masthead in

ACE

issue 42 revealed, Jim Douglas had been promoted to editor as Steve Cooke moved on. In the Insanity USA features,

ACE

reported back from the CES in Chicago, with highlights such as

Wing Commander

and

Ultima VII

. The

ACE

Guide to the Greatest Games of All Time, part 2 looked at original games, shoot-'em-ups, simulations, sports simulations, strategy games and turkeys.

The featured cover review this month was

Rise of the Dragon

on PC, which was rated 850. "Apart from the longevity question,

Rise of the Dragon

is an excellent game," explained Jim Douglas. "It's fun to play, easy to get into and it also has some genuine pace, a factor that sets it above most adventures on the market."



Team Suzuki

was only one of two games to receive an ACE Trailblazer rating of 900 or more, with the motorcycle racer just making the mark with 900. Jim Douglas stated "for anyone with more than a passing interest in either motorbikes or what can be done with a decent polygon system,

Team Suzuki

is an essential purchase."

With the recent release of the Super Famicom in Japan, it was

ACE

's turn to get their hands on

Super Marioland

, the machine's pack-in game. Gary Liddon gave the game 910 and observed that "it's blatantly obvious how much love and pride has been spent of the development of what is undeniably the state-of-the-art in entertainment software…

Super Marioland

rates as just about the best reason in the world for going out and getting yourself a Super Famicom."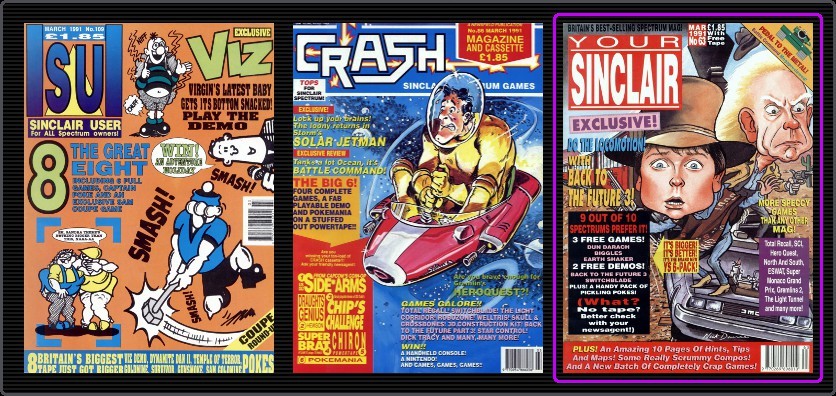 Back to the Future III

dominated

Your Sinclair

issue 63, with the Speccy conversion of the time travel movie on the cover, as well as a playable demo on the 6-pack covertape and the main review, which got an overall 82 rating. Other offerings on the covertape included full games of

Dun Darach

,

Earth Shaker

,

Biggles

and a demo of

Switchblade

. Topping the Speccy charts this month was

Teenage Mutant Hero Turtles

with

Robocop II

and

Golden Axe

close behind. There was change in the

YS

ranks as Andy Ide replaced Matt Bielby as editor and James Leach arrived across the corridor from

Amstrad Action

to take the position of Games Editor.

Crap Games Corner returned once again to bring the best in crap games. Pick of the bunch was

The Chain

by W Heap, which was an incredibly rock hard shoot-'em-up. Despite its difficulty, it still managed 76. The other pick was

Golf

by Darren Jones which was praised as being one of the better crap games submitted. Despite the praise, the game was given 34 – perhaps the ratings were mixed up.



Switchblade

, Gremlin's platform arcade adventure, was first up to get the YS Megagame treatment with 92. "Gremlin have triumphed again," proclaimed Andy Ide. "If you're looking for a really, really big (big! Big!) game then

Switchblade

will more than happily light your candle."

The American Civil War was the subject in Infogrames'

North & South

strategy game. Linda Barker gave the game 90 and stated that "it's not just the gameplay that makes the game so spanky – the graphics are excellent! It's full of nice little touches too."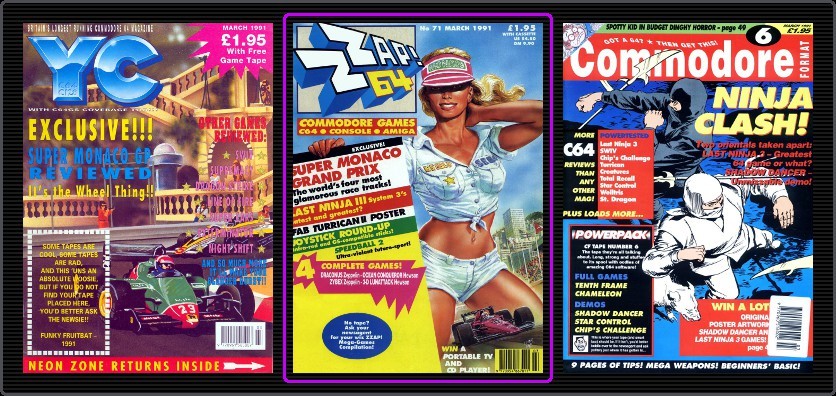 Zzap!64

issue 71 and it was Megatape time again with four complete games given away:

3D Lunattack

,

Draconus

,

Ocean Conqueror

, and

Zybex

. Also taking its fare share of the front cover space was the

Zzap!

Test's main review of

Super Monaco Grand Prix

. Both the Amiga and C64 versions were given a sizzling review by the

Zzap!

Team, getting 91% and 90% respectively. Stuart Wynne commented that "both conversions offer pole position racing action and US Gold's decision to quadruple the number of tracks means there's plenty of lastability."

The final outing of System 3's classic ninja adventure concluded with

Last Ninja III

. While the cartridge only game was tentatively received by the crew, it still managed to come away with a Sizzler rating of 93%. Robin Hogg commented that "the New York theme of [

Last Ninja

]

II

made it the best of the series, but [

Last Ninja

]

III

is a classy product in its own right and bound to [be] a massive success."

Getting a

Zzap!

Gold Medal this month was The Bitmap Brothers' classic Amiga futuristic brawler

Speedball 2

. Phil King declared that the 96% rated game "must be the greatest 'futuresport' game ever, almost as good as footy!", while Stuart Wynne commented that it was "without doubt the best two-player game since

Kick Off II

, packed with violence and speed this can't fail to be a hit."

With the C64 version of

Turrican 2

receiving a Gold Medal rating of 96% the previous issue, hopes were high for an improved Amiga version. Despite having 16-bit enhancements including colourful backdrops, incidental music, sampled speech and praise from both Robin Hogg and Stuart Wynne, the Amiga version fell just short of the C64 benchmark rating with 93%.

The highlight in The Think Tank adventure section was

Elvira: Mistress of the Dark

, which was given a Sizzler with 90%. Crash's Nick Roberts guest reviewed the Accolade game and proclaimed that "

Elvira

is a must for all fantasy adventure fans. A blood-curdling, all-action game that will have you totally perplexed and enjoying every minute of it."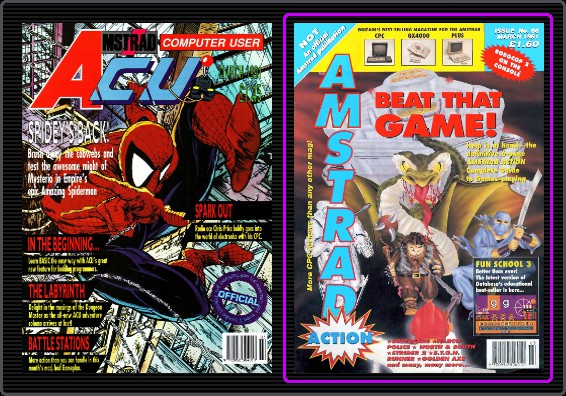 Amstrad Action

issue 66's news pages reported that the new range of Amstrad Plus computers and the GX4000 console prices were being slashed heavily following a disappointing performance at the recent Christmas sales. As is that wasn't enough problems for the new machines, there was news that cartridge games for the computer range were limited with very few on sale. News of a permanent covertape to be introduced the following issue, following high demand from readers.

The Games Busters article looked at common tips for specific genre of games from Shoot-'em-ups, to Simulators and Platform games to adventures, as well as the popular methods of cheating including passwords, key presses, multiface and pokes. Meanwhile, the full price charts showed that

Teenage Mutant Hero Turtles

was again dominating the top spot with

Dizzy

Collection and Hollywood collection in second and third place.



Supercars

from Gremlin was first up for the Action Test and the first review from Frank O'Connor, who gave the game an 87% and an 'AA Rave' accolade. "Gremlin has again come up with a cracker," commented Frank. "Inevitably, comparisons will be drawn between this and

Supersprint

, but

Supercars

is a great game in its own right, with a great variety of options and an even larger selection of tracks. It'll be a very long time before you tyre of this one."

Ocean's

RoboCop 2

cartridge game fared well in Frank O'Connor's 94% 'Console Stunner' review. "On first appearances alone, you could be forgiven for mistaking this for a good ST title," declared Frank, "and the music, sound effects and depth of play would do little to change your mind."

The CPC version of

North and South

made it into the Action Test, with James Leach awarding the strategy game 91%. The game "has a style which is rarely seen in a wargame," explains James, "but then

North and South

isn't just a strategy simulation. It is also an arcade game, and alo a battlefield tactical movement game. In short, it is a great mix of all these elements, with a touch of Gallic humour thrown in as well."



Pinball Magic

rounded off the awards given out this month with 80%. James Leach mentioned that the Loriciel game "is an excellent implementation of a game which isn't perhaps a natural choice for converting to home computer. It's addictive and exciting, but also maddening and frustrating."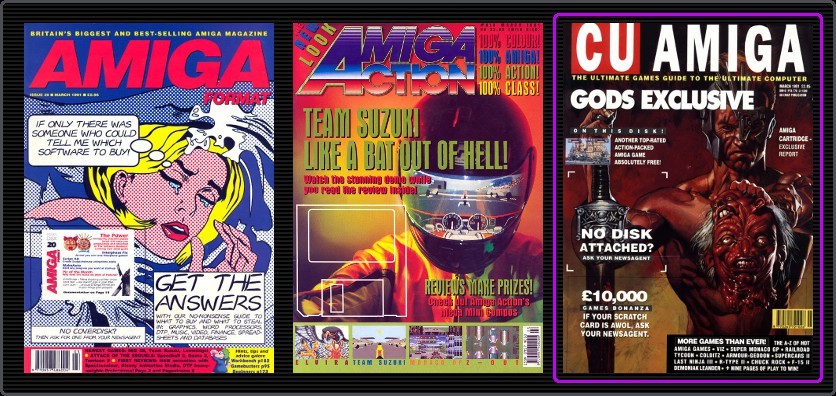 This month's issue of

CU Amiga

featured the complete game

Human Killing Machine

on the coverdisk. US Gold's multi-stage beat-'em-up, which was touted as the unofficial sequel to the company's own conversion of

Street Fighter

.

Taking lead review and featured on the front cover was The Bitmap Brothers' classic arcade platformer

Gods

which achieved CU Super Star status with 93%. Dan Slingsby commented that "the game itself plays like a dream. It's not just a shoot 'em up – there are lots of intriguing puzzles to solve, platforms to explore and objects to discover… It deserves to be an almighty smash hit."

Space adventure

Cybercon III

from US Gold was also basking in the glory of CU Super Star status with 93%. "One of the most sophisticated 3D adventures you're ever likely to see," stated Kati Hamza, "hours of involved exploration, blasting and problem solving with the tense one-on-one confrontation between you and the Annihilator to give it that extra edge. If you're after the definitive 3D experience, this is where to find it."

Elsewhere, Microprose's

Railroad Tycoon

racked up a 91% rating and a CU Screen Star. Mark Patterson stated that the train management simulator was "a dull sounding idea converted into an amazing game." The Amiga conversion of Sega's arcade hit

Super Monaco Grand Prix

also fared well, finishing with 85%. "An extremely close and playable conversion," wrote Steve Merrett, "easily the best car game to grace the Amiga." Although Virgin Games'

Viz

was rated 86% (within the range of CU Screen Star status), the game did not receive an accolade. Whether this was due to an oversight on the design process, the game was nevertheless praised as Steve Merrett mentioned that he had "doubts about

Viz

as a computer game, but this is good, adult fun contained in what is a simple and playable game."