'Back in Time' is a monthly feature where we look back at the classic video gaming magazines twenty years ago this month. This month, it's November 1991 and it was double trouble as Mega Twins landed on the Amiga, The classic Blues Brothers film made its belated appearance on gaming machines, it was Turtles mania once more as the arcade hit made it home, and two new magazines appeared on the shelves.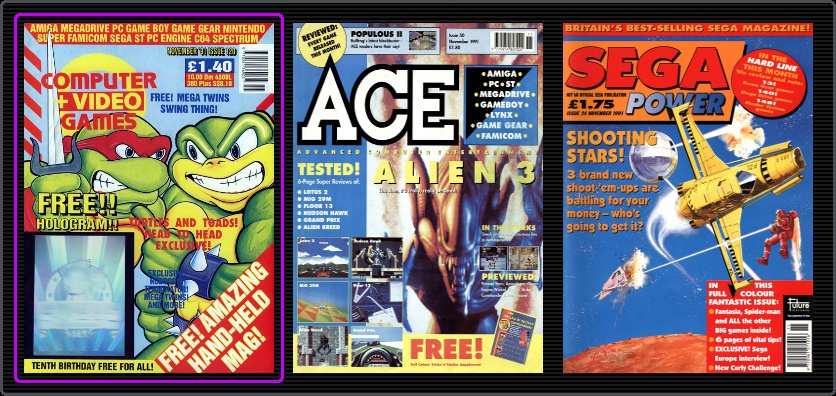 The 120th issue of the world's first dedicated videogaming magazine,

Computer + Video Games

, celebrated its tenth anniversary this month. Although there was freebies given away (

Go!

handheld gaming mini-mag and a Sonic hologram) and "We are 10" references throughout, the real highlight of the issue was the special lookback at ten years of

C+VG

, from the very beginning through to the recent issues.

Taking the top spot in the Gallup All Formats chart was the new entry

Jimmy White's Whirlwind Snooker

, while

Manchester United Europe

was relegated to second place, with

Thunderhawk

hovering around third place.

Jimmy White

also racked up first place on the Amiga and Atari ST charts. Other chart toppers included

Manchester United Europe

(Commodore 64),

Hero Quest

(ZX Spectrum),

Streets of Rage

(Mega Drive),

PC Kid 2

(PC Engine) and

Dizzy Collection

(Amstrad CPC).

News of Newsfield Publications' demise hadn't went unnoticed by

C+VG

, who ran the news headline '

Zzap

crashes

! Crash

zzapped!'. This would have been the first time that readers of those magazine will have known what had happened – a sad time for fans of the magazines.



Alien Breed

on the Amiga was the first game to receive a 10th Anniversary 'CVG Hit', coming away with a 91% overall rating. Frank O'Connor described the game as a cross between "both

Alien

the movie and the games

Gauntlet

and

Alien Syndrome

. Believe it or not, this game is better in many respects than both of 'em!" Tim Boone added: "When the entire

CVG

crew crowds around the Amiga and jockeys for the joystick, you know you're dealing with a hot product…"



Super Mario Bros. 3

racked up a 'CVG Hit' with what could be the highest rating in

C+VG

's history: a whopping 98%. The aging NES was showing no signs of disappearing any time soon with this six-page review with comments from Paul Rand stating that he was "sorely tempted to go out and buy a Nintendo simply for this cartridge." With similar sentiments, Frank suggested that "if you have an NES, go down to your local Spank menagerie and software emporium and purchase this immediately…



Formula 1 Grand Prix

burned some scorching marks on the Atari ST with a 94% rating. "Pull on your helmet," stated Paul, "make sure the fire extinguisher's working and boot up

Formula One Grand Prix

, the fastest, smoothest, most exhilarating drive this side of Monaco!" Tim praised the programmer, Geoff Crammond, as having "the Midas touch – everything he works on is pure gold. Here he's gone platinum and produced a racing game so utterly superb I can hardly believe what I'm seen – let alone played!"

Other 'CVG Hit' awards went to

Super Tennis

on the SNES (96%),

Mega Twins

on the Amiga (90%) and

Robocod

on the Amiga (93%).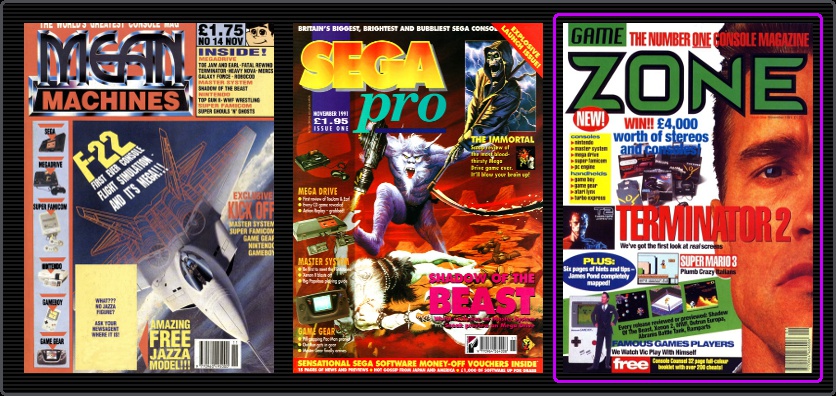 Dennis Publishing launched

Game Zone

to cover the emerging console gaming boom and with its editorial staff, writing and design, you'd be forgiven if you thought this was basically a console version of sister magazine,

Zero

. News of the Mario movie churns on with rumours that Hollywood moguls may decide to plump for Danny Devito.

What games do the celebrities play? Ran the major feature with Vic Reeves, Jonathan Ross and Philip Schofield among those interviewed. So just what were the most popular games amongst the celebs?

Tetris

proved a clear winner, with

Super Mario Land

,

Sonic

,

Speedball 2

and

Super Monaco Grand Prix

trailing behind. Top console was the Game Boy, with the Game Gear, NES and Mega Drive not too far behind.

In the main reviews section, the Master System version of The Bitmap Brothers'

Xenon II

racked up a rating of 90 and garnered a 'Mega Zone' award. "One of the most graphically impressive shoot 'em ups we've seen on the Master System," stated Duncan MacDonald. "And seeing as the gameplay is no slouch either, you could do far worse than buy it (even with the sprite flicker and crap music)."

With its second appearance this month,

Super Mario Bros. 3

received another accolade, this time the 'Mega Zone' with 93. "…Certainly as far as playability and addictiveness goes, this is the bee's knees," stated Jeremy Daldry, "but while the graphics and sound are as fine as any for the NES I've seen, the NES' own limitations are holding its own games back…"



Road Rash

packed a wallop as the Mega Drive race-'em-up/beat-'em-up hybrid clubbed out a 90 rating from Duncan MacDonald. "Yup,

Road Rash

is an absolutely excellent game for loads of reasons," commented Dunc. "One is the speed. Cut out the screenshots, sellotape them to a brick and throw the brick off a cliff. That should give you the idea."

Within the import pages,

Super Tennis

on the SNES and

Populous

, also on the SNES, were rated highest with 90 and 91 respectively.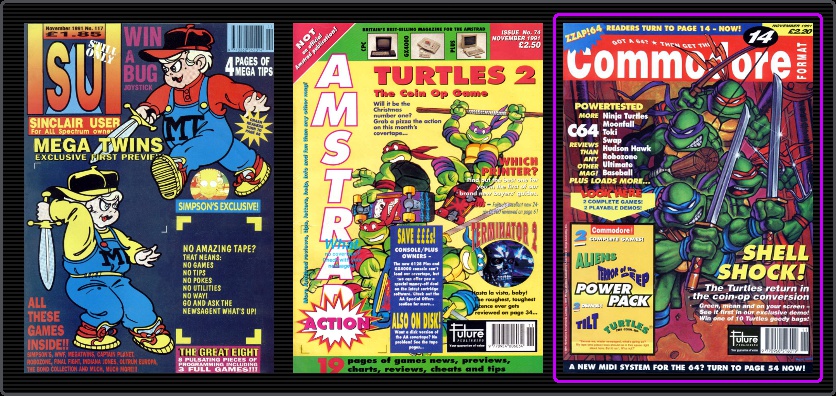 The 8-bit magazines were going

Turtles

crazy this month with

Commodore Format

giving the arcade conversion a full cover spot along with a playable demo on the Power Pack, possibly the magazine's finest covertape in its entire run. Other delights on this month's Power Pack were a complete game of

Aliens

(the fantastically frightening first person horror) and

Terror of the Deep

(Loch Ness hunting in a sub), along with the other playable demo of

Tilt

(an addictive puzzler).

'

Crash

Goes

Zzap!

' ran the news headline on the demise of Newsfield Publications. "

ZZAP!64

seems to have disappeared completely. […] we think we should assume the worst…," commented the news writer, before adding "Never mind, folks. If you were a

ZZAP!

reader you'll be pleased to find that we've taken on board those ex-

ZZAP!

[

Creatures 2

development] diarists Steve and John Rowlands this issue."

Following up on the

Turtles The Coin-Op

front page coverage and cover tape, the game itself racked up a totally awesome 89%. "The action doesn't let up," enthused Andy Dyer. "But all this action and speed haven't been achieved at the expense of good graphics… By all means tell me you hate the

Turtles

, that's up to you. Insist, if you must that they are has-beens. I might even agree. But tell me that this isn't one of the slickest beat 'em ups you've ever played and I would have to protest."

Other high rated games this month included the cartridge game

Toki

, which managed 86%. "the high addiction level is possibly it's [sic] major downfall: there are only five levels and it doesn't take that long to get a handle on most of the trickier bits." Also managing a similarly fine rating with 88% was

Hudson Hawk

. "It's nice to see a complete departure from the beat 'em up and sliding puzzle cocktail Ocean normally serves up for film licence occasions," commented Andy.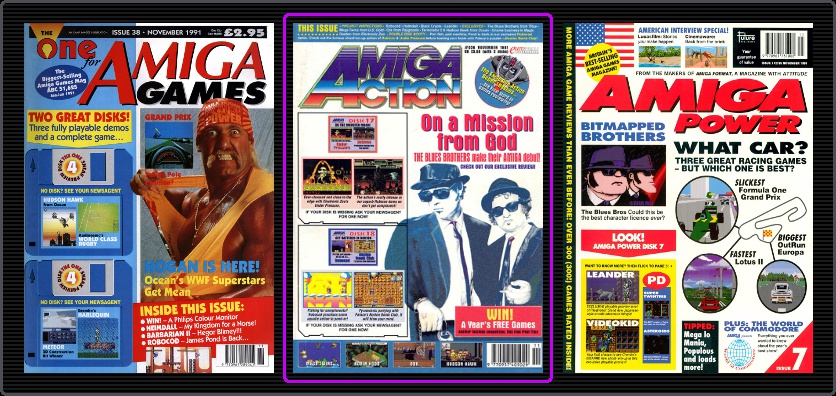 The

Amiga Action

cover disks with issue 26 included shooters

Under Pressure

and

Rubicon

along with

Boston Bomb Club

and a playable demo of

Robocod

. Top of the Super League Accolades awarded this issue went to

Mega Twins

with 91%. The arcade conversion was reviewed with a rhymed write up. "After recovering from the initial nausea brought on by the sickingly cute graphics I started to play and I was rather impressed," stated the reviewer. The gameplay instantly catches you and has you comong back for m ore. Everything a platform games player could ask for is here, even simulataneous two player action."

The classic 1980 movie,

The Blues Brothers

, hit Amiga screens courtesy of Ocean Software. The platform game came away with 86%. "It is not only the vibrant Brother atmosphere that shines through but the gameplay is smooth and addictive," the reviewer wrote. "this stands as one of the most fun movie conversions to date. A tribute to the boys, platform entertainment, and an illustration of how movie conversions should be produced: with care and quality."

Another arcade conversion in the form of

Rod Land

arrived on the Amiga. The cute platformer from Sales Curve racked up a rating of 88%. "It's far from original," stated the review summary, "but does anybody really care so long as the gameplay, graphics and sound are up to scratch? Incidentally, the are all of a very high standard. If you're buying it simply because you've played the arcade game, you won't be disappointed – it's a near perfect arcade conversion."

Other Super League Accolades went to

Barbarian 2

(the Psygnosis one) with 86% and

Ork

with 85% while Super League Recommended Accolades went to

The Adventures of Robin Hood

(83%),

Terminator 2: Judgment Day

(79%),

Head Over Heels

(80%),

Maupiti Island

(83%),

Supaplex

(84%),

Hudson Hawk

(82%) and

Magic Garden

(78%).

All the intellectual property rights related to the works presented on this site belong to their respective owners.
This site is strictly created for the purpose of preservation and education.
Follow us on Twitter to get the latest updates as they go live: