'Back in Time' is a monthly feature where we look back at the classic video gaming magazines twenty years ago this month. This month it's September 1990 when The Time Machine was ahead of its time, Shadow Warriors jumped out of its arcade gloomy roots and onto the home computers, The Games Machine bowed out, Amstrad launched their new games console and Monty Python's Flying Circus brought its unique wacky humour home...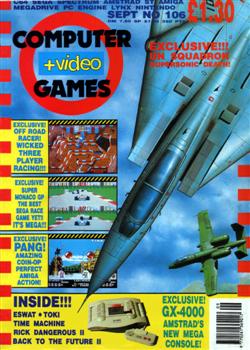 For issue 106 of Computer & Video Games, Editor Julian Rignall was in Paris, France, to attend Amstrad's launch of their new machines: the CPC 464 Plus, the CPC 6128 and the GX4000 console (basically a CPC 464 Plus without the cassette deck or keyboard). What was the verdict on the new console? "Neat looking machine – shame about the control pads…"

First up for review was Anarchy on the Atari ST. The shoot-'em-up from Psyclapse managed to grab a massive 96% rating and a 'C+VG Hit!' Robert Swan summed up the game perfectly when he commented that "this is Defender to the max. Miss this one, and regret it forever."

It was Murder on the Amiga with a 94% rating for the US Gold strategy whodunit. Ocean Software's Plotting came up trumps as both the Amiga and Atari ST versions were given 94%. Simulcra from Image Works managed a 92% for the Atari ST version. Time Machine by Vivid Image gained a 'C+VG Hit!' for its time travel adventures for both the Amiga and Atari ST. One more 'Hit' included Gold of the Aztecs for the Atari ST with 87%.

The Update section, where the magazine reviews different versions of games already seen, had no fewer than six 'C+VG Hits!' The Atari ST version of Kick Off 2 was top of the 'Update' league with 95%, closely followed by the Amstrad CPC version of Stunt Car Racer with 93%. The Amiga and Atari ST versions of Thunderstrike were given 91% each. C64's Bloodwych got 88%, Amstrad CPC's Shadow Warriors got 86%.

'Arcade Action' featured some fine coin-op gaming action from Sega. Alien Storm got 88%, Moonwalker got 90% and Bonanza Brothers got 83%. The expanding 'Mean Machines' section featured a plethora of hit console games: ESWAT: Cyber Police on the Mega Drive got 93%, Don-Doko-Don on the PC Engine got 94%, Super Monaco Grand Prix and Alex Kidd in Shinobi World both on the Master System got 92% each and Ghostbusters on the Mega Drive got 82%.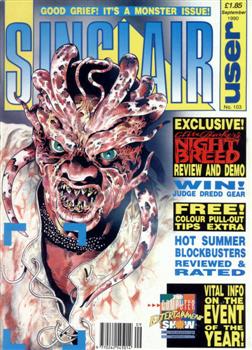 Sinclair User issue 103 and Night Breed adorned the front cover to go with the "exclusive!" review and demo the magazine had in store. Unfortunately, the game didn't quite live up to the hype it was receiving, getting an overall rating of 70%. It was DoubleHits 4 time as the readers were treated to the latest oxide-coated plastic covertape. First up was Mutants, the complete arcade challenge game from Ocean Software, accompanied by the aforementioned playable one level demo of Oceans' Night Breed.

Four of the month's newest coin-ops were play tested by John Cook: Alien Storm (addict factor 83%), Smash TV (addict factor 85%), Columns (addict factor 79%), and Neo-Geo, a new concept in arcade gaming.

Shadow Warriors crept out of the shadows long enough for Chris Jenkins to get a look. He said that the game was a "colourful Ninja action. A bit messy but high on playability" and gave it an overall 75%. Twin World from Ubi Soft was the game of the month with a rating of 87%. Garth Sumpter commented "Twin World is a captivating romp, that'll leave you spellbound."

CU Amiga's September 1990 issue contained two playable demos: Monty Python's Flying Circus and Torvac the Warrior. 'CU Super Star' number one was Supremacy with 93%. Dan Slingsby said that "Nick Bruty (design) and David Perry (programming) have come up with the ultimate in strategy games. A classic." F-19 Stealth Fighter from Microprose got the other 'CU Superstar' award with a 94% rating. Mark Patterson summarised the review by saying "this is an excellent sim for the novice, but expert pilots shouldn't be put off either. A truly excellent simulation."

'CU Screen Star' games included UMS 2 from Rainbird with 92%, Corporation from Core Design with 91%, Operation Stealth from Delphine/US Gold with 90% and Fool's Errand from Mile Computing with 91%. Other nearly accolade games Murder (80%), Plotting (84%), Adidas Championship Tie Break (83%), Oops Up (85%), Operation Spruance (84%), The Colonel's Bequest (84%) and Conquests of Camelot (82%).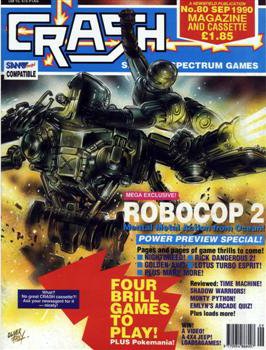 Crash issue 80 featured Robocop 2 on the front cover together with a "mega exclusive" preview inside. The 'Game Thrills' covertape included Dynamite Dan, "the most colourful arcade platform game around!!", Luna Atac from Atlantis, Monster Munch and Solaris.

'Crash Smash'-ing onto the reviews pages this month was Time Machine with an overall rating of 91%. Nick Roberts said that Time Machine "is one of the best arcade/strategy games around," while Mark Caswell summed up the review by saying that "if you want an ace arcade puzzler game look no further." Other notable games looked at included Monty Python's Flying Circus from Virgin Games, which got 75%, and Shadow Warriors from Ocean Software, which managed 74%.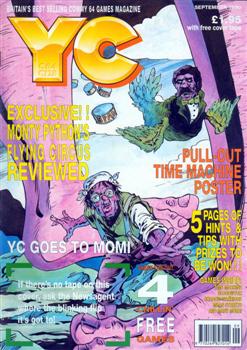 YC issue 71 featured Monty Python's Flying Circus on the cover and the wacky game kicked off the reviews section is style with an impressive 97 "skorebox" rating and a 'YC Fun One' accolade to boot. Editor Rik Henderson rounded off the review by stating that "if you are into surrealism, or then again even if you're a fish, then this game is the halibut for you (Eric, of course)." Time Machine, the time travelling graphic adventure from Vivid Images, was given a 'YC Fun One' and 94 by Ashley Cotter-Cairns. "Graphically superb, technically brilliant", enthuses Ashley, "I cannot recommend this game highly enough."

On the covertape this month was Plague (a Defender clone), Kron (a sci-fi adventure), Panic (puzzle action) and Muncher (Pac-man clone). Elsewhere in the reviews section, Shadow Warriors was rated 76, Blood Money was given 79, Die Hard received 71 and Bloodwych managed 71.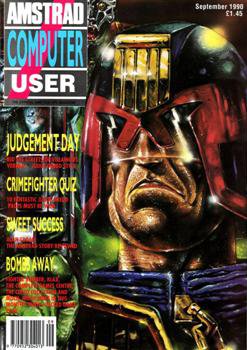 Although Amstrad Computer User was always evenly spread out with its coverage of both serious and gaming, the September issue had its fair share of gaming action. Judge Dredd, which features prominently on the front cover, was given a centre page spread preview. John Cook headed for the "bright lights and trigger happy arena of the coin-ops" in the 'Combat Zone'. Arcade games tested this month included Columns, Moonwalker and Smash TV. Topping the Amstrad CPC Top 20 Gallup Chart this month was Fantasy World Dizzy, followed by Pro Boxing and Indiana Jones and the Temple of Doom, all budget games or re-releases.

Fighter Bomber, a flight sim from Activision, was first into the review pages, coming away with a TNT final verdict. Chris Knight said that "Bomber on the CPC is ever bit as exciting as the 16 bit offerings, though without some of the obvious refinements." Quickly following up was Klax which was given an equally impressive 'Pot of Gold' final verdict. Italy 1990 was belatedly reviewed and given a 'Hot Curry' verdict.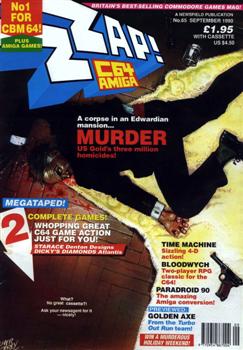 Zzap! C64 Amiga issue 65's 'Megatape' featured Dicky's Diamonds and the previously unreleased Starace from Denton Designs. 'Feature Creature' continued as John and Steve Rowland gave us a behind the scenes diary on the development of the C64 platform game Creatures. The Think Tank adventure section rated Bloodwych on the C64 with 90%. Conquests of Camelot was given 88% on the Amiga while Red Storm Rising 'Sizzled' on the Amiga with 90%.

More 'Sizzler' awards went to Murder, which survived the reviewer's comments with ratings of 92% and 93% for the Amiga and C64 versions respectively. Phil King commented that "Murder is a seriously brilliant concept, perfectly implemented." Time Machine was next to be awarded a 'Sizzler' for the excellent 90% and 93% rated Amiga and C64 versions. The Scorelord described the game as "a marvellous arcade adventure, great on the Amiga and incredible on the C64!" Paradroid '90 on the Amiga grabbed the last 'Sizzler' this month with 90%. Games just missing out on 'Sizzler' awards were Welltris on the C64 with 83%, Flood on the Amiga with 80% and Shadow Warriors on Amiga with 83% (with the C64 version only getting 57%).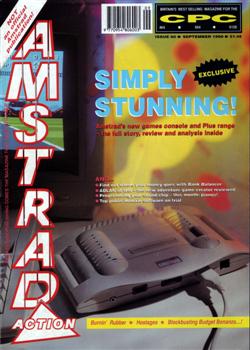 Amstrad Action issue 60 proudly shows off the new GX4000 on its front cover, with the full story, review and analysis inside. Unfortunately, the new range just couldn't compete in a strong gaming market and with the Amstrad boss more or less saying that gamers were dumb wouldn't have helped. The comment? "The end user doesn't know whether it's 16-bit, 8-bit, or if it is working with gas or steam or with elastic bands!" The Amstrad boss seemed shockingly out of touch with the market and his customers when you think of that comment and his company had out of touch new machines to match.

Burnin' Rubber, the first Amstrad cartridge game, was first up for review in the 'Action Test'. The arcade style racing game looked impressive and came away with a similarly impressive rating of 92%, getting 100% for graphics! "An incredible game to see and to play", stated James Leach, "and as the machine's capabilities are bound to be stretched even further in the future, we can look forward to some wicked, wicked games!" (Oh, what could have been). Hostages didn't quite rescue an 'AA Rave' award and had to make do with 76%.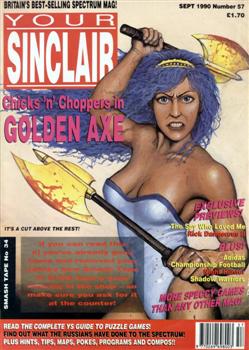 Issue 57 of Your Sinclair featured the delectable Amazon fighter from the arcade hit Golden Axe. Why? To accompany the Megapreview inside along with a centre page spread poster. Following last issue's fantastic inclusion of Julian Gollop's Rebelstar II, the 'Smash Tape' this time around has Chaos, one of Julian's earliest and considered as one of the finest examples of arcade strategy games ever. Oh, and there's also Zythum, an arcade shoot-'em-up, on there as well. YS continue with their 'Complete Guide' series with 'The Complete YS Guide to Puzzle Games', from Tetris to Pipe Mania. 'Rage Hard' was a feature that looked at the Spectrum scene in Russia. Top of the games chart this month was Italy 1990, followed by Football Manager World Cup Edition and Turrican.

First to get the review treatment this month was Adidas Championship Football from Ocean Software. Matt Bielby commented that "Championship Football has a lot going for it. It's well presented, quite tricky, and (apart from a few annoying glitches) plays as well or better than most existing football games." Shadow Warriors was given 90 by Rich Pelly, who said that it was "a very technically impressive beat-'em-up […] that's not 'boring', not 'un-addictive' and not 'not very colourful'. And it's not 'crap' either." Other worthwhile gaming action included Ocean Software's James Bond style action game, Sly Spy Secret Agent, was given 80, while Football Manager World Cup Edition from Addictive won a rating of 82.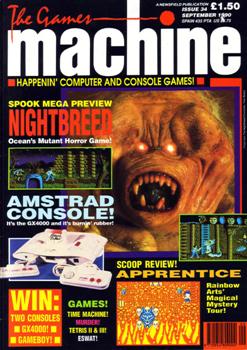 Issue 34 would sadly be the last we would see of The Games Machine. Announced inside was "an exciting new development in games magazines. Raze your glasses, for the future is here…" well, the following month that is. Yes, Newsfield Publications decided to re-launch the magazine with a new outlook on 16-bit computing and console gaming. So, for the final front cover of The Games Machine, headlines included a "mega preview" of Nightbreed, a look at Amstrad's new games console, the GX4000 and a "scoop review" of Apprentice, "Rainbow Arts' magical mystery tour!"

First up for critical response in the last ever reviews section of The Games Machine was Murder from US Gold. The game was tested on the Amiga, Atari ST and C64, with final ratings of 86%, 85% and 80% respectively. Paradroid '90 on the Amiga was first to get a 'Star Player' accolade with 91%. Once again, Time Machine was amongst the magazine accolades, this time receiving a 'Star Player' for ratings of 93% and 90% for the Amiga and C64 versions respectively. The last 'Star Player' accolade was given to Apprentice on the Amiga with 90%. Just missing out on the accolades was Operation Stealth, which appeared on the Amiga and Ataris ST, coming away with 85% each.

The 'Shorts' section was the magazine's mini reviews for conversions of games previously tested on another format. Psycho Soccer on the Spectrum scored a fine 90%. Kick Off 2 made an appearance on the Atari ST and C64 with mixed results (90% and 74% respectively). The PC Engine version of Ninja Spirit from Irem was given 90%. Thunderstrike on the Atari ST was give 89%. Flood on the Atari ST got 80%. Operation Wolf appeared on the Master System, rescuing a fine rating of 90%. Block Out on the PC managed 88%. The Atari ST version of Tennis Cup from Loriciels was served an 85%. The Amstrad CPC version of Stunt Car Racer finished up with 90% and Thunderstrike on the Amiga flew in with an 85%.

The Adventure Stragegy Roleplaying column contained a good handful of games, with The Fool's Errand being the pick of the bunch. The Amiga game from Impressions got a 'Golden Scroll' award for its final rating of 93%. Other games featured were Breach 2 on the Amiga with 86% and Avon on the PC with 84%.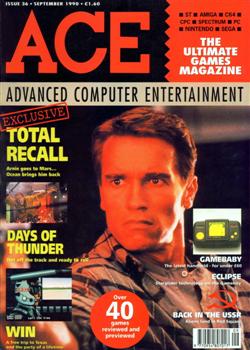 ACE issue 36 was an Arnie special, as Rik Haynes previewed Total Recall in three different formats: the film, the computer games and the consoles games. Red Hot Games looked at the gaming scene in Russia.

Corporation on the Amiga got the 'Screentest' section into full swing with a rating of 945. Laurence Scotford gave the Core Design game an 'ACE Rated' accolade, saying that "it is easily the most realistic computer-based RPG to appear to date, and consequently the most atmospheric." This was quickly followed up with a 901 rating for Welltris on the Amiga. The PC strategy war game from Mindscape was given 850.

PGA Tour Golf on the PC holed out with an 'ACE Rated' award and carded a score of 905. Kick Off 2 won a double with 930 and 905 for the Amiga and Atari ST versions respectively. Breach 2 on the Amiga was given 825. Unreal on the Amiga was given 890. Ghostbusters on the Mega Drive was given 815. Zelda II on the NES was given 901. Makaimura Gaiden on the Game Boy was given 850.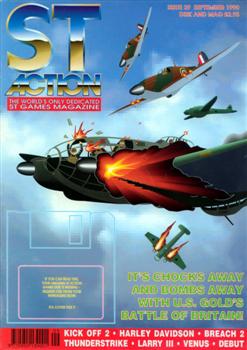 Issue 29 of ST Action, the first dedicated games magazine for the Atari ST, featured a coverdisk with a demo of Flip-it n' Magnose, Mad Professor Mariarti, Helter Skelter and Venus. Oddly each demo on the disk was given a two page spread about the game and the programmers, otherwise ST Action didn't seem to do features. Jeff Minter's 'Yak's Yak' returned.

The pick of the games reviewed this issue was undobtably Their Finest Hour from Lucasfilm, which swooped away with 90%. SW praised the game and said that "if you only buy one game for your ST then my advice would be to buy Battle of Britain." NC said "presentation of the game is excellent and every detail had been recreated… Lucasfilm are definitely becoming a force to be reckoned with." JS said "the action is pretty intense and everything has been recreated accurately…" Other top scoring games included Thunderstrike (Millennium) 81%, Venus (Gremlin) 81%, Kick Off 2 (Anco) 85%, Debut (Pandora) 80%, and Leisure Suit Larry 3 (Sierra) 82%.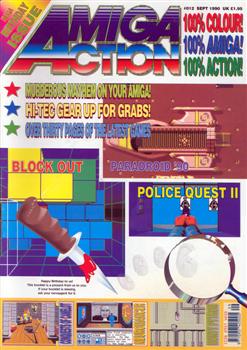 Amiga Action reached its 12th issue and to celebrate the crew looked back over the last 12 months where they reviewed over 300 games. This month, however, the games were out of luck, with Paradroid '90 the highest rated game with 85%. Alex Simmons said "if you haven't seen Paradroid, buy it now – you won't be disappointed with the result," while Steve Merrett commented that it was "a stunning shoot-'em-up and rates as one of the best I've played," and Doug Johns summed his comments up with saying that "Paradroid 90 is the definitive shoot-'em-up..."

Other worthy Action rated games were The Colonel's Bequest (Sierra) 80%, Murder (US Gold) 78%, Blockout (Rainbow Arts) 78%, ThunderStrike (Millennium) 75%, Conquests of Camelot ( Sierra) 81%, Final Countdown (Demonware) 75%, Neuromancer ( Interplay/Electronic Arts) 75%, Police Quest 2: The Vengeance (Sierra) 84% , Breach 2 (Impressions) 75% and King's Quest 4 (Sierra) 79%.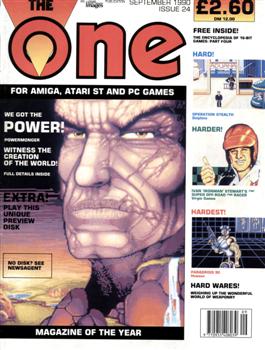 The One issue 24's editorial pages announced the arrival of new Assitant Editor Laurence Scotford. Laurence quickly got stuck into the batch of games reviewed this month. First up, and pick of the month, was Paradroid 90 on the Amiga, which was given 95% by Gary Whitta. Not too far off that mark was Welltris, also on the Amiga, with 94%. The rest of the pack followed closely behind: Block Out (Amiga, Rainbow Arts) 81%, Shadow of the Beast 2 (Amiga, Psygnosis) 86%, Simulcra (Atari ST, Microstyle) 88%, Time Machine (Amiga, Activision) 88%, Murder (Amiga, US Gold) 83%, The Killing Game Show (Amiga, Psygnosis) 87%, Venus the Flytrap (Atari ST, Gremlin) 83%, Operation Stealth (Amiga, US Gold) 85%, Vaxine (Atari ST, US Gold) 90% and Ivan 'Ironman' Stewart's Super Off Road (Amiga, Virgin) 87%.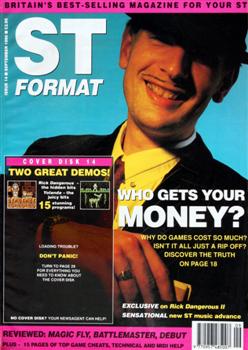 ST Format issue 14's coverdisk included two demos, Rick Dangerous - the hidden bits and Yolanda - the juicy bits and 15 other programs. Cover feature 'Who Gets Your Money?' looked at how games cost so much and where all the money went. The PD/Shareware section yielded some fine games including Crystal Caverns with 3 stars, Rotatus also with 3 stars and Safe as Houses with 4 stars.

Receiving the 'Format Gold' awards this issue were Kick Off 2 and Magic Fly with 92% and 91% respectively. Other games within reach included Antago (Art of Dreams) with 84%, Battlemaster (Mirrorsoft) with 82%, Breach 2 (Omnitrend Software) with 82%, Monty Pythons Flying Circus (Virgin Games) with 84%, and The Last Ninja 2 - Back with a Vengeance (System 3) with 86%.

It was also issue 14 for Amiga Format and there was a bit of déjà vu with the coverdisk, as there was a playable demo of Yolanda (which featured on sister mag ST Format's coverdisk) as well as SYS (a complete game), and 6 great programs. Cover feature, 'The PD Zone' looked at how to get Amiga software for nothing.

A 'Format Gold' award was given to Damocles with its rating of 92%. Maff Evans said that "even in this day and age, with a myriad of 3D adventure games vying for the public's attention, Damocles is a shining island gem in the software sea." Coming close was Red Storm Rising from MicroProse with 89% and Welltris from Infogrames with 88%. Others included Flood (Electronic Arts) 84%, Block Out (Rainbow Arts) 84%, Murder (US Gold) 81% and Neuromancer (Electronic Arts) 81%.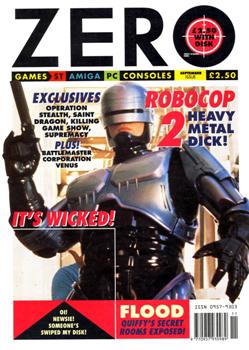 Zero issue 11 featured Robocop 2 on the front cover with a special 'under wraps' look at the Amiga version with programming team Special FX and a look at the film itself. The Zero coverdisk contained a complete game called Wicked from Activision and a playable demo of Time Machine. Topping the charts this month was Railroad Tycoon on the PC and Kick Off 2 on both Amiga and Atari ST.

Highlight of the reviews was the 'Zero Hero' game Operation Stealth from US Gold. The spy adventure game was reviewed on both the Atari ST and Amiga, with the former getting the better rating of 94% over 92%. David McCandless, who reviewed the ST version, declared that "Operation Stealth stands up as easily the most compulsive play since my Mum told me it wasn't exactly a 'sausage' that I always found in the bath." Biting at the heels of that 94% rating was Corporation on the Amiga with 93%. "To use a popular cliché if you liked Dungeon Master," summarised David Wilson, "you'll love this. Very atmospheric game with imaginative use of sound and graphics." Supremacy on the Amiga got 91% and Chess Champion 2175 on the Amiga rounded off the 'Zero Hero' awarded games with 90%.

Console Action looked at the Neo Geo, along with three games: Baseball Pro, Nam 1975 and Magican Lord. Thunderforce 3 on the Mega Drive came out blazing with a 94% and a 'Console Classic' award. Elsewhere, Monty Python's Flying Circus on the Atari ST got 89%, Batman on the Gameboy got 89%, Venus the Flytrap on the Amiga got 88%, Colossus Chess X on the PC got 87%, Battle Master on the Atari ST got 81%, Hardball 2 on the Amiga got 81% and Extase on the Amiga got 80%.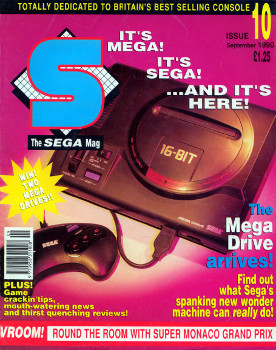 Issue 10 of S (aka The Sega mag) had a new Editor in Andy Smith. Launch Editor Steve Jarratt would step aside to prepare the launch of a brand new magazine devoted to the Commodore 64. Sega's new 16-bit console, the Mega Drive, featured on the front cover to coincide with its UK launch and a special four-page in-depth look at the machine itself.

In the reviews section this issue was Alex Kidd in Shinobi World, "A worthy addition to the Alex Kidd collection" with a rating of 88%. Super Monaco Grand Prix was given 74%. Past Master reviews, where pre-S mag released games were reviewe, included Alex Kidd in Miracle World and Rampage getting 93% and 84% respectively.